peshkova - Fotolia
Isima emerges with bi(OS) converged data platform
Startup launches with the general availability of a converged platform that offers the promise of integrating multiple data management and analysis steps into a single offering.
Data management startup Isima, countering the trend of enterprises building a multilayered stack with components from different vendors, emerged from stealth Tuesday with the general availability of its bi(OS) converged data platform.
The promise of bi(OS) is a single platform that provides an integrated set of capabilities, including data transformation, ingest, database, data catalog and BI features.
The founding team at the Palo Alto-based vendor features Pradeep Madhavarapu, vice president of engineering, whose extensive resume includes being a lead developer for Microsoft's SQL Server engine, as well as helping to create the Amazon Aurora database.
John Santaferraro, research director at Enterprise Management Associates, said he sees Isima and its bi(OS) platform as a differentiated approach to data, combining the ability to analyze both structured and semistructured data, with both real-time and batch processing, for a broad set of analytical and data science use cases.
Analyzing each type of data separately is not the answer; only structured and semistructured data combined can deliver on the promise of complete business insights.

John SantaferraroResearch director, Enterprise Management Associates
How Isima bi(OS) fits into the converged data platform landscape
Isima is attempting to merge the best of data warehouse and data lake capabilities to enable a new type of converged data platform, according to Santaferraro.
He noted that the data warehouse concept has been around for almost three decades. Shortly after big data platforms were introduced in the late 2000s, there was talk that the data warehouse was dead. But it never went away.
"When big data platform vendors realized that the data warehouse was here to stay, they started building databases on top of their file system and conceptualizing a data lake that would replace the data warehouse. It never did," Santaferraro said.
But the data warehouse on its own is inadequate because it was built for structured data and requires structuring and ingesting semistructured data to analyze it. That said, Santaferraro added that the data lake also is not completely adequate because the associated database technology lacks enterprise capabilities and does not always perform well.
"Analyzing each type of data separately is not the answer; only structured and semistructured data combined can deliver on the promise of complete business insights," Santaferraro said.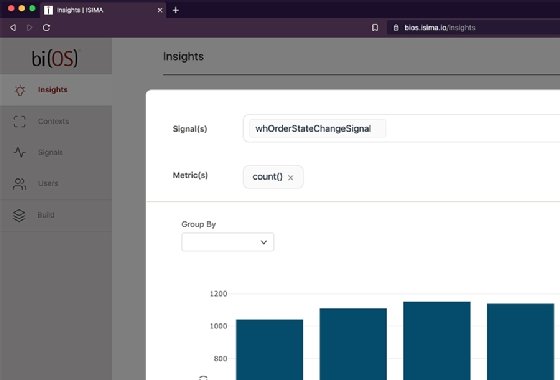 Isima bi(OS) is like a platform as a service for data
While Santaferraro sees Isima's main strengths as converging the best of data warehouse and data lake models, Krishnan Subramanian, founder and chief research advisor at Rishidot Research, said he sees Isima more as providing a platform as a service (PaaS) type of model for data.
"To put it short, it is an abstraction like PaaS but for data components," Subramanian said. "If I have to bring in all the data sources into a data lake, do the necessary plumbing to make it seamless to gain value from the data, it is a lot of work."
In Subramanian's view, the biggest competitor that Isima likely has is do-it-yourself platforms inside the enterprise. He added that many organizations think they can put together a data platform using open source tools and data sources but could save time and effort if they choose something like the Isima approach instead.
Converged data platform built from the ground up
Rather than patch together multiple components that are based on open source projects, Isima's bi(OS) is a proprietary converged data platform that the company developed on its own.
Isima even built the database that it uses for bi(OS) internally, noted Darshan Rawal, CEO and co-founder of Isima.
The vendor also developed its own SQL relational database that is tightly integrated with the data ingest and analytics capabilities the overall bi(OS) platform provides, Rawal said. In addition, Isima built its own data catalog to help users identify interesting data sets, as well to provide data governance capabilities.
Rawal acknowledged that Isima is not trying, nor is it able, to offer everything that every data catalog or SQL database offers. Rather, its goal is to provide the core set of features in an integrated platform that enables users to get insight from data quickly.
"What we're really doing is building a new tier of data," Rawal said. "It's not a pipeline, not a caching layer, but really a data plane and then we are going vertically up and figuring out how to bring capabilities for BI and AI into a single platform," he said.
Dig Deeper on Data management strategies