WavebreakmediaMicro - Fotolia
Why composable infrastructure goes hand in hand with private cloud
Some companies are opting out of SAN upgrades or costly converged systems in favor of composable architecture to build servers and storage on the fly. But will the concept take off?
You can't build a software-defined cloud without hardware. Just ask Chris Horvat, vice president of IT for Skyview Networks. The broadcast services provider needed burstable compute to support dynamic storage for reams of streaming content, but Horvat knew cloud egress charges would be a killer.
Instead, the company, based in Scottsdale, Ariz., deployed an on-premises private cloud based on HPE Synergy composable infrastructure by Hewlett Packard Enterprise. Horvat said Synergy enables Skyview to vary its mix of compute, networking and storage dynamically, based on the volume of network traffic.
Skyview servers transcode TCP/IP packets into digital audio, similar to the way your cable box or satellite receiver works. The system delivers decoded audio streams via a satellite uplink to major radio stations, TV affiliates and regional sports networks across the country.
HPE Synergy is a 10U server frame with an interconnected network fabric for pluggable compute, networking, power management and storage modules.
"We're one of the few broadcast companies in the nation that has a 90% virtualized broadcast uplink. The servers that feed our satellites get programs on the air 24 hours a day. The servers run on HPE Synergy in our VMware environment," Horvat said.
Composable infrastructure, sometimes referred to as disaggregation or infrastructure as code, is a software-defined approach to assemble and reassemble racks of IT gear for multiple workloads.
"We have very extensive SLAs [service-level agreements] with our broadcast clients, and we needed a system that could meet those SLAs," Horvat said.
Composable infrastructure, sometimes referred to as disaggregation or infrastructure as code, is a software-defined approach to assemble and reassemble racks of IT gear for multiple workloads. Automation is the key attribute, with software composing the infrastructure pieces as a logical pool, presented to users as services.
Paying by the rack
HPE is the early leader in composable infrastructure, but Dell EMC, Lenovo and Western Digital have joined the fray, along with several startups. HPE last quarter said Synergy has achieved a $1 billion run rate and is used by more than 3,000 customers.
"The attractive thing for customers is the ability to standardize on one platform and compose your configuration to match your business needs," said Gary Thome, an HPE vice president.
But analysts say it's too early to tell if enterprises will warm up to the idea of composing systems on the fly. Traditional data center architecture groups resources together in shared racks of appliance.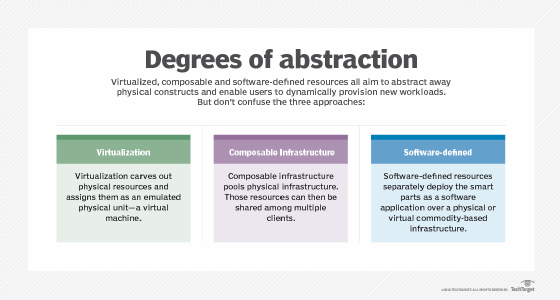 If this sounds similar to virtualization, well, that's because it is similar to virtualization, with one important difference. Whereas virtual provisioning gives you a license to access a certain set of virtual machines, composability devotes actual physical IT assets, including network interface cards, server CPU cycles and storage media.
"With composable infrastructure, I can have a physical server dynamically provisioned in the size and shape I need and have it all stitched together. I'm actually getting those physical server assets to use," said Mike Matchett, storage analyst and founder of Small World Big Data, an IT consultancy near Boston.
The composable model differs from converged and hyper-converged systems. Converged infrastructure is sold as racks of prequalified hardware from multiple vendors and includes systems such as NetApp FlexPod and Dell EMC VxBlock. Hyper-converged systems ship all the necessary components -- servers, hypervisor software, network connectivity and storage -- delivered as an integrated appliance.
While swapping in composable modules sounds appealing, Matchett said enterprises should methodically estimate the financial cost before taking the plunge. "Without a significant churn rate for the resources, I'm not sure composable makes much fiscal sense," he said.
Private cloud use cases
The cost made sense for Clearsense, based in Jacksonville, Fla. The company's eponymous platform helps healthcare organizations run scale-out data analytics.
Co-founder Charles Boicey developed Clearsense using commodity disk storage enclosures attached to commodity servers, running composable software from Sunnyvale, Calif., startup DriveScale. A DriveScale agent placed on server and storage targets orchestrate logical clusters for big data analytics.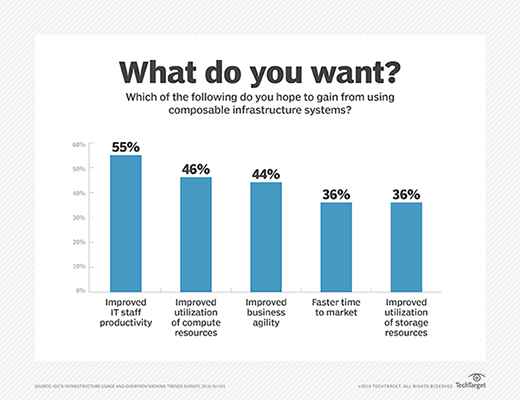 Boicey said DriveScale provides a better alternative to his previous configuration, which ran in AWS with a Health Insurance Portability and Accountability Act wrapper. "This is the way for us to build a private cloud. The cost savings [with composable] have been tremendous," Boicey said.
With more and more enterprises launching DevOps, composable could play a role in helping them more rapidly deliver IT services, said Scott Sinclair, storage analyst with Enterprise Strategy Group (ESG), based in Milford, Mass. In interviews with more than 650 IT leaders, ESG found that one in four cited this issue as the biggest impediment to business growth.
"Composable becomes more important as you start moving to cloud-native workloads and containers. You want the ability to provision and manage storage in a more programmatic way. Applications need to [be able] to take more compute or storage as they need it, rather than waiting for an administrator to assign it," Sinclair said.
Dig Deeper on Converged infrastructure management