Laurent - stock.adobe.com
Clearsense uses Unravel Data for AI in performance management
Unravel Data uses AI in performance management to power its APM platform. Clearsense turned to Unravel to get automated optimizations and enable multi-cloud support.
Clearsense LLC, a healthcare data platform vendor, works with many healthcare providers to organize, visualize and provide insights into their clients' clinical, operational and financial data. To meet all of its clients' data needs, Clearsense has to be scalable, adaptable and versatile.
Recently, the Jacksonville, Fla., vendor turned to Unravel Data Systems Inc. and its AI in performance management platform to help its clients manage their complex, data-driven applications across multiple cloud providers.
Clear on Unravel
Clearsense began using Unravel Data's platform in June, after years of using a competing application management platform (APM). The switch, said Charles Boicey, CIO at Clearsense, has been beneficial to both Clearsense and its clients.
The previous platform, which Boicey asked not to be identified, provided only basic monitoring capabilities, he said. Unravel Data, with its AI in performance management capabilities, enables Boicey to monitor the network and operating systems, while also providing AI-driven recommendations and optimizations to Clearsense and its clients.
Unravel's AI provides insights into why an application is slowing down, for example, and offers tweakable recommendations for how to fix it. The platform also helps predict how much storage or compute power a client might need in the coming days, weeks or months, enabling Boicey to allocate more resources before a client might experience slower speeds or storage issues.
It's not as comprehensive running data through a deep neural network, Boicey said. But, he added, Unravel's use of AI in performance management "gives me a heads up before I really need a heads up."
Multi-cloud capabilities
The Unravel Data platform has also enabled Clearsense to work across multi-cloud environments. That wasn't possible with the previous vendor, Boicey said.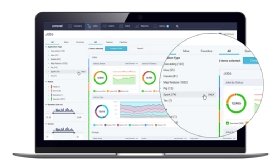 That cloud versatility is a major reason Clearsense chose Unravel, he added. Clients are beginning to ask to do workloads across multiple clouds or on premises. Unravel is able to accommodate that, Boicey said.
Clearsense is also in a transition period; by November or December, the healthcare data platform vendor will be starting to run large data sets and sophisticated models in GPU environments. The switch will bring clients quicker results, Boicey said, adding that speed is important in healthcare settings.
The GPU environments are "pretty expensive," Boicey said. Unravel will help accurately judge the amount of memory allocated to them. Allocating too few compute resources will slow down clients, while allocating too many resources unnecessarily boost costs. "I am going to be using [Unravel] to monitor a good bit of that activity," Boicey said.
Unravel and Azure Databricks
In related news, Unravel Data revealed new support for Azure Databricks.
Unravel has long had partnerships with Microsoft Azure and Databricks, a vendor of an analytics and machine learning platform, but had not previously offered native support for Azure Databricks, which is essentially a version of Databricks that runs on Microsoft's cloud environment.
The new support program, unveiled Sept. 4, is "an extension of the Unravel support coverage," said Kunal Agarwal, CEO of Unravel Data.
Using AI in performance management, Unravel in Azure Databricks enables users to monitor their applications in real time, see if and why performance might be suffering, and get automatic insights and recommendations for fail jobs.
While Unravel in Azure Databricks is currently in early access, "we envision that at least the enterprise-class of customers within the Databricks environment will pick this up," Agarwal said.