photonetworkde - Fotolia
Real-time machine learning with Splice Machine's ML Manager
Splice Machine's AI management software ML Manager, shown at Spark + AI Summit 2019, enables users to update their machine learning models with up-to-date data from varied sources.
Working with clients in healthcare and finances, Splice Machine knows how important access to real-time machine learning data is for its clients. So it developed ML Manager, a tool that enables users to more easily update and train their machine learning models on new data.
The San Francisco-based data platform vendor is among some several thousand software vendors, users and partners expected to attend the Spark + AI Summit 2019 conference later this month. Splice Machine is scheduled to participate in a conference keynote focusing on ML Manager.
The developers who originally developed Spark went on to found Databricks, the data science and engineering platform vendor that is the sponsor of the Spark + AI Summit 2019.
Splicing data science tools
"Splice Machine is combining a number of computational systems that until now had to be duct taped together by developers," said Monte Zweben, co-founder and CEO of Splice Machine.
ML Manager is powered in part by MLflow and designed to run on top of its data platform. The vendor said the product reduces latency for machine learning workloads to enable users to more quickly edit and update models, and work with more data pipelines at the same time.
Largely developed by Databricks, MLflow is an open source platform for machine learning management.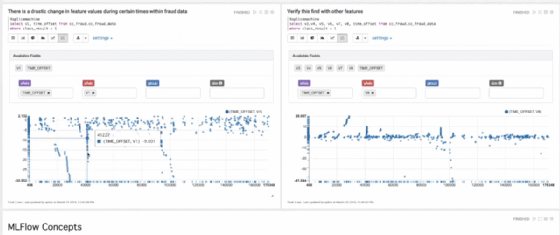 While still in beta, ML Manager already has a number of users, one of which is healthcare data management and visualization platform vendor Clearsense.
Based in Florida, Clearsense works with healthcare providers and researchers to organize and provide real-time machine learning insights into their clients' clinical, operational and financial data.
The Clearsense platform provides a range of data management and governance capabilities, including the ability to trace data lineage, as well as functions to clean and analyze data and visualize it in ways that can be understood by non-data scientists, said Charles Boicey, co-founder and chief innovation officer at Clearsense.
ML Manager has saved its clients an "incredible" amount of time, Boicey said.
"We always used the Splice Machine environment, but we always brought our own notebooks. Now, with ML Manager, we don't have to," Boicey said.
One client, he said, uses machine learning models for detecting undiagnosed conditions in patients.
For the client, "not having to put the model somewhere else and then bring it into another environment has been really great," Boicey said.
In real time, the client is now able to "tune existing models and then deploy them," ensuring models are continually using up-to-date data and enabling real-time machine learning updates, he said.
Spark + AI
The Spark + AI Summit 2019 is April 23 to 25 at the Moscone Center in San Francisco.
AI and analytics experts from vendors including Netflix, Google, Facebook and Comcast are speaking about topics centered largely on using Spark environments for AI and machine learning.
Databricks and other vendors that rely on Spark have often used the event to announce new products or key product updates and news.
"The conference is exciting for us because we're part of the Spark community," Zweben said.