James Thew - Fotolia
X-IO Axellio hitches HCI star to Microsoft, NVMe
X-IO side steps VMware, enters hyper-competitive hyper-converged market with dense NVMe blades packed with Microsoft virtualization and storage software.
X-IO Technologies stepped into hyper-convergence this week with a dense, all-NVMe system based on Microsoft Windows Server.
X-IO moved into hyper-convergence via the Axellio division it created in 2017 for edge computing platforms. The X-IO Axellio FabricXpress Windows Server Software-Defined (FX-WSSD) hyper-converged systems are all-flash appliances built on Axellio FX-1000 hardware running Microsoft Windows Server 2016 and, when it is available, Windows Server 2019.
X-IO CEO Bill Miller said X-IO Axellio moved into hyper-convergence based on customer demand.
"We're getting more and more questions from long-time customers of X-IO SAN storage around hyper-convergence," he said. "They're looking at that as a complementary infrastructure for certain types of workloads. It became clear to us we needed something in that space."
WSSD is Microsoft's hyper-converged software stack. It incorporates the Hyper-V hypervisor, Storage Spaces Direct, Software-Defined Networking and System Center. Axellio offers 5nine software that allows VMware administrators to manage the system using the same commands they use with VMware virtual machines.
We're getting more and more questions from long-time customers of X-IO SAN storage around hyper-convergence.

Bill MillerCEO, X-IO
The FX-1000 is a dense, 2U chassis that holds 72 NVMe drives and uses Intel Broadwell CPUs.The FX-1000 has removable canisters that enable customers to replace the NVMe with traditional SSDs. The FX-1000 also includes two four-port, 100 Gigabit Ethernet network interface cards; two dual-socket motherboards; and redundant hot-swappable power. A fully loaded chassis supports 460 TB of NVMe storage and 2 TB of RAM. X-IO uses Mellanox 100 GbE switching and Chelsio RDMA ASICs.
Two X-IO Axellio FX-WSSD nodes fit in a 2U chassis, and a four-node minimum is required. A four-node 4U box scales to 920 TB of NVMe. A maximum cluster scales to 16 nodes with up to 3.7 petabytes of NVMe storage and 16 TB of RAM. FX-WSSD shares block storage across clusters by using WSSD Datacenter's virtual SAN architecture.
Pricing starts at $148,000 for a four-node cluster with a minimum total configuration of 12.8 TB of capacity, 512 GB of RAM, 80 cores and 10GigE connectivity. Miller said customers can use their WSSD Datacenter licenses with the FX-WSSD platform so they incur no additional software costs.
The X-IO Axellio FX-WSSD is generally available with Windows Server 2016. Windows Server 2019 is set for general availability next week, but it will take time for hyper-converged OEM partners to become certified on the new edition. Miller said he expects to be certified by early 2019.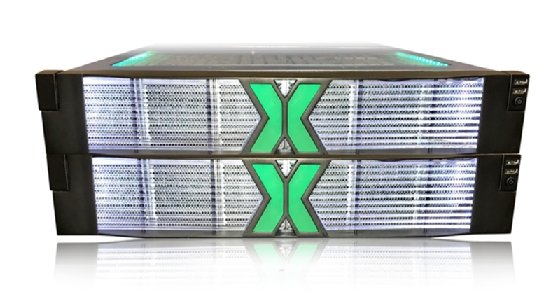 Miller said X-IO Axellio FX-WSSD uses what he calls a scale-in approach to scale compute and storage independently. He said customers can upgrade inside each chassis before adding more boxes.
"We allow you to scale inward before you have to scale out," he said. "You can start with a smaller configured cluster with low-end processors and memory and fewer and smaller capacity SSDs. It's easy to add SSDs to the system and we let you swap out the servers -- they're containerized modules. You can pull and plug them. You can scale within the four nodes, then you can add up to 16 nodes. If you go beyond that, you can add multiple clusters."
WSSD 2019 will enable customers to group 16-node clusters and move virtual machines between them.
X-IO meets its HCI competitors
The HCI market includes server vendors such as Dell EMC, Cisco and Hewlett Packard Enterprise, as well as HCI pioneer Nutanix, which packages its software on partners' x86 hardware. The market is dominated by VMware virtualization, with all of the major players supporting VMware's stack, including its vSAN hyper-converged software.
X-IO isn't the first to specifically target Microsoft-based HCI. DataOn sells a Windows Server-based hyper-converged system, and Gridstore also did before changing its name to HyperGrid in 2016 and switching its focus to cloud management.
Miller said X-IO Axellio hitched its HCI wagon to Microsoft and Hyper-V because he was impressed with the Windows Server 2019 storage features.
"We feel that the software Microsoft is now bringing to market is really compelling for its functionality at cost," he said. "It's typical of Microsoft. They're often late to the game, but when they come, they really do a great job of it."
He would not commit to supporting VMware or other hypervisors, but he did not rule it out.
"We'll assess market demand as we go," Miller said. "We think this is a great place for us to start, and we'll focus here for a while."
X-IO Technologies consists of X-IO storage and Axellio edge computing. X-IO created Axellio after securing $10 million in operating capital in early 2017. X-IO, previously known as Xiotech from 2002-2011, is trying to reinvent itself as an edge computer vendor instead of solely a SAN company.
Tim Stammers, senior analyst at 451 Research, said X-IO's move into hyper-convergence makes sense given the market dynamics, but the company faces tough competition.
"They need to make the most of Axellio," Stammers said. "This is a tough, crowded market. They've avoided VMware competition, but I don't know if the hypervisor makes a difference. It's more about the tools and the familiarity with the tools offered." And that's where X-IO picking Microsoft as its HCI partner comes in.