Arjuna Kodisinghe - Fotolia
Dell EMC VxBlock 1000 mixes in Unity hybrid, Data Domain
Ten years later, VCE is gone, EMC is part of Dell and Vblocks have become VxBlocks. But the early converged infrastructure stack is still going, with new products coming online.
It's been 10 years since Cisco, EMC and VMware jointly launched VxBlock converged infrastructure. To commemorate the occasion, Dell EMC is offering data centers additional options to build scalable private clouds.
Dell EMC VxBlock is a preconfigured factory system that combines the vendor's storage and data protection products with Cisco Unified Computing System (UCS) servers and Cisco Nexus switching. The latest release expands the cloud functionality of the VxBlock 1000 systems introduced last year.
With VxBlock 1000, Dell EMC delivers a custom-designed system that's sized according to a data center's capacity or performance specifications. Customers can mix various Dell EMC storage products and build flexible pools of compute and storage. The VxBlock 1000 expands the storage options to include Dell EMC Unity hybrid arrays and high-availability Data Domain DD9500 backup and deduplication appliances.
VxBlock 1000 also adds new Cisco UCS C480 M5 servers and Cisco UCS Fabric Interconnect 6454 for LAN and SAN crossover.
Dell EMC said VxBlock Central 1.5 converged management software offers tighter integration with VMware vSphere to tier data between storage racks and multiple hybrid clouds. Integration includes support for vRealize Orchestrator workflow templates.
Dell EMC also rolled out Ready Stack reference designs for PowerMax and Unity storage with Dell PowerEdge servers and Dell switches, and the vendor enhanced its flagship hyper-converged platform through the addition of VMware Cloud Foundation (VCF) on VxRail. While VxRail has always included VMware vSAN hyper-converged software, VCF adds NSX virtual networking software and management to the stack.
Ten-year anniversary of VxBlock converged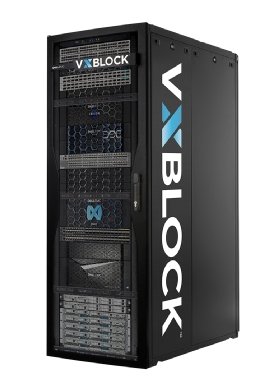 VxBlock -- formerly known as Vblock -- ushered in converged infrastructure in 2009. Many considered VxBlock to be the first system to successfully combine top-of-the-line technologies of different vendors. Dell EMC has been trying to move the converged infrastructure up the stack to address a wider swath of enterprise cloud workloads.
Vblocks were sold by VCE, a joint venture created by VMware, Cisco and EMC. EMC bought out Cisco's interest before Dell acquired EMC -- including VMware -- in 2016, but kept Cisco as a converged infrastructure partner.
Deployments scale to 10 arrays and petabytes of storage in a single VxBlock 1000 system, with mixed configurations of Cisco blade and rack servers.
We built Dell EMC VxBlock 1000 to make it very easy to add new compute, new storage and new data protection.

David HaywardSenior consultant of converged systems and software at Dell EMC
Other VxBlock storage options include Dell EMC XtremIO, Isilon NAS, NVMe PowerMax -- formerly VMAX -- all-flash and Unity midrange all-flash arrays.
"We built Dell EMC VxBlock 1000 to make it very easy to add new compute, new storage and new data protection. It's built to expand more easily and at greater scale than the previous VxBlock systems," said David Hayward, a Dell EMC senior consultant of converged systems and software.
Private clouds with all-Dell hardware
Ready Stack provides an enterprise private cloud using Dell hardware. Unlike customized Dell EMC VxBlock systems, Ready Stack is a build-your-own architecture with a mix of Dell EMC storage, Dell compute and either VMware vSphere or Microsoft Hyper-V virtualization.
Ready Stack for VMware IaaS enables local data centers to design consumption-based infrastructure as a service. The IaaS stack includes PowerEdge MX7000 modular compute, Dell EMC's Integrated Data Protection Appliance, and the rebranded NVMe PowerMax all-flash flagship. PowerMax is the new branding for VMAX product line.