ra2 studio - Fotolia
Data center managers avoid cloud migration risks
Many corporate IT users are flocking to the cloud, but a majority surprisingly remain reluctant to migrate their on-premises mission-critical workloads to a public cloud.
Well into the cloud era, a significant number of enterprises still have trepidations about moving mission-critical applications and services to the public cloud, preferring to forgo cloud migration risks by keeping apps ensconced within their own data centers.
Heading the list of reservations corporate IT shops have is the lack of visibility, transparency and accountability of public cloud services, according to respondents to the 2019 Uptime Institute's Annual Global Data Center Survey.
Some 52% of the nearly 1,100 respondents, which included IT managers, owners and operators of data centers, suppliers, designers and consultants, said they do not place their mission-critical workloads in public clouds nor do they have plans to, while 14% said they have placed such workloads in the public cloud and are quite happy with their respective cloud services.
Of the remaining 34%, 12% have placed their services in the public cloud but complain about the lack of visibility. The remaining 22% said they will keep their most important workloads on premises but will consider moving to the cloud if they have adequate visibility.
Cloud migration risks tip the balance
Chris Brown, Uptime Institute's chief technology officer, said he was a bit surprised that 52% of respondents were reluctant to venture into the public cloud, but a closer look at some of the reasons for that reluctance brought a better understanding.
"Among that 52% (of respondents), there are workloads that just aren't tailored or good fits for the cloud," Brown said. "Also, there is a fair number of older applications that have technical issues with adapting to the cloud and there is a lot of rearchitecting associated it with it, or they don't the budget for it," he said.
There are some workloads that shouldn't go to the cloud. But to have these legacy platforms and the associated RDBs sitting around collecting dust just to support a handful of aging apps doesn't seem to work.

Dana GardnerPrincipal analyst, Interarbor Solutions
Of the 34% who have gone to the public cloud or are considering it, it comes down to a matter of trust, according to Brown. For the most part, respondents in this group realize the benefits cloud can bring, but they have difficulty summoning up enough faith that service providers will live up to the uptime promised in their service-level agreements (SLAs).
These concerns over cloud migration risks appear justified. The number of data center outages this year matched last year's number for the same period of time; although, this year, more managers reported that outages rippled across multiple data centers. Just over a third of respondents reported that outages, which typically were traced to an infrastructure problem, had a measurable impact on their business. About 10% said their most recent outages resulted in over $1 million in direct and indirect costs.
Brown added that part of the problem is many users don't understand enough about how the cloud is structured or how their cloud availability zones are designed.
"If users see the cloud as just a black box in the sky, they can only trust their provider to give them what they need when they need it," Brown said. "And if they have outages, they have to hope their SLAs will make them whole."
While there is plenty of data available showing how reliable most cloud service providers are, users read about highly publicized outages that have occurred over the past few years from providers such as AWS, Google and Microsoft. Compounding that issue is the basic conservative nature of data center managers.
"From my experience, the data center industry always ventures into something very gingerly," Brown said.
Yet another reason that holds some users back is the fear of cloud lock-in and its associated expense when they want to switch service providers.
"Everyone deals with a lot of data because storage is so cheap and every IT strategy seems to be based around data," Brown said. "But when it comes time to pull your data out of the cloud, it can cost you a fortune."
Cloud vendors meet hesitant users halfway
Some analysts and consultants aren't surprised at the number of corporate users still skittish about cloud migration risks. One analyst points to "cloud-down" moves from the likes of AWS, Microsoft and Google over the past year or two that offer users the option to run their applications either in the cloud or on premises.
"AWS announced Outposts last year because they want to get more into larger enterprises," said Judith Hurwitz, president of Hurwitz and Associates, an analyst firm in Needham, Mass. "These accounts say to AWS, 'We like your offerings, but we really want to keep them behind the firewall.' This is how products like Outposts, [Google's] Anthos and [Microsoft's] AzureStack came to be," she said.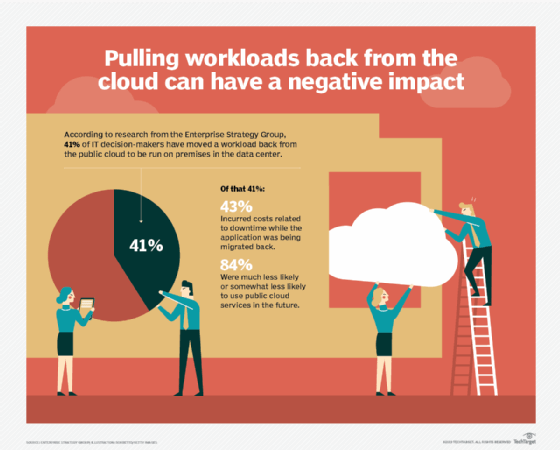 While some other analysts understand the reluctance of many data centers to move to the cloud, they also believe it makes sense for them to be bolder and take advantage of the benefits the cloud offers now rather than wait.
"There are some workloads that shouldn't go to the cloud," said Dana Gardner, principal analyst with Interarbor Solutions LLC in Gilford, N.H. "But to have these legacy platforms and the associated RDBs (relational databases) sitting around collecting dust just to support a handful of aging apps doesn't seem to work."
Capacity demand in the enterprise continues to grow, according to the survey, along with cloud and co-location data centers, with workloads running across a range of platforms. While data center capacity is growing, it is decreasing as a percentage of the total capacity needed.
Dig Deeper on Data center ops, monitoring and management