Tierney - stock.adobe.com
Nutanix DR gets automated, adds orchestration, replication
Nutanix builds in disaster recovery capabilities to its HCI operating system to complement its Xi Leap DRaas and coming Nutanix Clusters running in public clouds.
Nutanix bolstered its disaster recovery capabilities with greater automation, multisite support and improved asynchronous replication, as its hyper-converged infrastructure platform moves into more enterprise accounts.
The Nutanix DR features were built into Acropolis version 5.17, its HCI OS. The Nutanix AHV hypervisor supports all the new capabilities.
Nutanix's multisite DR capability helps customers automate their recovery from failures by designating other sites to take over as the primary site. A designated backup site can be used to protect data from more than one site, and customers can use the backup site to restore data and applications at all other sites.
Greg Smith, vice president of product marketing at Nutanix, said there is no limit on the number of DR sites supported. Acropolis Operating System (AOS) 5.17 includes predefined DR policies for up to four sites, but customers can configure a customer policy for more sites.
The latest OS version improves asynchronous replication for DR at sites across distances greater than 200 miles. Nutanix calls its asynchronous replication NearSync because it has a recovery point objective of about 20 seconds -- down a minute from its previous Async replication. The replication keeps data current at two sites, in case applications need to be restored at the secondary site.
Nutanix also added synchronous replication natively on AHV. Synchronous replication writes data to both sites simultaneously, but it's limited to sites 200 miles apart. Nutanix recommends synchronous replication for the most critical workloads, such as databases, virtual desktops and server virtualization.
Nutanix also added DR Orchestration, enabling customers to determine which applications fail over first and which sites to fail over to. This enables a granular approach to target specific applications.
The new Nutanix DR capabilities are for on-premises HCI clusters. Nutanix sells its software on its own branded Supermicro and Hewlett Packard Enterprise (HPE) servers and also through reseller deals with server vendors Dell EMC and Lenovo.
Nutanix is also in customer trials with Nutanix Clusters, which enable AOS software to run on the AWS public cloud with plans to expand to other public clouds. Nutanix also sells Xi Leap cloud DR as a service (DRaaS).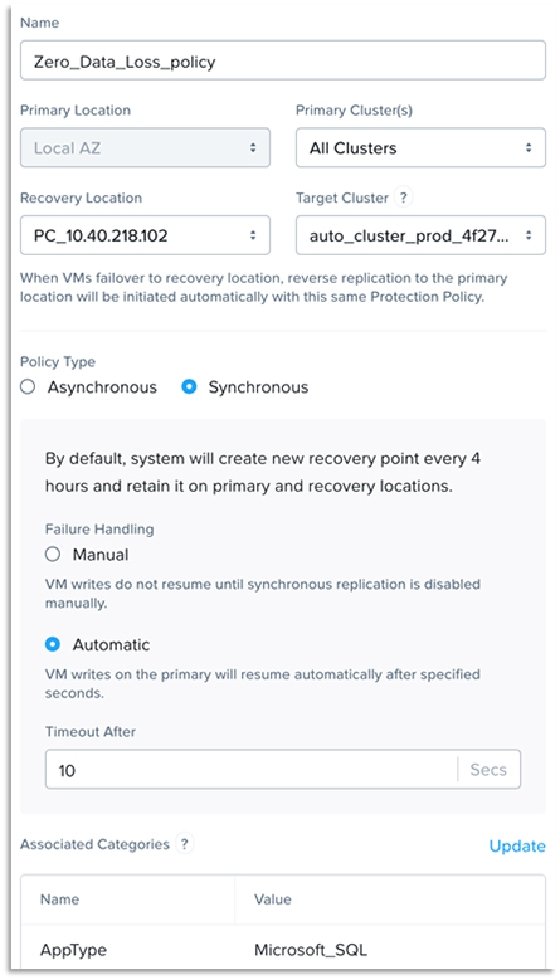 DR 'much desired' for HCI
Nutanix isn't the only HCI vendor to build in DR automation and replication. VMware vSAN uses DR features in VMware vSphere, and HPE's SimpliVity HCI includes RapidDR to handle these tasks, for example. Datrium, which bills its DVX as disaggregated HCI, sells DRaaS for VMware customers.
"This is a much desired capability, as more mission-critical applications are used for HCI," said Naveen Chhabra, senior analyst for infrastructure and operations at Forrester. "If you are a platform vendor, you need to have those capabilities."
Service providers can benefit
Chhabra said the new Nutanix DR capabilities can help customers using Xi Leap DRaaS. "You need these capabilities in the primary data center, regardless of whether you are pushing data to Xi or your own servers running Nutanix -- only the target differs," he said.
Chhabra said the enhanced DR should help managed service providers that have adopted Nutanix.
Phil Schamberger, vice president of infrastructure solutions at service provider and Nutanix partner ProActive Solutions, said database recovery is becoming more important as HCI installments expand into enterprise accounts. He said overall HCI growth is leveling off, but its expansion into critical applications makes the technology more valuable.
"The low-hanging fruit has been picked, and they have to step up to the plate and run environments for databases, SAP HANA and the heavy hitters," he said. "Those are the one-percenters of applications that make up 80% of the data center budget."
While ProActive Solutions also sells other HCI systems, Schamberger said Nutanix is its lead product.
"I've seen Nutanix step up and be successful in a lot of cases that [were] running on bare metal and some high-performance databases," he said. "We have done proof of concepts over the past couple of years in those areas, specifically SQL Server or Oracle DB, your traditional databases."
The Nutanix DR boost comes as the vendor faces challenges from the COVID-19 pandemic that worry most IT vendors. Last week, Nutanix said it expects to meet its revenue forecast targets for last quarter but withdrew its forward guidance. Nutanix also disclosed it will issue two one-week furloughs to more than a quarter of its global workforce.
DR from customer perspective
Damian Clarke, CIO of Alabama A&M University, said he switched to Nutanix in late 2019, mainly for DR because the college is in Tornado Alley in Huntsville, Ala. His school uses Xi Leap for DR and is working on building a Nutanix-based private cloud to share DR services with other historically black colleges and universities in the state.
Clarke said his goal is to be able to replicate all of the college's critical services to the cloud.
"Our goal was to ensure business continuity," he said. "Before, we were in survival mode. It was, 'Why are we down? What can we do about it? How can we make sure it doesn't happen again?' I don't ever want to have those conversations again."
Clarke said he adopted Nutanix AHV to move off VMware virtualization and collapsed his data center footprint when switching from a traditional SAN and server architecture.
"We moved off two rows of equipment to two boxes," he said. "Before, we had a multivendor data center and a multisystem data center that was at least 10 times bigger than we have now."
Dig Deeper on Converged infrastructure management