Getty Images
Broadcom buys VMware in a $61B acquisition deal
As part of the deal, Broadcom Software Group will rebrand and operate as VMware, combining its existing infrastructure and security software into VMware's portfolio.
Article updated on May 26, 2022
After weeklong speculation about the possible deal, Broadcom formally announced plans to acquire VMware in a cash and stock deal worth approximately $61 billion.
The deal is expected to officially close in Broadcom's financial year 2023 ending in October 2023, subject to regulatory approvals and approval by VMware shareholders. Michael Dell, who owns over 40% of VMware, and venture capital partner Silverlake, which owns an additional 10%, agreed to vote in favor of the deal if the VMware Board continues to recommend the transaction.
The terms of the deal, which were disclosed during a hastily arranged early morning press conference on Thursday, give Broadcom 88% ownership of the company, with the remaining 12% to VMware. In addition to the $61 billion Broadcom will pay to acquire VMware, it will take on $8 billion of VMware net debt.
The new group will incorporate Broadcom's existing infrastructure and security software as part of a newly expanded VMware portfolio. Broadcom officials believe the newly combined company offers users more flexibility in building, managing and connecting applications at greater scale from data centers, across multiple clouds from leading providers and out to the edge.
"This [deal] could have implications for VMware customers as its recent spinoff from Dell was seen as the company's chance to innovate and grow without hindrance," said Tracy Woo, senior analyst with Forrester Research. "If Broadcom plans to enter the enterprise software market, it could be a boon into an area it doesn't have much presence in outside of CA Technologies."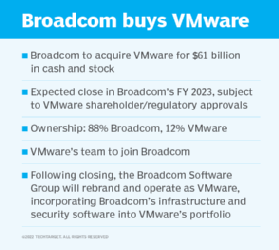 In a prepared statement, Hock Tan, Broadcom's CEO, expressed optimism about the combined company's chances for success, citing his company's "proven track record of successful mergers," along with the combination of Broadcom's semiconductor and infrastructure software and VMware's virtualization software.
Broadcom's acquisitions
Broadcom is best known as a semiconductor maker but offers a number of data center infrastructure products, from networking and storage to IT automation.
The company acquired mainframe software developer CA Technologies for $18.9 billion in January 2019 and followed up with the $10.7 billion purchase of Symantec's enterprise security business in August 2019. Broadcom sold off Symantec's services business to Accenture six months later.
This is hardly the first time VMware has been an acquisition target. Founded in 1998, the company was acquired by EMC Corp. in 2004. EMC sold part of its stake in the company via an IPO in 2007. VMware was then passed over to Dell when it purchased EMC in 2016. Finally, Dell spun off VMware in November 2021. At that time, VMware said its independence would afford "increased freedom to execute its multi-cloud strategy, a simplified capital structure and governance model, and additional operational and financial flexibility."
Analysts who commented on the deal earlier this week said they weren't clear on how VMware fits in with Broadcom's existing chip business or what synergies might exist with CA and Symantec going forward.
It could be good for Broadcom, but people are befuddled because they don't know how good it might be for everyone else, including VMware users.

Dan NewmanPrincipal analyst, Futurum Research and CEO, Broadsuite Media Group
"If this comes to pass, it would be a strange exit for VMware," said Gary Chen, research director of IDC's software-defined compute practice. "VMware seems to be doing well and is now free of Dell, so either the offer is just so good or there's a master plan Broadcom has that we're not aware of."
As with the CA and Symantec acquisitions, some analysts believe Broadcom's motivations have more to do with financial engineering than any grand technology vision for the future.
"Hock Tan is a financial engineer and capable of making shrewd decisions on acquisitions that create strong cash flows," said Dan Newman, principal analyst of Futurum Research and CEO of Broadsuite Media Group. "It could be good for Broadcom, but people are befuddled because they don't know how good it might be for everyone else, including VMware users."
Another analyst said it's rare to see a company with strong partnerships and market position so quickly agree to an acquisition by a company with little experience in markets where VMware has excelled.
"VMware has a proven history of serving at the edges of some major technology trends, like cloud, containers and virtualization," said Dana Gardner, principal analyst with Interarbor Solutions. "It's ironic they now find themselves beholden to a silicon company."