Red Hat vs. SUSE: How do these Linux distributions stack up?
See how two leading Linux open source software products -- RHEL and SLES -- compare when it comes to supported architectures, ease of use, support and pricing.
Red Hat and SUSE are the leading vendors in the open source enterprise Linux market, but how do these two builds compare?
Learn the history of Red Hat vs. SUSE and compare numerous criteria -- including the architectures each supports and how each distribution addresses the learning curve -- as well as product support offerings, pricing and certifications.
Like other Linux distributions, RHEL and SUSE both support a comprehensive set of commands. When comparing these two distributions, it's worth noting that, although some commands are common to all Linux distributions, Red Hat and SUSE also have their own command sets. Additionally, the commands these Linux distributions support tend to evolve over time.
Red Hat Enterprise Linux
Red Hat was founded in 1993 and bought by IBM in 2019 for an estimated $34 billion. The company is headquartered in Raleigh, N.C., and began selling Red Hat Enterprise Linux (RHEL) in 2003. RHEL is the successor to the company's Red Hat Advanced Linux Server.
RHEL is available on the x86 and x64 architecture, as well as 64-bit ARM, PowerPC and IBM Z mainframes. RHEL version 8.2 is currently available and version 8.3 is in beta.
Because there's a significant learning curve associated with using RHEL, Red Hat offers a comprehensive suite of training resources. These range from entry-level survival skills courses to more advanced topics. Red Hat also offers a learning subscription that provides unlimited access to its online training. Additionally, it offers live, instructor-led training on site, in the classroom or in a virtual classroom.
Like other enterprise software vendors, Red Hat makes RHEL available through its sales department and industry partners. The company also sells RHEL through its website as an annual subscription. A single RHEL server license is $349 and a Virtual Datacenter license is $2,499.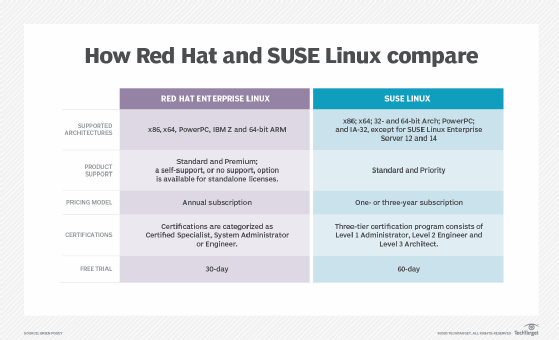 Red Hat also offers a Developer Suite for $99. Organizations can purchase add-ons such as the Smart Management bundle, High Availability, Resilient Storage and Extended Support. But not all add-ons are available with every license type.
Red Hat offers two main support options. Standard support allows for an unlimited number of support cases during business hours via web or phone. The Premium support option provides 24/7 support for Severity 1 and 2 cases.
Red Hat offers numerous certification options for its Linux products. They are classified as Specialist, System Administrator and Engineer. The Red Hat Certified Specialist certifications tend to focus on specific areas such as security or troubleshooting, while the System Administrator and Engineer certifications are broader in scope.
Red Hat offers a free 30-day trial of RHEL Server 8.
SUSE Linux Enterprise Server
Founded in Germany, SUSE created its first Linux distribution in 1994. The company was acquired by Novell in 2003. Novell was later acquired by the Attachmate Group, which was acquired by Micro Focus International. In 2019, SUSE was sold to Blitz, a subsidiary of EQT Partners, for approximately $2.5 billion.
SUSE currently offers version 15 of its SUSE Linux Enterprise Server (SLES). It supports x86 and x64 platforms, as well as Intel Architecture 32-bit -- except for SLES 12 and 15 -- Arch 32/64 and PowerPC.
Like any Linux distribution, SLES has a significant learning curve, particularly for those who are new to Linux OSes. However, SUSE does offer comprehensive training resources, including online and in-person classes.
SLES is sold as a one- or three-year subscription. The subscription cost is based on the number of sockets or VMs, the architecture and the support option the organization selects. A one-year subscription for an x86/x64 OS running on one to two sockets or one to two VMs with Standard support starts at $799.
SUSE offers two support options: Standard and Priority. Its Standard support plan includes assistance with software upgrades and updates, as well as unlimited technical support via chat, phone or web. Support is available 12 hours per day, five days per week, with a two-hour response time for Severity 1 issues and a four-hour response time for Severity 2 issues.
Priority support is available 24/7 and is similar to the Standard option, except that the response time for Severity 1 issues is one hour and Severity 2 is two hours.
SUSE has its own certification program for SLES. This program consists of these three tiers: Level 1 Administrator, Level 2 Engineer and Level 3 Architect.
SUSE offers a 60-day free trial of SLES, as well as access to the High Availability extension, SAP extension and Workstation extension.
Dig Deeper on Data center ops, monitoring and management