Definition
SUSE Linux Enterprise Server (SLES)
SUSE Linux Enterprise Server (SLES) is a Linux-based server operating system created and maintained by the German-based organization, SUSE. SLES is designed for mainframes, servers, workstations and desktop computers.
SUSE Linux Enterprise Server was initialed released in 2000, and has undergone multiple upgrades since. SUSE released its SUSE Linux Enterprise Server 10 in 2006, followed by SUSE Linux Enterprise Server 11 in 2009 and SUSE Linux Enterprise Server 12 in 2014. SLES 12 is the latest version available for use.
SLES releases are often staggered by three to four years, with service packs released roughly every 18 months. As of December 2017, SLES 12 and Service Pack 3 are the most current versions of the operating system.
What SLES is used for
IT can use SLES for workload management and optimization at the enterprise level. Through open source products and standards, users are able to add increased functionality and support. SUSE Linux Enterprise Server is scalable and allows users to efficiently deploy IT services across a variety of environments. With SLES, users can increase system reliability, maintain security compliance and enable new technologies under one overarching operating system.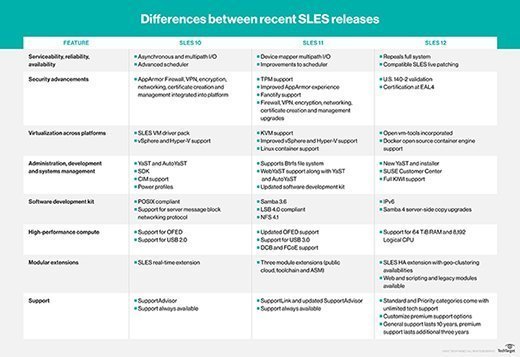 Ease of administration and interoperability are key components of the latest SLES release. IT professionals are able to integrate SUSE Linux Enterprise Server into other environments to increase architectural optimization without high amounts of downtime or interference. Containers and geo-clusters are also two areas of increased support and compatibility in the newest SLES release. Users can now incorporate open source Docker container tools into their system on SLES 12. Geo-clusters give IT more flexibility with high availability add-ons, by allowing administrators to set up replication clusters that spand multiple data center locations.
SUSE Linux Enterprise Server in cloud computing environments
Aside from supporting in-house workloads, SLES also is offered on a multitude of cloud service providers. Amazon Web Services, Google Compute Engine and Microsoft Azure all offer SLES-based cloud instances. IT teams that want to build or deploy custom OS images on these providers should consider SUSE Studio or third-party tools for higher levels of optimization.
Pros and cons
SLES focuses on business verticals and partners with multiple industry vendors. Despite SUSE Linux Enterprise Server for VMware ending its partnership in June 2014, other vendors still support SLES. SUSE is widely accessible thanks to administrator-friendly services, and with the SLES 12 release, users can work with modules to quickly react to dynamic software stacks
However, SUSE doesn't have its own virtualization platform. Users are required to turn to other outlets for virtualization capabilities with SLES. SUSE charges users for support and patches, with total cost varying based on use of the service.
Major competitors
In the Linux server distribution market, SUSE competes primarily with Red Hat and Canonical. Red Hat Enterprise Linux (RHEL) and Ubuntu are the two major competitors with SLES, as the distros share similar software components because of their open source capabilities. Features and hardware and software support are the main differences between each Linux distribution.
Each organization has a major footprint in the enterprise Linux and open source world offering a multitude of products and services.
This was last updated in
December 2017
Continue Reading About SUSE Linux Enterprise Server (SLES)
Dig Deeper on Data center ops, monitoring and management