pressmaster - Fotolia
Top 7 system administrator interview questions and answers
To land any IT job, you need to master the interview. Here are seven questions to expect in your next sysadmin interview and how to ace the answers.
The right answers to tough system administrator interview questions can set you apart from a crowded field of job...
Continue Reading This Article
Enjoy this article as well as all of our content, including E-Guides, news, tips and more.
candidates.
System administrators provision, install, configure and maintain hardware and software in a data center. Many sysadmins work with other IT professionals to improve and optimize infrastructure. Success requires a breadth of technical knowledge coupled with solid hands-on capability.
Acing these seven important system administrator interview questions, or variations thereof, will set you apart from other candidates.
Technical experience system administrator interview questions
What is your technical background?
Given the diverse scope of sysadmin roles, formal education requirements vary. Most system administrator jobs require a solid foundation in computer science, such as a bachelor's degree in engineering. Some organizations require entry-level certifications, such as CompTIA Server+, or certifications associated with a specific technology, such as Microsoft Certified Professional or VMware Certified Associate -- Data Center Virtualization (VCA-DCV).
You should be aware of your knowledge gaps and be prepared to discuss them. If you don't have a specific certification, do you have similar or equivalent experience? For example, if the role calls for VMware Certified Professional 5 -- Data Center Virtualization and you currently have VCA-DCV, discuss your expertise and related projects that used a similar skill set.
Before the interview, verify that all of your certifications are current and that your contact information in the certification vendor's database is correct. Potential employers can reference certs with Microsoft, VMware, CompTIA and other organizations. Expired or old certifications or conflicting information raises red flags.
You can use this system administrator interview question to show how you assess business value and capability. As you describe your education and certifications, emphasize how each credential has helped you; show the strategic benefit of each educational investment.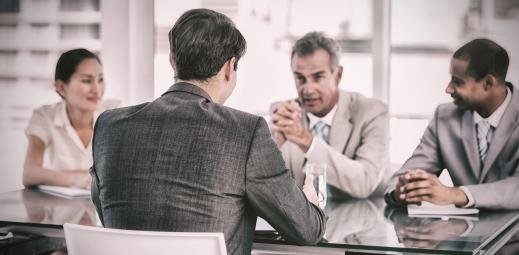 What's your background in operating systems and services?
System administrators keep servers and endpoints configured, optimized and running, so the interview will inevitably turn to server hardware -- operating systems such as Microsoft Windows Server 2016, hypervisors such as VMware vSphere -- and the scope of the network services you have administered, such as Active Directory, domain name systems, dynamic host configuration protocol and virtual private networks.
Employers want to get a sense of your range and comfort with the core technologies in their data center, so it's a good idea to frame your response in the form of a typical day. Talk about the tasks you handle and any special projects, such as testing and installing OS patches or managing server upgrades to Windows Server 2016.
Don't worry if your experience doesn't align precisely with every requirement because secondary skills can be reinforced on the job.
How do you handle support for users and endpoint systems?
The role of sysadmin often extends beyond the data center to the end users and their equipment.
Use this system administrator interview question as a chance to highlight your familiarity with help desk ticketing systems and remote desktop administration, particularly for larger businesses with a sizable user base.
Frame the discussion as a user productivity issue. The interviewer already knows you can patch or upgrade Windows and install more memory, etc. Show that you understand the business value of user support and clear communication and how to use tools to resolve problems and restore functionality quickly. Name specific tools and note their benefits.
Highlight your background in managing a variety of other data center devices that control end-user access, including firewalls, routers and managed switches. Mention expertise on some systems management utilities like Splunk and Nagios.
How do you handle backups and restoration in your current role?
System administrators manage physical and virtual backup operations on various media, storage tiers or archival subsystems.
Familiarity with backup tools and an understanding of sound backup and restoration practices are important, so talk about the ways that you use tools such as CommVault backup software or Symantec NetBackup. Restoration is often the weakest part of any data protection strategy, so emphasize the ways you verify or test backups to ensure recoverability. For example, one strategy is restoring replicated VMs to test servers to verify backup integrity.
Backups and restoration also affect data retention, legal discovery and security issues such as data theft and regulatory compliance. Sought-after sysadmins understand the ways backups address these important business issues. For example, if your background includes data retention management, discuss archival or data destruction practices in the interview.
Management and leadership questions
How would you manage systems performance? What KPIs do you think we should track?
System administrators routinely monitor system availability and performance. Employers will ask a sysadmin these two interview questions to gauge their ability to keep hardware running as expected and to keep resource utilization within acceptable levels, schedule tasks such as backups and note errors, examine key event logs, and so on.
Data center decisions require solid metrics. Focus your answer on the key performance indicators (KPIs) that serve your current role. These can range from granular server-level metrics such as CPU, memory and disk utilization to the number of virtual workloads per host and power density.
Note how each KPI is important to the business. Perhaps you watch the number of VMs per host or server resources in an attempt to improve VM consolidation by recovering underutilized resources. If you don't know why you watch each KPI specifically, it can be a red flag.
Put a practical spin on your conversation by citing specific monitoring and management tools, such as SolarWinds, ManageEngine and Nagios. Compare them to those used by your potential employer -- it shows that you're comfortable transitioning from one tool set to another.
What's the toughest problem that you've ever solved?
This is where an interviewer can really push a candidate. System administrators must be expert troubleshooters and must be able to identify and resolve problems in hardware, software, networks, services and applications.
Some system administrator interviews include a short troubleshooting test of a common problem scenario. Highlight a recent experience to underscore your diagnostic process and expertise. For example, you can explain how you identify a problem, use system logs to narrow down the issue, test performance with common tools such as PerfMon, use PowerShell commands to query or change configuration data, and other subsequent steps that led to a resolution.
Show a potential employer that you're able to apply reason and make use of the available diagnostic tools to address problems and restore functionality quickly. Highlight ways you kept applications and services available during the process, such as migrating workloads off of troubled server hardware.
We're in the process of virtualizing the server fleet. How would you manage this project?
Don't be fooled by this type of interview question. Virtualization is certainly an important technology and sysadmins should have a detailed knowledge of hypervisors, so highlight your expertise using common hypervisors, or managing mixed -- physical and virtualized -- as well as remote systems. But don't stop there.
This question invites a discussion of strategy rather than technology. In a leadership role, how would you justify, organize and execute the deployment of a new technology in the data center? This is how the IT department delivers the cost-effective services that keep businesses competitive.
This is an opportunity to stand out as manager material. Talk about evaluating the hypervisors, how you determine which workloads to virtualize, performance testing and workload protection decision-making processes, and how to get the most user and business benefit from virtualization.
Next Steps
Always review the employer's job requirements carefully before a system administrator interview.
Lead some of the conversation -- ask about the company's data center objectives and roadmap into the future.
Remember that your technical skills benefit from people and organizational skills to follow projects through to completion.
Connect with your peers on sysadmin blogs, local groups and online forums.
Supplement hands-on experience with educational literature.
Dig Deeper on Data center careers, staffing and certifications