AKS - Fotolia
Top data center skills admins can use in 2020
The 2019 tech job sector saw consistent growth and job availability. In 2020, admins should develop expertise on cloud architectures, edge computing deployments and automation.
For data center professionals, the job market looks bright. Employment numbers in the tech sector continue to grow year after year, and there's no shortage of data center skills or specializations to pursue.
As demand for cloud services increases, 5G implementations get ever closer and companies take on more digital transformations, admins can hone their skills to meet a multitude of infrastructure challenges.
Technology jobs continue to grow at a consistent rate. CompTIA stated that 67% of net tech employment is in technology occupations such as software developers, network architects and database administrators. The U.S. Bureau of Labor Statistics found that the sector has added an average of 24,000 jobs every month for the last two years.
Software jobs are driving tech job growth, as they account for nearly one in three new tech jobs in the last decade; the increased popularity of cloud computing and various as-a-service offerings support this growth. IT services and supporting functions account for nearly 66% of all job gains this past decade and are on track for double-digit growth over the next decade.
Technology recruitment firm Dice reported that data center job availability increased in the last year. Network architect jobs increased 16%, database admins increased 11% and network/systems administrators increased 6%. Database architects topped the list with a 21% increase.
Salaries reflect more than just than experience
Tech sector employees continue to receive higher average salary than the rest of the U.S., even with the wild fluctuations due to location, area of expertise and industry sector.
CompTIA stated the median wage tech occupations is twice the national average than non-tech jobs at $81,900; the 2019 Dice "Tech Salary Report" found it to be even higher with an average of $93,244.
Many sectors only have six-figure incomes at the management and above level. The tech sector is mostly powered by those with individual contributor roles, mainly due to specific skill sets and critical system knowledge.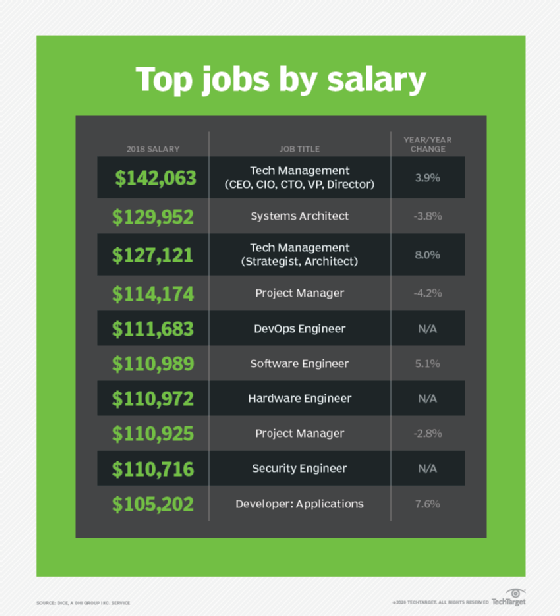 The top data center skills
Traditionally, admins have focused on specializing in certain segments of on-premises management such as asset tracking, network troubleshooting or specific hardware skills.
As more computing power moves to the cloud and the cloud infrastructure industry consolidates, admins must use their expertise to oversee changing architectures. Admins should understand the cloud fundamentals, containerization and artificial intelligence, so they can handle implementing, monitoring, troubleshooting and updating.
The top 10 paying tech skills all offer salaries in the six figures, from a high of over $130,000 for a Golang programming expert to a base of nearly $123,000 for a HANA cloud application specialist. With the evolution of infrastructure, admins should focus on the following data center skills:
Edge computing deployment
By 2025, there are expected to be over 75 billion IoT devices connected to the internet. IT admins must rethink their network architectures and how server processing hardware handles all the data. Edge computing deployments will help admins collect and analyze data from IoT devices and then transmit the data back to a remote or on-premises data center. This requires admins to address remote hardware maintenance and software updates, as well as specialized data backup and storage requirements.
Data traffic and hybrid IT management
Most organizations use a hybrid cloud deployment for parts of their network architectures. Gartner found that the typical enterprise uses two dozen cloud services from nine different providers.
Services such as AWS, Microsoft Azure and Google Cloud Platform make it easy to host and serve applications and services. IT admins must have data center skills that ensure network bandwidth between these applications is optimized for the speed and volume to support data traveling through it; whether that transfer is cross-cloud or from the cloud to an on-premises data center.
Cloud computing
The skills needed to ensure smooth cloud computing setups include cybersecurity; various database software knowledge of MongoDB, Hadoop and Amazon DynamoDB; DevOps skills such as development, deployment and testing, and familiarity with Chef, Ansible, Atlassian Bamboo and Splunk.
In the course of 2020, admins should understand how cloud applications and services integrate into their data centers and enterprise workflows. Effective cloud monitoring and cloud capacity management are important to help troubleshoot any potential issues that may arise.
Automation implementation
An organization must incorporate high-performance computing into its data centers if it decides to use the new automation, AI and machine learning-based use cases being developed -- and do it all without risking tools and process deduplication or incurring additional hidden costs.
IT admins who should hone their soft skills -- such as collaboration and project management -- and technical chops to work as an automation engineer or consultant must be able to develop implementation strategies; gather requirements from other departments and teams; create and execute test scripts; and install relevant applications and databases.
Dig Deeper on Data center careers, staffing and certifications