sommai - Fotolia
Amazon's fastest growing occupations list raises questions
Amazon's plan to upskill its workforce cites high-growth occupations such as data scientist and what it calls data mapping specialist. But its claims about growth may be off.
Amazon Inc.'s plan to upskill employees claims that several occupations are growing at phenomenal rates. The fastest growing, what Amazon dubs "data mapping specialist," is telling. It may point to Amazon's efforts to improve delivery times. The company's second fastest growing occupation is data scientist.
Amazon cited its list of fastest growing occupations as part of its $700 million plan to upskill its workforce. The technology giant will use that money through 2025 to improve the skills of 100,000 U.S. workers, or about one third of its American workforce.
But there are reasons to question Amazon's fastest growing occupations list. Amazon did not provide all of the data needed to understand its growth rate. It didn't provide the denominator, or the number underlying the percentages.
Amazon's dramatic growth in data scientists also deserves scrutiny. Over the last five years, the number of data scientists at Amazon has grown by 505%, it said. But is that number indicative of the broader employment demand?
"The demand is there, but the supply [of data scientists] is catching up quickly," said Michael Rappa, who founded the Institute for Advanced Analytics at North Carolina State University.
The analytics institute, created in 2006, was the first program to issue a Master of Science degree in Analytics. There are now about 280 institutions that grant the same kind of degree or something similar such as a Master of Science in Business Analytics or a Master of Science in Data Science.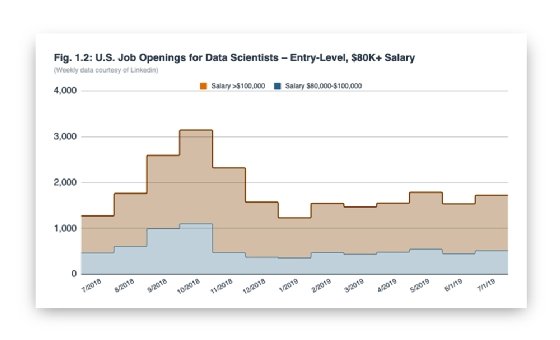 Masters in analytics degrees rise dramatically
In total, Rappa estimates schools offering advanced analytics degrees will produce about 10,000 graduates this year. That's a result of the growth in programs since North Carolina's start, but the total number does not include students graduating with degrees in statistics, or computer science graduates with a data science track as part of the degree, he said.
Rappa used social media data to analyze demand for entry-level data scientists with graduate degrees. He runs an ongoing analysis -- it is a data science program after all -- of the changes and growth in data scientists. Over the past year, for jobs that pay at least $80,000, there are about 1,600 job openings a month. This month, the number is higher, at 1,720, he said. But his data does not show the dramatic growth Amazon sees internally. The demand bounces around "but it's not quadrupling or quintupling," Rappa said.
Still, starting salaries for entry-level data scientists are high. The average base pay for graduates of the North Carolina program was $98,500, a new high, with 95% employed at graduation.
For HR departments, figuring out who is a data scientist gets complicated. It is not a defined occupation, such as a CPA, Rappa said. Although Amazon won't say how many data scientists it employs, a search on LinkedIn, filtering for Amazon workers who work in the U.S., identifies 1,240 individuals with this job title or who self-identify as a data scientist.
The biggest demand at Amazon
Amazon's fastest growing job category is "data mapping specialists." It cited an eye-popping five-year growth of 832%.
The demand for people who can map data may be coming from the Amazon Maps Data and Science team, according to various Amazon job ads. That team "builds systems that model the real world to enable routing for drivers."
There is no standardization of job titles.

David FooteCo-founder and chief research officer, Foote Partners LLC
But use of the term data mapping specialists as an occupation is rare, IT labor market experts said.
People who map data typically have job titles that include data architects and data modelers, said David Foote, co-founder and chief research officer at Foote Partners LLC in Vero Beach, Fla.
Foote said it's common for firms to rename occupations. "There is no standardization of job titles," Foote said. "You can call people whatever you want."
Similarly, M. Victor Janulaitis, CEO at Janco Associates, a research firm in Park City, Utah, said he doesn't see the data mapping specialist term too often. "It's not large enough to track, but it's very company specific," he said.