Share this item with your network:
CW APAC: Expert advice on data management

alex_aldo - Fotolia
Augmented data management draws more enterprise interest
With AI and machine learning, organizations are starting to augment their data management. This is changing the way enterprise users capture, govern and integrate data.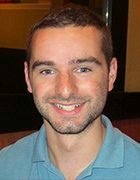 By
As enterprises are increasingly standardizing on augmented analytics, a related model is taking shape in the data and analytics market: augmented data management. The technology is changing the data management landscape and the role of data professionals.
Augmented data management uses machine learning and AI to make enterprise data management disciplines, such as data quality and integration, metadata management, master data management, and database management systems, "self-configuring and self-tuning," according to Gartner.
Gartner included augmented data management in its recent list of top 10 data and analytics trends for 2019. Augmented data management is already starting to change how data professionals prepare and govern data with the help of more advanced machine learning capabilities and AI-driven automation, experts said.
"Augmented data management will be an important enabler to faster, more scalable, more intelligent and higher quality augmented business decisions," said Bill Hostmann, research fellow at Dresner Advisory Services.
David Menninger, an analyst at Ventana Research in Bend, Ore., said he sees augmented data management as part of a larger trend toward augmented software applications of all types, including analytics, which tends to get more attention.
How AI and machine learning are transforming data management
Augmented data management will be an important enabler to faster, more scalable, more intelligent and higher quality augmented business decisions.

Bill Hostmannresearch fellow, Dresner Advisory Services
Like augmented analytics, augmented data management is driven by AI and machine learning.
Machine learning has long been a component of data management and governance tools, supporting matching, anomaly detection and correction, and mapping, said Forrester analyst Michele Goetz. The difference now is the "sophistication of the algorithms and the breadth of data challenges that machine learning in these tools are solving," Goetz said.
Goetz laid out some of the data management tasks enterprises are using machine learning for:
granular analysis to draw out personal identifiable information from data sources, pipelines and tool repositories and to learn about these conditions;
automating data labeling, classification and tagging at scale to reduce the need to manually find, review and build business logic to make sense of data;
capturing data queries, annotations and ratings to infer the value of data and whether a data source can be trusted and to ensure compliance with data policies; and
interpreting data use and workloads to automatically determine the management and deployment of data warehouses.
Automating tasks for data professionals
Machine learning in augmented data management is automating some of data professionals' routine manual tasks. These tasks include database performance tuning and optimization and other database administration jobs that are computationally intensive and iterative.
Menninger said automating some of these jobs could reduce the number of entry-level database administrator positions available, but he and other analysts said that it doesn't minimize the need for human expertise and input for data management. Augmented data management uses machine learning tools -- or "AI bots," as Goetz describes them -- to serve up smart suggestions while letting humans make the final choices.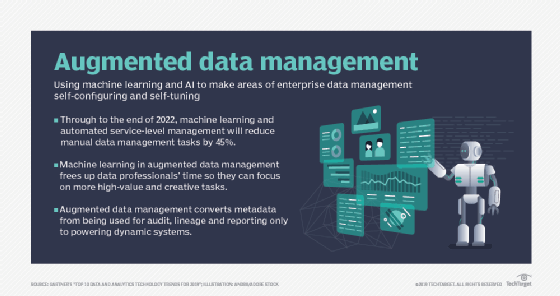 "Augmented offerings are described as such because they're couched as human helpers that offer recommendations and, in some cases, automation options," said Doug Henschen, an analyst at Constellation Research. "But they also make a point of providing human oversight in the form of choice, tuning options or rule-based control over execution. In the data management arena, augmented options are showing up more in roles where there are lots of variables and choices to be made."
These AI-driven human helpers are freeing up data professionals' time so they can focus on high-value tasks rather than low-value, routine tasks. Data professionals should welcome this change, Henschen said.
"I think data professionals truly do want the tedious and computationally intensive stuff to be handled by machines," Henschen said. "There is plenty of work to be done, and letting machines handle what they do best will free the humans to focus on the creative and visionary work."
Dig Deeper on Data integration