Petya Petrova - Fotolia
Redis Labs expands database to real-time data processing
Open source database vendor Redis Labs released RedisGears and RedisAI in an effort to expand the Redis platform beyond database to enable a real-time data processing system.
Redis Labs, best known for its namesake open source Redis data caching and database technology, is growing beyond its roots. That was the key message from company executives at the RedisConf virtual conference May 12-13.
During the opening day keynotes May 12, Redis Labs revealed a series of new services, now generally available, that help to expand the utility for Redis across different use cases. Key among the new services is RedisAI, which can help run machine learning models and manage the associated data. The other new project is RedisGears, a serverless transaction engine for Redis that enables event-driven data processing.
RedisGears brings the AI model closer to the different data types that are managed in Redis, said Chirag Dekate, a Gartner analyst. He noted that based on successes of early adopters of AI systems, Gartner recommends placing the analytics closer to data sources to minimize the negative impacts of latency. This will require new data infrastructures that enable embedded analytics capabilities.
"RedisGears is designed to address this emerging space of having embedded analytics or trained AI models closer to the data sources," Dekate said. "The design pattern of moving analytics closer to data sources will impact the entire system stack, from applications through hardware."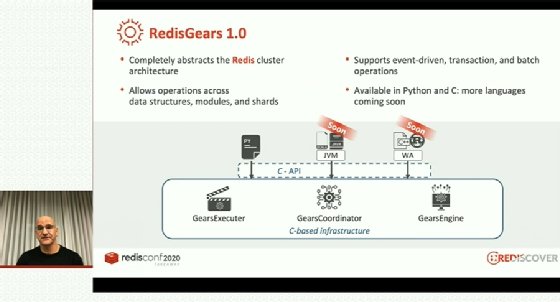 How RedisGears works to accelerate data pipelines
In a keynote, Redis Labs co-founder and CTO Yiftach Shoolman outlined a number of the new data capabilities coming to Redis, including RedisAI and RedisGears.
Shoolman said enterprises need to simplify data pipelines so data is more rapidly available for analysis. By using their own local data sets, organizations can train AI models faster and accelerate the path to production deployment, he said. The RedisGears 1.0 release, also unveiled at RedisConf, is an important part of creating a faster data path to help with both AI and event streaming use cases, Shoolman said.
"RedisGears allows you to do operations across data structures and modules, and it supports event-driven architectures," he said.
With addition of RedisGears and RedisAI, Redis is becoming more than just a database.

Yiftach ShoolmanCo-founder and CTO, Redis Labs
Shoolman noted that RedisGears enables a real-time data processing capability directly within a Redis database that would have otherwise required an application that runs outside of Redis, which would introduce additional complexity and likely latency as well.
RedisGears also works with the RedisInsight tool, released in November 2019, which provides database management and visibility features to Redis. Shoolman said RedisInsight is an effective tool for analyzing and monitoring all data that runs inside Redis, adding that RedisInsight now also includes a way to write RedisGear functions that can be deployed into a Redis deployment.
"With addition of RedisGears and RedisAI, Redis is becoming more than just a database," Shoolman said. "You can use Redis as a real-time data platform for existing and next-generation cognitive applications."
Redis Labs CEO sees momentum
In an opening keynote, Ofer Bengal, CEO and co-founder of Redis Labs, noted that a virtual conference wasn't the original plan for RedisConf, but COVID-19 forced a change in direction. Even amid the virus pandemic, though, Bengal maintained that over the last two months, with developers all working from home, productivity has gone up.
"This lifecycle is not going to last forever, but I think we all realize that the world has changed and we will probably never return to where we were before, pre-COVID," Bengal said. "The new normal will heavily rely on online services in almost every field and category."