kentoh - Fotolia
Denodo Platform 8.0 expands data virtualization features
The updated platform from Denodo looks to help organizations via enhanced features that connect and query disparate sources of data across different environments.
Data virtualization vendor Denodo is expanding its namesake platform with a new version that provides enhanced cloud connectivity and a data catalog that benefits from machine learning.
With the Denodo Platform 8.0, the company, based in Palo Alto, Calif., continues to build out beyond data virtualization to create a logical data fabric framework. Among the new features is support for GraphQL to enable organizations to connect and access different data sources across a data fabric. There is also improved hybrid and multi-cloud integration, as well as a new web interface that looks to simplify management and ongoing operations.
With data virtualization, instead of moving data into a centralized repository or a data lake, there are virtual pointers to where data resides. It's an approach that David Stodder, senior director of research for business intelligence at The Data Warehousing Institute (TDWI), said he sees solving some key challenges that organizations can face with data management.
A data virtualization layer can provide an alternative way of providing governed and authenticated access, and querying of data at the sources rather than moving it to a central spot.

David StodderSenior director of research for business intelligence, TDWI
"Organizations have a pain point when they have limited data access and have to go through significant data movement and centralization to provide access," Stodder said. "A data virtualization layer can provide an alternative way of providing governed and authenticated access, and querying of data at the sources rather than moving it to a central spot."
Denodo Platform 8.0 enhances data virtualization into data fabric
Stodder said Denodo is expanding data virtualization to support the concept of a data fabric, which provides a broader approach to integrating diverse components in a physically distributed environment such as a hybrid, multi-cloud scenario.
In Stodder's view, the new data catalog capabilities in Denodo Platform 8.0 are a key addition. TDWI sees metadata management and data cataloging as top of mind for organizations that want to improve users' ability to locate, relate and explore data as they prepare analytics, data science and business intelligence projects. Stodder added that the 8.0 release also employs AI for query performance and to enable AI-powered recommendations, which will help users be more productive and experience fewer delays.
According to Denodo CTO Alberto Pan, the new data catalog includes personalized recommendations of potentially interesting data sets, based on activity patterns of the user and others like them. Pan said recommendation techniques are also used in Denodo's new smart query acceleration engine to automatically learn from past workloads and recommend summaries that can optimize workloads.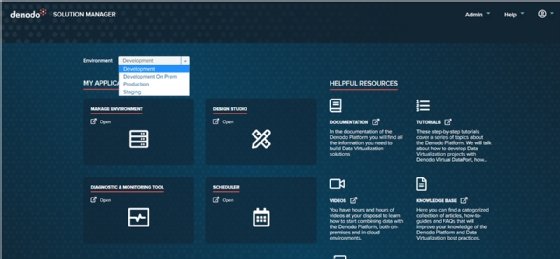 The benefits of GraphQL support
One of the key additions in Denodo 8.0 is support for GraphQL, which provides an alternative approach to connect APIs and data interface to the commonly deployed REST API. Often when using a REST API, applications need to call many endpoints to acquire all the data they need to perform a single action, Pan said. With GraphQL, the application should be able to obtain all that it needs with a single call to the API.
"This comes with some trade-offs, so it's not that REST APIs are going away any time soon, but GraphQL APIs are definitively more convenient in some scenarios -- and that is why the adoption of the technology is growing very fast," Pan said.
He added that, generally speaking, creating GraphQL APIs requires significant coding work, which Denodo Platform 8.0 addresses for users. According to Pan, any virtual model created in Denodo is accessible using GraphQL out of the box.
More machine learning in next Denodo update
Looking forward, Pan said that one thing that his company will be doing in future updates is extending the use of machine learning to more points in the Denodo Platform.
He said Denodo has a privileged position in its customers' information architecture, as the bridge between data sources and data consumers. As such, Denodo can collect a lot of interesting information about access patterns, data sources and performance.
"This data can be used to feed machine learning processes to automate tasks at all the stages of the data management process," Pan said "We have started doing this with the recommendations in the data catalog and for query acceleration, but we plan to extend it to many other areas."