alotofpeople - Fotolia
LiveProcess emergency management aids California county
A regional coalition of hospitals, nursing facilities and other major healthcare centers uses one platform for key emergency management and communications.
Communication in the healthcare industry is always important, but during a crisis like the current pandemic, it's critical. The Riverside County Emergency Management Department has benefited from a tool in place to streamline emergency communications.
The southern California department uses LiveProcess Emergency Manager, a healthcare emergency management platform that features emergency preparedness planning, mass mobilization and notification, real-time coordination and tracking. Riverside County has used LiveProcess for more than a decade.
"When the pandemic started, everything was there," said Carol Gonzalez, program coordinator for the department.
'One less thing we have to think about'
The emergency management department, which provides and coordinates emergency services for the community, is part of the Riverside County Emergency Management Healthcare Coalition. The coalition includes an array of providers, including 17 acute-care hospitals, 56 skilled nursing facilities, urgent care centers and blood banks.
The coalition has existed for about 12 years and includes thousands of employees, Gonzalez said. Coalition members work together, managing and sharing resources, as well as coordinating strategies to deliver medical care.
During the pandemic, LiveProcess has helped facilities communicate with each other. Polls in the system can help figure out where facilities are lacking. For example, some of the 17 hospitals may report that they need more of a given item. That communication lessens the potential waiting time.
It really helped us in getting a grasp of what resources were really needed.

Carol GonzalezProgram coordinator, Riverside County Emergency Management Department
"It really helped us in getting a grasp of what resources were really needed," Gonzalez said.
The LiveProcess system has resource request forms, contact information and emergency operations plan templates. Gonzalez said she likes the ease of being able to plan, collaborate, share and have information in one location, especially during the pandemic.
"The beauty of the system is we have everything in there," Gonzalez said. "It's one less thing we have to think about and really helps us focus on our job."
Receiving buy-in from staff
Before adopting LiveProcess, Riverside County's communication was more fragmented, with multiple platforms in use, Gonzalez said. It was important to clearly detail the benefits of LiveProcess and get users trained and confident with it. Getting hospitals on board with the system drove other facilities to follow.
"This really brought it all together into one space," Gonzalez said.
While some facilities only use it in a disaster situation, most hospitals use it day-to-day, for example, in requesting additional resources.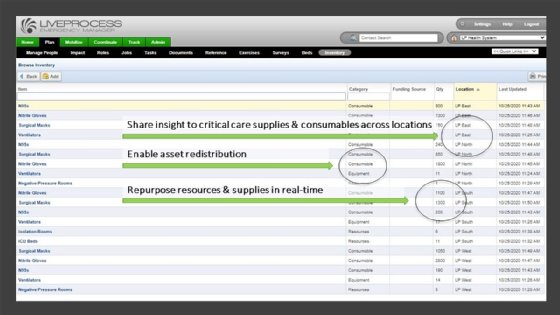 Every facility has a coordinator who manages the facility's profile and continually updates the information and contacts, according to Gonzalez. The smallest facility has about 250 to 300 contacts and some of the largest have more than 5,000.
Each facility has the option to either include every member in LiveProcess as a contact or have key contacts who then disseminate the message through an umbrella system.
Riverside also uses LiveProcess to test response plans. The organization regularly does tabletop exercises and full-scale run-throughs.
Riverside even had an infectious disease response plan.
"It really started the conversation and communication between different departments," Gonzalez said.
What LiveProcess
provides
LiveProcess, which is based in Chelmsford, Mass., was founded in 2004. In addition to the Emergency Manager full software platform, it also offers Communicator for quick and easy communication and coordination, and the newly launched Aware that's enhanced to handle situations of any scale, said CEO Terry Zysk.
Messaging options include email, mobile phones, and work and personal phones. The communications receive a high response rate, which is key, Zysk said.
Other emergency and crisis management platforms include Everbridge and OnSolve. LiveProcess focuses on the healthcare sector and claims about 50,000 active users. A lot of the customers are regional organizations like Riverside, Zysk said.
Customers are adjusting to work amid the pandemic.
"A health system that has the ability to adapt rapidly to change," Zysk said, "is an organization that can thrive."
Dig Deeper on Disaster recovery facilities and operations