Getty Images/iStockphoto
New Workspace One features focus on intelligence, security
In this Q&A, VMware's SVP of EUC, Shankar Iyer, discusses how new Workspace One features are driving toward a better employee experience and how they will help IT admins better manage it.
VMware unveiled new Workspace One features at its annual user conference. Two standouts include Virtual Assistant, which will help to set up a device and answer frequently asked questions, and Employee Experience Management, which can proactively monitor endpoint security.
Workspace One is VMware's digital workspace product that enables IT to manage endpoints and provide end users access to their desktops and applications wherever they are. The new features include AI capabilities that are designed to help IT and HR get new employees settled faster, as well as better identify potential security issues before they spread throughout the organization.
In this Q&A from VMworld, Shankar Iyer, SVP of end-user computing at VMware, talks about what the new Workspace One features can provide IT, why a zero-trust model is a security must and what customers can expect in the future from Workspace One.
What do organizations need to do at the start to get the most out of the new Workspace One features?
Shankar Iyer: It's easy for an organization to latch on to it because it's running in the cloud. The Virtual Assistant piece, we've partnered with IBM Watson and our framework will integrate with any NLP [natural language processing] type of programming that organizations use. We're also seeing in the market the need for these general purpose questions answered, and Watson is a general purpose machine. We thought it was the best starting point from an NLP perspective.
We wanted to build a standard way for these bot frameworks to be able to integrate into our Virtual Assistant product. ... But organizations can still customize a lot within Workspace One. Every organization that implements us is different, but there are patterns within industries or types of organizations that can ease that input.
How has the importance of security affected end-user computing?
Iyer: In the old days, the security model was about building this wall and not letting any activity leave the room. Now it's an open floor: You can go to a company, and sometimes networks are open. Devices come from anywhere. It behooves customers to build this zero-trust security model.
As a result, you'll need to put up some barriers and gates and that can benefit a platform like Workspace One. You need identity access; you need to establish device compliance and security hygiene. You need to have data collection through every point, and you need this intelligence ability to decode the data in real time and alert you if someone is coming in on a device we haven't seen before from a place we haven't seen before, so I'm going to notch up his risk score. If that risk score reaches a point, you can shut off access.
But how do you balance the desire for improved end-user experience with the need for better security?
Iyer: If you implement a zero-trust model you won't compromise user experience. Because then say an employee comes into a network on a trusted device and, as IT, we're going to give them the whole experience with no barriers. But through machine learning, if I detect an anomaly, I can start putting up gates. Say you used a friend's device; the only inconvenience is probably a second login with a login pin. The end user will be OK with that. But if I try to challenge you with dozens of different password logins, that's when you, as an end user, can get frustrated. It's progressive enforcement as a need.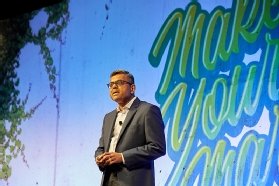 The other thing security people are accepting is there's no way to block everything. Even when a security concern slips through the cracks, with new Workspace One features, it tracks every action that the end user did. The moment you cross a threshold, we can shut off access.
That philosophy of security where you do progressive security boundaries, while not compromising experience by using all this data to fix things when things go wrong, is what we're going for.
What is VMware looking forward to with Workspace One and what can customers expect?
Iyer: We're starting to see an adoption of Workspace One features to optimize experience and when we break it down to a new employee's Day Zero, Day One, Day Two and offboarding, there's a lot we can do. We can optimize each one of those days and better bridge the physical and virtual world. For example, when you walk into your office, we badge in. Why do that when you have a smartphone? There are capabilities of using those devices as identity.
You'll see this experience get more automated, and bringing the power of intelligence to IT to make them more productive and adding services, things like ticketing will diminish over time. Those are some areas we can still optimize. To do that, other facets of the platform like zero trust will need to be leveraged.