Dell Unified Workspace could make life easier for IT admins
VMware's integration into Dell devices and services as part of the newly unveiled Unified Workspace product could be a boon for IT admins.
Dell Technologies unveiled a new platform at its annual conference aimed at making life a little easier for IT admins. The Dell Technologies Unified Workspace brings together VMware Workspace One software, which simplifies how IT manages devices and applications, and Dell devices and services.
The new platform, which made its debut at Dell Technologies World 2019, gives IT admins a single view into how its workforce is using applications and devices. It enables IT to better deploy, manage and service the equipment, which includes a redesigned catalog of Latitude mobile PCs that include improved battery life, charging docks and multifactor security login.
Unified Workspace also includes an information security product from Secureworks. Taken together, the new integrations will enable IT to quickly deploy devices and services throughout the enterprise, according to Andrew Hewitt, analyst at Forrester.
"Unifying the software and hardware together is a significant improvement in the overall employee experience, enabling faster onboarding and flexible access to applications, regardless of location," Hewitt said. "The addition of services on top of this can also improve end-user experience with analytics and troubleshooting reports. This is a big cost savings and productivity enhancement, especially for organizations with large IT departments."
Fine-tuning the end-user experience
Dell touted its Unified Workspace as a platform that "simplifies the entire device lifecycle for IT, while providing workers with the personalized, frictionless, ready-to-work experience they demand," according to a press release.
In a statement, Shankar Iyer, senior vice president and general manager of end-user computing at VMware, said Unified Workspace will "radically change end-user computing and help IT teams reduce costs by enabling a move away from high-touch processes to a modern management approach." That approach includes analytics and automation.
Mark Bowker, an analyst at Enterprise Strategy Group in Milford, Mass., said he believes the product could be useful for IT admins. He described the Unified Workspace platform as a tool that will enable IT admins to better manage and control what the workforce is allowed to access and use on their applications or desktops and determine if employees are getting the most out of their devices.
"With Unified Workspace, there's the ability to recognize the way an employee works and if they're having a suboptimal experience," Bowker said. "Companies can now fine-tune the experience, devices and policies for their employees."
The benefit of Unified Workspace isn't what it can do, which Bowker said already exists. Instead, it's bringing together processes and management capabilities that have traditionally been segmented and have needed multiple tools.
"It appears that, using Unified Workspace, I'll be able to take Workspace One, identity and access management and data protection into a single view and can better deploy and manage the end-user experience," Bowker said.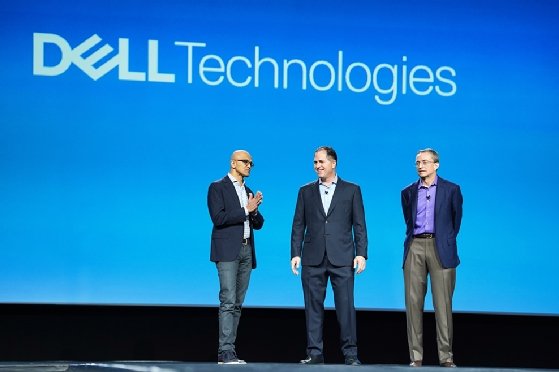 More devices could mean partnerships
At the conference, VMware also unveiled a new cloud-based integration between Workspace One and Microsoft 365, enabling joint customers to use Workspace One to secure Office 365 apps and data. The two announcements not only underscore the strength of the VMware Workspace One product, according to Bowker, but could also signal a change in the way end-user computing companies do business.
Unifying the software and hardware together is a significant improvement in the overall employee experience.

Andrew HewittAnalyst at Forrester
"Microsoft and VMware have always been perceived to be head-to-head when it comes to capturing how businesses manage, control and secure the endpoint," Bowker said. "In the past, there were blocks in the way for users to adequately use Workspace One to manage Office 365. This partnership and integration should make those applications interact better."
Ray Wang, founder of Constellation Research Inc., agreed with Bowker.
"The deal is remarkable, given the fight two years ago between Microsoft and VMware on native support," Wang said in an email. "The trade for access and support is great for customers making that first lift-and-shift journey to the cloud. The Office 365 news was the icing on the cake."
As more OSes and devices enter the enterprise, finding ways to manage the complexity is becoming more imperative. The Microsoft Intune product helps IT admins mange applications primarily within a Microsoft environment, but VMware Workspace One can work with a variety of systems and devices, according to Bowker.
"Customers may be finding that Windows Intune may be inadequate compared to Workspace One," he said, adding that it makes sense for a vendor like Microsoft to expand its partnerships and integrations beyond a few familiar vendors, like Citrix.
While Microsoft's Windows is still run by the majority of organizations, Mac iOS, Linux and Chromebooks are all gaining traction within the enterprise.
"Microsoft may be recognizing a slipping of the Windows footprint in organizations and need to partner more tightly with companies like Dell and VMware to make sure it doesn't slip any further," Bowker said.
Bowker added that a company like Dell should do the same, and users of iOS, Linux, Chromebook or other devices may be left wanting more from Dell Technologies World 2019.
"It's important for Dell to recognize that the end-user environment isn't going to be all Microsoft and Windows," he said. "They have to recognize that businesses are starting to use these other systems and devices, too."