Citrix customers focus on products and support, not rumors
While acknowledging a sale is unlikely, one Citrix customer said he would expect a similar level of support and satisfaction with Citrix products even if it was.
Citrix customers appeared mostly unbothered by the recent news swirling around their software provider. In the last three months, Citrix made headlines for layoffs in the marketing department, a rumor that the company would be put up for sale, an abrupt departure by a C-level executive and a security breach that affected the company's internal IT system.
The most common refrain from Citrix customers at Citrix Synergy, the software company's annual user conference, was that as long as the products and support continued to satisfy their needs, the headlines didn't worry them.
Still, Stephanie Cox, manager of virtualization services at Indiana University (IU), recognized the uncertainty that comes with being a software provider and the here-today, gone-tomorrow nature of the technology industry. She wouldn't quite put Citrix, a nearly 30-year-old company, in that category, but she has made sure the university's infrastructure is flexible enough to support a drastic migration, if necessary.
"I'm always looking at market trends, and I've seen some of the great companies come and go," Cox said. "But what I definitely feel good about is the way we virtualize, regardless of what product we use. If we switched from Citrix to someone else, our infrastructure wouldn't change a heck of a lot, and my engineers are well-versed and can always make a jump, if we have to."
News doesn't change a relationship
Personally from my experience in tech, the rumor mill is always very strong and even stronger with the larger companies.

Paul BairdGlobal head of communications IT, Schroders
The beginning of 2019 was tumultuous for Citrix. Beyond the Citrix-for-sale rumors and a round of layoffs confined to marketing, Citrix suffered a data breach in January. Reported in March, the data breach compromised internal Citrix IT systems, but did not spread to cloud environments or end-user products, according to Jeroen van Rotterdam, Citrix's executive vice president of engineering.
Matt Link, associate vice president for research technologies at IU and Cox's manager, called the events pretty typical for a software company.
"I don't think we'd be forced to [migrate] unless something imploded at Citrix, and I don't see that happening," Link said. "IU doesn't go into relationships with vendors lightly, and this is a long-term marriage. Do data breaches happen? Of course -- but it's not unique to one company."
Other Citrix customers maintained that as long as Citrix products and support remain effective, there's no need to worry about the internal workings or future of the company.
Paul Baird, global head of communications IT at Schroders, an investment management company in the U.K., said as long as the company's relationship with Citrix doesn't change "on a micro-level," then there's no concern from them. He called any rumors surrounding Citrix unsurprising.
"Personally, from my experience in tech, the rumor mill is always very strong and even stronger with the larger companies," Baird said.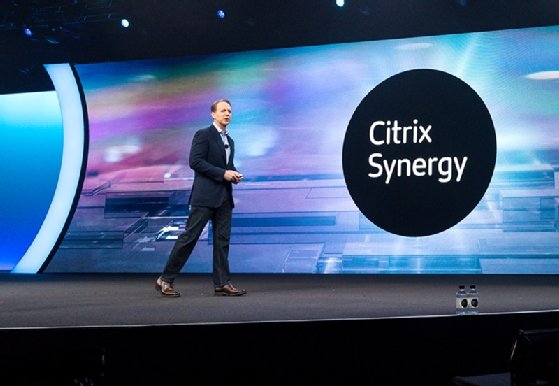 The latest round of sale rumors
The ongoing rumor of Citrix being up for sale is one that Citrix CEO David Henshall has been dealing with for his nearly 17 years at Citrix, the last two as chief executive.
In a Q&A, Henshall said he sees the Citrix-for- sale rumors as flattering, but, as a publically traded company, he couldn't confirm or deny the rumors, describing it as "material, not-public information."
One Citrix customer, Eric Frost, manager of systems and storage infrastructure at AmeriGas, a gas distribution company in King of Prussia, Penn., said even if the rumored sale of Citrix came to fruition, it wouldn't be that big of a deal for customers.
"If [Citrix] was acquired by another company, I still think they would be able to support us like we're used to," Frost said. "Things would evolve, but that's technology. I don't see them being bought and sold off for parts."