Citrix Workspace update resonates with Synergy attendees
Attendees at Citrix Synergy walked away from the opening keynote excited about the capabilities of the new Workspace. The new version is underpinned by micro apps and AI for a more seamless workflow.
At Citrix Synergy, customers applauded the new Citrix Workspace update that will bring machine learning, automation and micro app capability to the workflow product. The new version was unveiled at the company's annual user conference this week, which was held in Atlanta.
Attendees said they could relate to the opening keynote's demo of a midlevel employee spending 10 to 15 minutes toggling between applications to complete a set of routine tasks. What followed was another demo of the same tasks within the updated Citrix Workspace, where tasks such as approving or diving deeper into various reports could be accomplished in the same dashboard.
Behind the scenes, micro apps are the driving force behind the unified dashboard, while machine learning will give employees recommendations based on their past actions. Those actions are then automated so that employees can be more efficient and productive.
The Citrix Workspace update landed with customers. "I was comparing it to my day," said Patrick Brown, network manager for Cargo Transporters Inc., a transportation operation company based in Claremont, N.C. "You come in with a goal for the morning and then it's lunch time and you haven't gotten to it because you're bouncing around doing all these other tasks. Having it all in one spot and being able to do it in one panel is slick."
Brown added that the company has yet to license Workspace, a cloud-based product that IT admins can use to deliver secure access to desktops, applications and services anywhere. Several other Citrix Synergy attendees said they are still in the early stages of using Workspace, but everyone expressed interest in the Citrix Workspace update.
We have a number of different apps. ... Being able to use micro apps to better connect them will save a lot of time

Eric FrostManager of systems and storage infrastructure, Amerigas
"Workspace is a relatively new product for us," said Eric Frost, manager of systems and storage infrastructure at Amerigas, a gas distribution company in King of Prussia, Penn. The company deployed the product about three months ago and is still in the deployment process. "We have a number of different apps -- some that are SaaS and some on premises -- and being able to use micro apps to better connect them will save a lot of time."
According to company executives, Citrix's goal is to improve the employee experience and productivity by simplifying the way workers interact with -- and the way IT manages -- enterprise applications. The Citrix Workspace update will introduce 150 micro app integrations out of the box, including common business applications like Salesforce, SAP Concur, Workday, G Suite, Microsoft Outlook and ServiceNow.
To enable organization-specific application connectors, the Citrix Workspace update will also include a low-code, no-code micro app builder.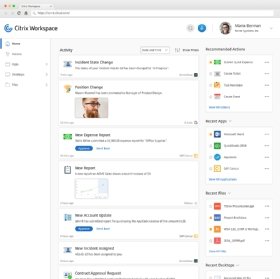 "That low-code, no-code is fantastic for us," said Paul Baird, global head of communications IT at Schroders, an investment management company in the U.K. "Like other financial companies, we have our own bespoke applications and services that we've put in the front end. Being able to develop those micro apps in that environment will be a lot simpler for us."
While the reaction to the Citrix Workspace update was undeniably positive, attendees were already clamoring for additional capabilities to further ease daily task requirements. One capability customers repeatedly talked about was the ability to pin an objective at the top of the timeline so that they can easily find it later, not unlike pinning a tweet at the top of a Twitter user's profile.
Bringing features that employees experience in their personal lives into business processes is an on-going trend, according to PJ Hough, Citrix chief product officer.
"The fundamental building blocks of Workspace are evident in the tools in our consumer lives," Hough said during the opening keynote. "It's about these rich feeds that bring us topics that matter to us. It's about those notifications and preserving the familiar. We want to drive engagement in the workplace."
Release date and pricing information for the Citrix Workspace update haven't been released yet by Citrix, but the product is expected to be made available later this year.