Fotolia
How to take advantage of 3 features in Windows 1903 update
Windows Autopilot, reserved storage and SetupDiag are three new features in Windows 10. Here's how IT admins can use them for improved desktop management.
The Microsoft Windows 1903 update has several features and improvements to help IT with desktop management tasks.
These new features and improvements include Windows Autopilot, reserved storage and SetupDiag. Here's how each Windows 1903 feature can help IT.
Windows Autopilot
Windows Autopilot is the latest in Microsoft's long series of deployment tools. Previous deployment tools such as Sysprep and Microsoft Deployment Toolkit (MDT) worked well, but were time-consuming and required maintenance.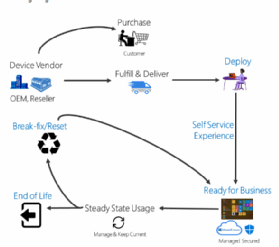 The Windows 1903 update includes additional capabilities to Windows Autopilot that shifts the device configuration to the OEM. The OEM ships the devices and applies the profiles that IT defines. When the user logs in and connects a new device (Figure 2), the device connects to the organization's OEM account and runs setup with all the custom tweaks. This eliminates the need for custom Windows images for each device. Autopilot can also:
Join devices to Microsoft Active Directory and Azure Active Directory.
Auto-enroll Windows 10 devices into mobile device management (MDM) services.
Provide security by restricting the Admin account.
Use configuration groups to associate devices with profiles, including a default profile IT can assign.
Customize profiles to meet an organization's requirements.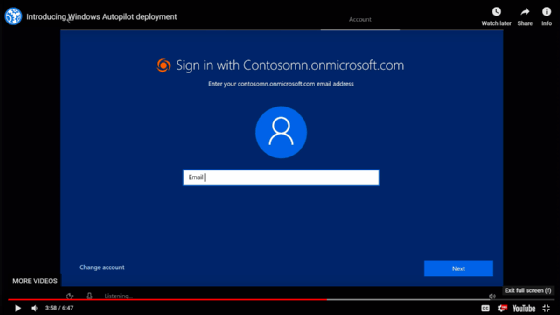 Reserved storage
In the Windows 1903 update, Microsoft attempted to improve performance by using Windows 10 reserve disk space for temporary files from updates, system caches and apps. For these critical functions, reserved storage ensures that the OS will never cease operation or become unreliable due to taking disk space from the reserved storage rather than the disk free space. If the reserved space depletes, however, these files will use available free space. If it still runs out, Microsoft will prompt the user to add storage such as a USB stick.
Reserved storage will start at about 7 GB, but Windows will "learn" how much the OS needs. Storage will increase to permit updates, for example, if the end user or IT installs an additional app. If IT pros uninstall optional features, they will reduce reserved storage. New installations of Windows 10 version 1903 and later will have reserved storage by default.
IT can determine the reserved storage size by going to: Start > Search for "Storage settings" > "Show more categories" > "System & Reserved" > Look at the "Reserved storage" size.
SetupDiag
One of the biggest challenges of installation failures is diagnosing what failed and why. Microsoft created SetupDiag.exe in the Windows 1903 update. SetupDiag is a free downloadable utility that can read live online logs or saved logs from another computer. The utility requires .NET Framework 4.6, but it's also possible to run it on a Windows 10 desktop.
If IT pros double click on the SetupDiag.exe file, it will run with default options and produce a SetupDiag.exe.config and SetupDiagResults.log file in the directory the executable resides in. IT pros that want to tweak many parameters such as output path, verbose and zip logs can run the utility from the command line (Figure 3).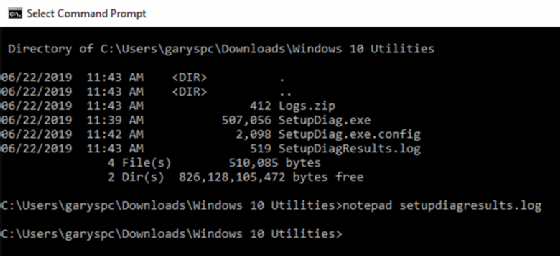 After IT pros run SetupDiag.exe, they can view SetupDiagResults.log via notepad (Figure 3). The file will provide System config information about the device, followed by a report of what happened with all 34 tests that SetupDiag runs. These results will help point IT to a resolution of installation failures. IT can point SetupDiag to static log files and do the analysis offline.
Microsoft continually updates SetupDiag, so IT pros should keep a fresh copy of the utility.
Dig Deeper on Windows OS and management