Definition
Windows Autopilot
What is Windows Autopilot?
Windows Autopilot is a desktop provisioning tool native to Windows 10 that allows IT professionals to automate image deployment of new desktops with preset configurations.
With Windows Autopilot, IT professionals can set new desktops to join pre-existing configuration groups and apply profiles to the desktops so new users can access fully functional desktops from their first logon. Windows Autopilot can simplify the out-of-box experience (OOBE) for new desktop users in an organization.
To use Windows Autopilot, IT must connect the devices to a Microsoft Azure portal and enroll them in Microsoft Windows Azure Active Directory. Once IT enrolls the device or devices, it can assign a desktop image to each user before users register their devices. With the images in place, the final step is for users to log on and input their company credentials for identity verification.
How does Windows Autopilot work?
The Windows Autopilot device registration process begins with IT logging a new device's hardware ID and device type. Windows Autopilot requires IT professionals to add this information in the form of a comma-separated values (CSV) file to their organization's Windows Autopilot registry.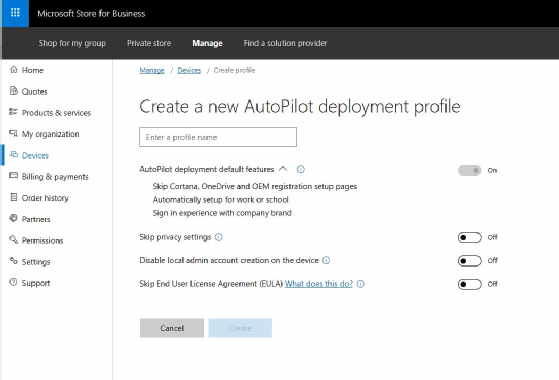 Each device needs a Windows Autopilot profile as well, which defines the terms of the device's desktop deployment. The profiles can overwrite local desktop administrator privileges, disable Microsoft Cortana and other local applications, apply custom privacy settings, and more.
Once IT professionals define the profiles for each new device they configure with Windows Autopilot, they should wait for the user to first access the device before taking any further action. Once the user accesses the device and loads the new desktop, IT can perform its typical endpoint management practices.
Windows Autopilot includes several zero-touch provisioning (ZTP) features such as self-deploying mode for the simplest experience for the end user. All the users have to do is input their information and watch as the desktop provides updates on their enrollment status.
Benefits and drawbacks of using Windows Autopilot
Windows Autopilot lets IT professionals quickly deploy profiles to new devices with basic profile settings. The simplistic CSV file format for inputting new devices allows IT to deploy preset profiles to a large number of devices all at once.
Windows Autopilot doesn't offer as many desktop profile options as some other configuration tools. Windows Configuration Designer, for example, is a tool designed for provisioning in BYOD use cases that provides a high level of control over each profile by allowing IT to alter more specific configurations. Microsoft Intune, part of the Microsoft Endpoint Manager tool, provides additional mobile device management options.
IT professionals can use Windows Autopilot with these additional utilities to perform different provisioning functions. Windows Autopilot offers quick configurations and a simple OOBE for end users, and other tools target more complicated desktop image profiles or profiles for mobile devices.
This was last updated in
February 2023
Continue Reading About Windows Autopilot