kentoh - Fotolia
Use this Microsoft deployment tool for easier setups
It's not new, but the Microsoft Deployment Toolkit tends to be overlooked when administrators need a way to set up Windows in an automated fashion. See why MDT is worth using.
An operating system deployment is one of those everyday tasks for many administrators. There are many ways to handle...
Continue Reading This Article
Enjoy this article as well as all of our content, including E-Guides, news, tips and more.
this job, but the Microsoft Deployment Toolkit is the go-to application for many enterprises.
MDT is not new, released in 2008, nor is it a perfect solution. Most DevOps shops wouldn't consider MDT due to its lack of integration with development pipelines, but this Microsoft deployment tool remains a very useful utility for several reasons.
What are the components of MDT?
When working with this Microsoft deployment tool, the Deployment Workbench is where you will do most of the setup work. The Deployment Workbench lets administrators create multiple deployment shares that can be actual network shares for clients to use via MDT. Inside these deployment shares, you will find the following components:
Operating systems. An operating system in MDT is any supported Windows media, such as a Windows installation ISO. We use these images as boot media and upgrade media, but also as an image to execute deployments. Importing operating systems into this Microsoft deployment tool is a simple process. For standard Windows installation media, click a few times and provide the directory path of the files. For importing a reference image -- the golden image you created for a reference machine -- you can import this automatically with a task sequence.
Drivers. One of the great features of MDT is it adds third-party drivers when you deploy Windows to any given hardware. This can be Hewlett Packard Enterprise, Dell, Lenovo or any other supported Windows driver. There are many articles online on the methods to add drivers dynamically during deployments.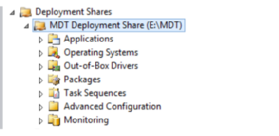 Applications. Applications in MDT are the same in Windows; they are used to install applications during an MDT deployment. For instance, you can add an application to your MDT instance with the source files and specify the command to install the application. For organizations, use Chocolatey to deploy software, you can add a command line for the installation without any source file such as

choco install firefox –y

.
Task sequences. Task sequences carry out a series of jobs during a deployment. For example, a task can install third-party drivers, install the operating system on the target and install applications.
Common scenarios for using the Microsoft Deployment Toolkit
The most popular use of this Microsoft deployment tool is to deploy Windows to physical hardware. You can also use it to install Windows on a virtual machine. MDT supports the use of a Preboot Execution Environment boot file via Windows Deployment Services so clients can connect via the network to obtain a boot image to kick off the imaging process.
If you need to upgrade Windows to a newer version, you can use MDT. This Microsoft deployment tool has a built-in task sequence specifically for this purpose, which makes it a great way to push out Windows 10 to existing Windows 7/8 clients in the enterprise. If you have not tried it yet, you should know the Windows 10 in-place upgrade process works very well in most cases. Instead of refreshing Windows 7 clients, it might be a good option to perform an in-place upgrade instead, especially for newer hardware.
Advantages of the Microsoft deployment tool
MDT supports working with Windows 7 all the way up to the latest Windows 10 release, not to mention all supported Windows Server releases.
There are several reasons administrators might want to use MDT in the enterprise:
Cost. MDT is free. Anyone can download the installation files and use it. Also, most IT professionals with some experience with Windows deployments will not find the learning curve very steep.
Range of operating system support. For Windows desktop systems, MDT supports Windows 7 up to the latest Windows 10 release. MDT also works with all supported Windows Server versions. This means desktop support, help desk and administrators can use the same tool to deploy a Windows operating system.
Integration with System Center Configuration Manager. If you use System Center Configuration Manager (SCCM) to manage Windows, chances are you already use MDT as a deployment tool. If not, you should know that SCCM and MDT work well together. MDT adds real-time monitoring to SCCM for deployments, provides a deployment wizard, and generates reference images
The cloud is one route for IT infrastructure needs, but it's likely that many organizations will operate in a hybrid mode for quite some time. For on-premises operating system deployments, MDT is a fantastic option for organizations heavily invested in the Windows platform.
Dig Deeper on Microsoft messaging and collaboration