ANSI/ISA-95, more commonly referred to as ISA-95, is an international standard for enterprise and control systems integration developed for manufacturers.
The ISA-95 standard was jointly developed by the International Society of Automation (ISA), formerly known as the Instrumentation, Systems, and Automation Society, and the American National Standards Institute (ANSI) with the objective to provide abstract models and standard terminologies for the exchange of information between the enterprise business systems and manufacturing operations systems in an enterprise.
The SP95 committee began working on the ISA-95 standard in 1995, when computers began to penetrate the manufacturing industry's information and control systems. The objective of the SP95 committee was to develop a standard that would enable efficient interfacing and integration between an ERP system and an MES.
The standard essentially aims at providing a consistent information model and terminology, thereby facilitating effective communication between stakeholders, lowering the total cost of ownership and enabling error-free integration.
The standard defines the interface between control functions and other enterprise functions based upon the Purdue Reference Model for Computer Integrated Manufacturing and focuses on the exchange of information between levels 3 and 4 of that model.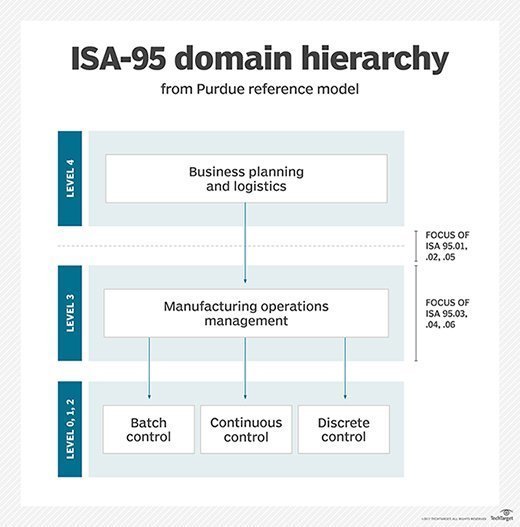 The ISA-95 standard consists of six parts, as follows:
Part 1 of ANSI/ISA-95: Models and terminology
This part defines common terminologies and object models for the interface between manufacturing operations, control functions and other enterprise business systems. According to ISA, the goal here is to increase uniformity and consistency of interface terminology and reduce the risk, cost and errors associated with implementing these interfaces.
The models covered in part 1 include hierarchy models, functional data flow models, object models, and operations activity models.
Part 2 of ANSI/ISA-95: Object model attributes
This part identifies models and tables of attributes for every object defined in part 1 and specifies not just what information should be sent by the ERP system to the MES and vice versa, but also the structure of that information. The objects and attributes in this part can be used to exchange information between different systems, and form the basis for relational databases.
Part 3 of ANSI/ISA-95: Activity models of manufacturing operations management
This part defines activity models of manufacturing operations management (MOM) that enable integration between the enterprise system and the control system.
It specifies the functions and activities that take place within level 3, which is the production or the MES layer -- for example, production, quality, inventory, laboratory, warehouse and maintenance activities. This part also serves as a guide for identifying and comparing production activities across different sites in a standardized manner.
Part 4 of ANSI/ISA-95: MOM object models and attributes
This part provides detailed models and information flow between MOM categories and activities. It aims to standardize the information flow within and across level 3 of the Purdue Reference Model.
According to ISA, the scope of part 4 is limited to defining object models and attributes exchanged between activities defined in part 3.
Part 5 of ANSI/ISA-95: Business-to-manufacturing transactions
This part describes the information exchanges between the enterprise systems and the manufacturing production and automation systems related to level 3 and 4 and within level 3 of the Purdue Reference Model. According to ISA, the purpose of such transactions is information collection, transfer, retrieval and storage, thus allowing better enterprise-to-control-system integration.
Additionally, it uses the models specified in parts 1 and 2 of the standard and defines transactions related to the exchange of objects defined in parts 2, 4 and 5.
Part 6 of ANSI/ISA-95: Messaging service model
Part 6 of ISA-95 defines a model for messaging services that enable information exchange between applications performing business and manufacturing activities across levels 3 and 4, and within level 3.
Significance of ISA-95 standard
ISA-95 is an important standard because it can be applied to all types industries and to different types of manufacturing processes such as batch, process, continuous, and discrete. It is a basis for consistent communication not just between suppliers and manufacturers but also with IT, engineering and other departments. Its vendor independence has enabled ERP and MES vendors to offer interfaces that are complaint with the standard.
This was last updated in
December 2017
Continue Reading About ANSI/ISA-95