Sergey Nivens - Fotolia
Buoy Health wants to fix healthcare's broken front door
Buoy Health is an example of the growing popularity of self-triage tools. This one has a machine learning algorithm that takes online symptom checking to the next level.
Before stepping foot inside of an emergency room or primary care office, patients will often turn to the internet to research their symptoms. But the information a patient gets back can be generic, irrelevant and even inaccurate.
"I saw a woman with a jammed finger. ... I still remember talking to her saying, 'You're fine, you can go home,' and she pulled out these printouts from the internet telling me why she thought her finger was broken," said Andrew Le, M.D, CEO of Buoy Health. Le spent time working in the ER at Massachusetts General Hospital as a student at Harvard Medical School.
Le had more than one interaction with patients like this, making him realize that a patient's healthcare journey doesn't start in the emergency room, but online in search engines. In 2013, he launched Buoy Health, a startup that has developed an online AI assistant that asks patients to describe their symptoms and helps them get a better idea of where -- and even how -- to seek care.
Buoy Health guides patients to right care
Three months before graduating from Harvard Medical School, Le took a sabbatical and co-founded Buoy Health to fix what he saw as healthcare's broken front door.
Buoy Health is a self-triage tool that patients can access for free online. When using the tool, patients type in their symptoms and answer questions the AI assistant asks. The tool then provides options for patients on how to seek care, including telehealth or virtual care. If patients share their insurance information, the tool can also check for providers in the patient's insurance network. The tool's machine learning algorithm learns from each patient encounter to improve on future encounters, Le said.
We're seeing large health plans and large health systems start to work with these self-triage tools to help guide members and patients.

Arielle TrzcinskiAnalyst, Forrester Research
Le said self-triage and symptom checker tools have been around for decades, but they are often built on rudimentary flow charts that operate more like a "choose-your-own-adventure novel."
Le and the founders of Buoy Health wanted to not only build a sophisticated tool for providing more information about symptoms, they also wanted to provide a resource that would help patients get the level of care they need. Le and his team started by building a "massive map of medicine" from medical data as the foundation for Buoy Health.
Forrester Research analyst Arielle Trzcinski said as healthcare options grow, including the burgeoning field of virtual health, she's seeing more self-triage tools like Buoy Health emerge that can direct patients on where they should go to get the care they need.
"We're seeing large health plans and large health systems start to work with these self-triage tools to help guide members and patients on when they should seek a virtual care visit or when they need to go to their primary care provider or to an urgent care or to an emergency room," she said.
According to a study published in the Journal of the American Medical Association, conducted by researchers from the Medical College of Wisconsin, 32% of the patients who used Buoy Health reduced the urgency level of care they planned to seek. The research was based on a data set of more than 150,000 patient interactions.
Buoy Health partners with health plans and health systems to offer a premium version of the product for its members and patients.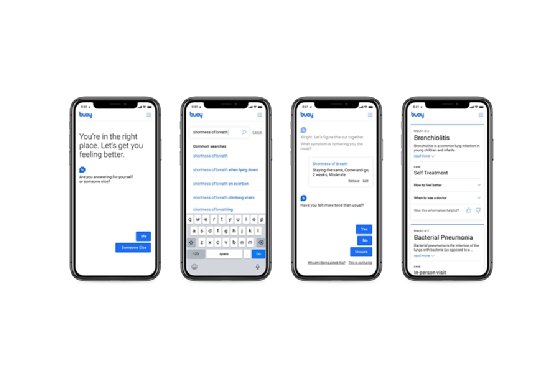 Inception Health incorporates Buoy Health tool
Inception Health partnered with Buoy Health two years ago. Inception Health is the innovation center of the Froedtert & the Medical College of Wisconsin health network.
The health network can have high wait times at emergency rooms, according to Kelly Stevenson, implementation manager at Inception Health, and the Buoy Health tool helps get patients to the appropriate place for care. She described it as an "effective tool within our ecosystem," as she's seen satisfaction from patients and greater efficiency in getting patients where they need to go.
"It is important to recognize that there is a need, especially at that point before a person engages with a health system, to provide that trustworthy guidance that really gets people to the right site of care from the first step," she said. "I think it will be an important part of any health system's digital strategy as they look to provide that value and earning that trust of people from day one, before they engage with the health network."
Dig Deeper on Healthcare IT systems and applications