everythingpossible - Fotolia
Chief transformation officer takes digital one step further
You've heard of the chief digital officer, but what about the chief transformation officer? The title is gaining ground in healthcare and may suggest a digital maturity.
There's a new player on the block when it comes to the team leading digital efforts within a healthcare organization.
Peter Fleischut, M.D., has spent the last two years leading telemedicine, robotics and robotic process automation and artificial intelligence efforts at New York-Presbyterian as its chief transformation officer, a relatively new title that is beginning to take form right alongside the chief digital officer.
Fleischut works as part of the organization's innovation team under New York-Presbyterian CIO Daniel Barchi. Formerly the chief innovation officer for New York-Presbyterian, Fleischut described his role as improving care delivery and providing a better digital experience.
"I feel like we're past the age of innovating. Now it's really about transforming our care model," he said.
What is a chief transformation officer?
The chief transformation officer is "larger than a technology or digital role alone," according to Barchi.
Indeed, Laura Craft, analyst at Gartner, said she's seeing healthcare organizations use the title more frequently to indicate a wider scope than, say, the chief digital officer.
The chief digital officer, a title that emerged more than five years ago, is often described as taking an organization from analog to digital. The digital officer role is still making inroads in healthcare today. Kaiser Permanente recently named Prat Vemana as its first chief digital officer for the Kaiser Foundation Health Plan and Hospitals. In the newly created role, Vemana is tasked with leading Kaiser Permanente's digital strategy in collaboration with internal health plan and hospital teams, according to a news release.
A chief transformation officer, however, often focuses not just on digital but also emerging tech, such as AI, to reimagine how an organization does business.
"It has a real imperative to change the way [healthcare] is operating and doing business, and healthcare organizations are struggling with that," Craft said.
I feel like we're past the age of innovating. Now it's really about transforming our care model.

Peter Fleischut, M.D.Chief transformation officer, New York-Presbyterian
Barchi, who has been CIO at New York-Presbyterian for four years, said the role of chief transformation officer was developed by the nonprofit academic medical center to "take technology to the next level" and scale some of the digital programs it had started. The organization sought to improve not only back office functions but to advance the way it operates digitally when it comes to the patient experience, from hospital check-in to check-out.
Fleischut was selected for the role due to his background as a clinician, as well as the organization's former chief innovation officer. He has been in the role for two years and is charged with further developing and scaling New York-Presbyterian's AI, robotics and telemedicine programs.
The organization, which has four major divisions and is comprised of 10 hospitals, deeply invested in its telemedicine efforts and built a suite of services about four years ago. In 2016, it completed roughly 1,000 synchronous video visits between providers and patients. Now, the organization expects to complete between 500,000 and 1,000,000 video visits by the end of 2019, Fleischut said during his talk at the recent mHealth & Telehealth World Summit in Boston.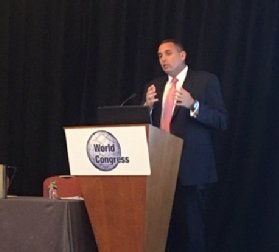 One of the areas where New York-Presbyterian expanded its telemedicine services under Fleischut's lead was in emergency rooms, offering low-acuity patients the option of seeing a doctor virtually instead of in-person, which shortened patient discharge times from an average baseline of two and a half hours to 31 minutes.
The healthcare organization has also expanded its telemedicine services to kiosks set up in local Walgreens, and has a mobile stroke unit operating out of three ambulances. Stroke victims are treated in the ambulance virtually by an on-call neurologist.
"At the end of the day with innovation and transformation, it's all about speed, it's all about time, and that's what this is about," Fleischut said. "How to leverage telemedicine to provide faster, quicker, better care to our patients."
Transforming care delivery, hospital operations
Telemedicine is one example of how New York-Presbyterian is transforming the way it interacts with patients. Indeed, that's one of Fleischut's main goals -- to streamline the patient experience digitally through tools like telemedicine, Barchi said.
"The way you reach patients is using technology to be part of their lives," Barchi said. "So Pete, in his role, is really important because we wanted someone focused on that patient experience and using things like telemedicine to make the patient journey seamless."
But for Fleischut to build a better patient experience, he also has to transform the way the hospital operates digitally, another one of his major goals.
As an academic medical center, Barchi said the organization invests significantly in advanced, innovative technology, including robotics. Barchi said he works with one large budget to fund innovation, information security and electronic medical records.
One hospital operation Fleischut worked to automate using robotics was food delivery. Instead of having hospital employees deliver meals to patients, New York-Presbyterian now uses large robots loaded with food trays that are programmed to deliver patient meals.
Fleischut's work, Barchi said, will continue to focus on innovative technologies transforming the way New York-Presbyterian operates and delivers care.
"Pete's skills from being a physician with years of experience, as well as his knowledge of technology, allow him to be truly transformative," Barchi said.
In his role as chief transformation officer, Fleischut said he considers people and processes the most important part of the transformation journey. Without having the right processes in place for changing care delivery and without provider buy-in, the effort will not be a success, he said.
"Focusing on the people and the process leads to greater adoption of technologies that, frankly, have been beneficial in other industries," he said.
Dig Deeper on Healthcare IT management and organization