Luis Louro - Fotolia
EASE app increases patient-provider communication
EASE, a mobile healthcare app, can be used to send updates on patients from the OR to their families. Mobile apps like this create more transparency, but also present a challenge for CIOs.
When Donald Plumley, M.D., takes a patient back into the operating room, his patient's family doesn't have to wait for hours to know what's happening. Instead, the family will be updated every 30 to 45 minutes.
Using a HIPAA-compliant mobile healthcare app, designated nurses in the operating room can send text, photo and video updates to families, as well as notify families when the doctor will come out and speak to them. The Electronic Access to Surgical Events (EASE) mobile app is billed as a Snapchat for hospitals. Doctors and nurses use the app to communicate with patient families via text, video or photo. The messages received by families can be viewed for 60 seconds before disappearing.
Since using the app, Plumley, a pediatric surgeon and chief quality officer at the Orlando Health Arnold Palmer Hospital for Children in Orlando, Fla., said he's seen patient satisfaction scores increase, as well as a more transparent environment between the waiting room and the operating room.
"The secrecy is gone, and the transparency is there," he said.
Mobile healthcare apps are changing how providers and patients communicate with each other. Even federal regulators like the Centers for Medicare and Medicaid Services (CMS) and the Office of the National Coordinator for Health IT are pushing to grow the mobile healthcare app ecosystem to facilitate greater data sharing.
Yet according to Frost & Sullivan analysts Victor Camlek and Greg Caressi, as the use of mobile apps like EASE grows, healthcare CIOs need to stay on top of what apps are being used to ensure the safety and security of patient data.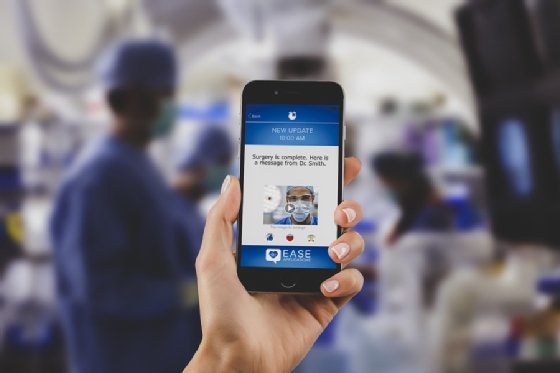 EASE app improves patient satisfaction
One of the key factors that sold Plumley on the EASE app was feedback from patients and the uptick in patient satisfaction scores.
"The parents really, really like the communication," Plumley said. "That's what they're looking for in a physician. That you're communicating with them, that you're explaining things in a way that they can understand and they have confidence and trust in you. I think this [app] helps us do that."
The secrecy is gone, and the transparency is there.

Donald PlumleyPediatric surgeon, Arnold Palmer Hospital for Children
He said patients seem to appreciate the level of transparency and communication the mobile healthcare app offers and that sharing information helps build confidence with patient families. Plumley said an added bonus is that he and his staff can use the app to communicate with families when and where to meet after a surgery rather than having to track them down.
"The first thing they say when I go out to talk to them is, 'Oh my gosh, I loved the pictures,'" Plumley said. "As healthcare has evolved and we've gotten patients and families much more involved in the care of the patient, I think the app has been very valuable to us."
He's not alone in his belief. According to a six-month Hospital Consumer Assessment of Healthcare Providers and Systems (HCAHPS) comparison study conducted in the Orlando Health network, hospitals that used the EASE app saw higher HCAHPS scores than hospitals that didn't. HCAHPS is a national, publicly reported survey CMS uses to measure patients' opinions of their hospital experiences.
EASE CEO Patrick de la Roza said the app has increased patient satisfaction at other hospitals as well, including Texas Children's Hospital. According to the EASE website, the Texas Children's Hospital Perioperative Services team studied how the mobile app affected patient satisfaction for the "information provided on the day of surgery" section on the independent patient experience survey. It jumped from 87.5% to 96.7% between January and September 2016.
How does it work?
When a hospital opts to use the EASE app, nurses and doctors are trained on how to use it, as well as what kind of messages to send. The app includes preformatted messages that can be sent during the operation, de la Roza said. Nurses can also type unique messages, if they prefer.
The app operates in nine different languages. When patients download the EASE app from an app store, they can select a preferred language, and the messages will be automatically transcribed, when necessary.
"Everything with EASE is very protocolized and that's very intentional," de la Roza said.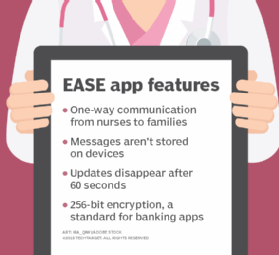 The app enables one-way communication -- a patient's family cannot text nurses and ask for updates. Messages can be sent from the operating room, the intensive care unit, the neonatal intensive care unit, and while a physician is making rounds, de la Roza said.
If the patient's family consents, Plumley asks nurses to send photos via the EASE app, including images of the team working, of the laparoscopic surgery happening on the screens or even of the patient drifting off to sleep. If a patient's family opts out of receiving photos or videos and wants to receive only text updates, the camera icon is disabled.
After downloading and using the EASE app, patients' families are asked to complete a survey on their experience, which is one way de la Roza said the EASE team helps make a case for the app.
"That survey data is collected in our portal and given back not only to leadership, but also the individual nurses," de la Roza said.
EASE app security
De la Roza said the app, released in 2015, is being used in 60 hospitals. Use cases vary by hospital, and updates disappear after 60 seconds.
Messages aren't stored on devices, and are deleted from EASE servers nightly. Message recipients are also blocked from saving texts, photos or videos sent to them. While preventing a recipient's ability to save an image doesn't stop them from taking a screenshot, de la Roza said EASE requires all patients to sign consent forms giving permission to family members to access the app and receive updates.
But that's something the company is working on. De la Roza said EASE will dismantle the ability to screenshot in its next business quarter. He said making sure data isn't saved is one way of making sure sensitive patient information remains safeguarded. The app also uses Advanced Encryption Standard 256-bit encryption, the same level of encryption required for banking apps, while the messages are on a device and while they're being transmitted. De la Roza said the EASE app does not share data with third parties.
As another security measure, de la Roza said EASE works with third parties to conduct penetration tests on their system and conducts internal testing to maintain the app's security and assess how to improve it.
One security feature Plumley likes is the app's use of the barcode attached to the patient's name band. The nurse doesn't have to manually input a family member's phone number, reducing the risk of sending an update to the wrong person.
"When the family downloads the app, the family scans their child's barcode and then we scan the family's phone and that's the way it connects," he said.
CIOs and app use in hospitals
De la Roza said the app requires little hospital IT involvement, as it is offered as a free download for patients in app stores and as a yearly subscription to hospitals. But healthcare CIOs still typically have to sign off on use of a healthcare app within a hospital, according to Caressi, Frost & Sullivan's senior vice president of transformational health.
Caressi advised that hospital CIOs, CISOs or IT staff should vet apps like EASE themselves and make sure it's HIPAA-compliant and secure.
As their popularity grows, Caressi said healthcare CIOs need to track what healthcare apps are being used within the healthcare system, as well as implement a strategy for determining the value of those apps.
Camlek, a principal analyst at Frost & Sullivan, recommended healthcare CIOs look to the National Institute of Standards and Technology issued technical considerations for vetting third-party mobile applications, such as recognizing security and privacy risks and creating a strategy for mitigating those risks.
"Part of the issue is, in the particular institution, what's their general decision-making process for IT?" he said. "The CIO, the CFO, they all have to work together to make sure all these aspects are in place and properly planned before they start implementing [apps]."
Dig Deeper on Healthcare IT systems and applications