Jakub Jirsk - Fotolia
Health system's medical services app cuts patient care costs
Spectrum Health's medical services app, called MedNow, has helped lower patient costs and decrease ER visits, MedNow senior director Joseph Brennan says.
A healthcare system taking a nontraditional route to telemedicine has experienced decreased costs for patient care.
Michigan-based Spectrum Health's direct-to-consumer medical services app, called MedNow, has helped the healthcare provider deliver easier healthcare access to patients in the state 24/7, 365 days a year, according to MedNow senior director Joseph Brennan.
The app, which currently has 27,000 downloads, provides primarily Spectrum Health patients with a face-to-face video connection to clinicians for low-acuity conditions, such as a rash, flu or cold, and facilitates scheduling, treatment plans and more. The app had 5,000 downloads in January alone because of the flu, Brennan said.
"We were actually a decompression strategy for the emergency room because there was a four-hour wait in most of our emergency departments," Brennan said. "We put up 20 posters in every emergency department and it helped decompress the emergency department full of people with the flu."
While the app allows easier access to care for patients, Brennan said the app has also benefited Spectrum Health in a number of ways, including lowering costs by reducing the number of emergency room visits. Brennan added that another benefit of the MedNow medical services app is that it was developed and built by Spectrum Health, giving the organization full control over app services and analytics.
Building the MedNow app
Before deciding to build the MedNow telemedicine service on their own, Brennan said the organization vetted four large telehealth vendors: American Well, MDLive, Teladoc and Doctor On Demand.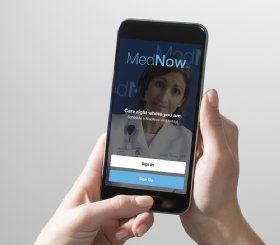 "We were faced with this [thought]: We're going to spend hundreds of thousands of dollars for someone who is going to control our patient experience, our clinical quality if we use their providers and use our brand when we actually have little control in these aspects," Brennan said. "When faced with build versus buy in 2014, we said let's see if we can build it."
Brennan said Spectrum Health custom developed the MedNow app, which sits on a MyChart foundation and uses cloud-based video technology from Vidyo to facilitate the patient and provider connection. While the app was designed for low-acuity care, Brennan said Spectrum Health is a couple months away from providing patient access to specialists, as well as launching a pilot program for non-emergency behavioral health, or stress, anxiety and depression.
Using the app
Kaitlyn Jones, 18, said she first used the MedNow app for a dermatology appointment last year and again this year when she had the flu. She said the app was quick and easy to use.
"I loved it, it was super easy to log in and it was super easy to kind of go through and pick my appointment time and what I was looking to have that appointment for," Jones said. "The people on the other line were super nice the whole time."
We have built a tool that will allow us to change the way care is delivered and deliver care in a way that is more convenient, more cost-effective.

Joseph Brennansenior director, MedNow
When she had the flu, Jones said she logged in to the app and selected her symptoms, as well as an appointment time. She said she had the option of scheduling an appointment immediately or later. After speaking with an assistant who verified her information, Jones said the assistant informed her that the doctor would be with her shortly.
"Within five minutes I was FaceTiming with a doctor," she said.
After going through the virtual appointment, Jones said they prescribed her medication and sent it to her local pharmacy, where she picked it up that night.
"The second time when I had the flu is probably when I appreciated the app more," Jones said. "First of all, I'm a pretty recently diagnosed Type 1 diabetic, so my immune system doesn't function as well as others, so when I got the flu around flu season, the last thing my mom wanted to do was take me into urgent care. That was really nice to stay at home and not have to go into that. Also, the waiting period was much quicker."
Spectrum Health benefits from medical services app
Brennan said Spectrum Health has avoided more than 14,000 ER or urgent care visits thanks to the MedNow service and had an average cost-savings of $123 per MedNow virtual encounter between 2017 and 2018. Brennan said Spectrum Health asks every patient who uses the app where they would've sought care if the medical services app weren't available. The organization then takes those responses and multiplies them by the care setting cost, which is provided by Priority Health claims data, and divides by the total to determine how much the medical service costs were lowered per patient.
While patients have to reside in the state of Michigan to use the app, Brennan said they don't have to be an existing Spectrum Health patient. After receiving care through the MedNow app, information about the patient's visit can be shared with their original primary care provider.
"Right now, the MedNow app is a great experience for low-acuity primary care," Brennan said. "We have built a tool that will allow us to change the way care is delivered and deliver care in a way that is more convenient, more cost-effective and frankly something our patients say they prefer."