Mobile healthcare apps becoming increasingly popular
The trend of providing patients with clinical services through a mobile healthcare app is here to stay and will continue to grow in use, experts say.
Healthcare organizations are increasingly tapping into the realm of mobile healthcare and adopting or developing their own mobile healthcare apps. Patients use these apps to view and schedule appointments, see a summary of their patient history, review prescriptions and, most importantly, video connect to their providers directly from a smart device.
Mobile healthcare apps have many potential benefits, such as improving a patient's overall wellness, reducing hospital readmissions and enabling a patient's ability to manage chronic conditions, said Victor Camlek, Frost & Sullivan principal analyst. Spectrum Health, which developed and launched its MedNow mobile healthcare app last year, has reported decreased patient costs and ER visits due to patient use of the app.
Mobile healthcare apps make dealing with the healthcare system simple and convenient for patients, something that hasn't been typical of healthcare delivery systems in the past, said Joseph Kvedar, M.D., vice president of connected health at Partners HealthCare, a hospital and physicians network that includes Massachusetts General Hospital and Brigham and Women's Hospital in Boston.
Kvedar said the growing trend of mobile healthcare apps is "here to stay" as patients continually seek the ease and convenience of mobile access.
"From the same way you consume food with a delivery service and consume transportation via Uber, they expect they're going to be able to pick that mobile device up and connect with a doctor," he said.
The rise of mobile healthcare apps
Mobile healthcare apps evolved from a broader concept of telehealth, or telemedicine, a concept that has been around for years and includes virtual visits, remote patient monitoring and mobile health, Camlek said.
Mobile health, or mHealth, is not a new concept in healthcare. It was one of the top healthcare tech trends of 2010 and according to a Pew Research Center mobile health report in 2012, one in three cellphone owners used their phones to look for health information while one in five smartphone owners downloaded a health app.
Mobile health has continued to evolve and according to the Deloitte 2018 Survey of U.S. Physicians, a national survey of 624 primary care and specialty physicians in the U.S., the top three benefits of virtual care from a physician's perspective are improved patient access to care, improved patient satisfaction and staying connected with patients and their caregivers.
As mobility has increased with the use of smartphones and other devices, so has healthcare organizations' interest in the modality. Camlek said virtual visits are being increasingly adopted in many companies as an employee benefit, and health plans are also gaining interest in virtual visits.
Kvedar said the development of mobile healthcare apps enabling video visits with a clinician have gone through several phases over the years, but the tide turned about a year and a half ago as multiple players in the healthcare field began to catch on to what their patients wanted: easy access to clinical care from the convenience of their mobile devices.
"People started saying, 'Everyone wants this; if we don't have it, we're not going to be competitive in our market,'" Kvedar said.
Kvedar said Partners HealthCare, for example, offers virtual urgent care, which allows patients to call in with symptoms such as sore throat, sinus congestion, a potential urinary tract infection and more. Partners HealthCare uses the Teladoc platform, he said, but staffs its virtual care team with actual Partners HealthCare physicians. Teladoc provides a virtual care delivery platform healthcare providers can use to video connect to patients.
"There are half a dozen things we feel like we don't need to do a physical exam for and you can call in and people absolutely love it," Kvedar said. "The feedback is overwhelmingly positive, and the entry point is overwhelmingly mobile devices."
Healthcare organizations such as hospitals and clinics aren't the only ones capitalizing on the mobile healthcare app trend. CVS Health recently rolled out $59 telehealth virtual visits, which lets patients with minor illnesses use their smartphones to have video consultations with clinicians 24 hours a day.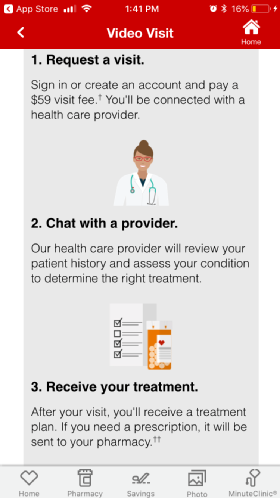 Though interest in mobile healthcare apps is on the rise, particularly for consumers, the Deloitte survey noted that physicians tend to have less interest, with only 14% of physicians having video visit capability today and 18% planning to add the capability in the next year or two.
The survey indicated physicians' low interest in virtual care technologies are linked to lack of reimbursement, complex licensing requirements, reliability and security, among other concerns.
Challenges facing mobile healthcare
As the mobile healthcare apps trend grows, Camlek said, healthcare organizations seeking to offer clinical services through smart devices will face some challenges, including data security and privacy.
Over time, I suspect [mobile apps] will become a very significant part of the healthcare process.

Victor Camlekprincipal analyst, Frost & Sullivan
The Deloitte survey suggests several ways to mitigate security and privacy risks, such as establishing a data security governance capability to help identify risks, as well as integrating security and privacy as part of the design and operation of the virtual care platform. Documenting the app's ability to meet relevant regulations, such as HIPAA, and enabling preventative controls, like identify verification, would also help address security risks.
Another challenge is clinical accuracy, Kvedar said, which is why Partners HealthCare limits the scope of virtual services it provides to treating minor illnesses to avoid misdiagnoses or telling patients they have to come into the doctor's office anyway for an in-person visit.
"The reason we offer a limited set of options is to keep people from the disappointment part of the process where we say we can't do it virtually," Kvedar said.
Mobile healthcare in the future
Though some challenges still lie ahead for mobile healthcare, Camlek said the modality has an "exciting and promising" future.
"It's not going to happen overnight, but it's already happening," he said. "Over time, I suspect it will become a very significant part of the healthcare process."
Kvedar said healthcare is moving in the direction where virtual video visits using mobile healthcare apps will become part of a patient's care, but said it's "never going to be all of your care."
"You're always going to have some instances where it's better to sit down in an exam room with a doctor and go through the more traditional process," Kvedar said. "But the tendency will be to have this multifaceted, continuous approach to your care, which will include virtual visits, face-to-face visits and a lot of other touch points as well."
Dig Deeper on Healthcare IT systems and applications