everythingpossible - Fotolia
Ochsner Health System's telehealth program is built on trust
Ochsner Health System's telehealth team explains why establishing patient and provider trust is critical when building a telehealth program.
Ochsner Health System has made patient and provider trust in virtual care a priority, which the Ochsner telehealth team credits as a key factor to its telehealth program success.
The team spent years developing Ochsner's telehealth programs, working to bring telemedicine to local communities and other health partners. It learned the importance of identifying barriers to healthcare that a telehealth program may be able to solve, such as accessibility and affordability. Doing so keeps patients and providers top of mind and can help build trust in a telehealth program, according to Jennifer Humbert, director of Ochsner's CareConnect 360 telehealth network.
"We knew if we could create a relationship and an environment where our providers felt like their pain points were eliminated, that they were comfortable providing the care, then they could be the ones to help us move our patients into the comfort zone of virtual care," Humbert said at the recent American Telemedicine Association annual conference and expo.
Establishing trust that telehealth tools can provide accessible, quality care is critical for a telehealth program's long-term success, she said.
Building a telehealth program: Where to start
For Ochsner Health System, Louisiana's largest nonprofit healthcare system, the first step toward building a successful telehealth program involved getting boots on the ground to interact with staff and find the pain points.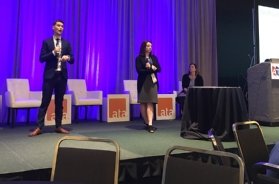 The healthcare system also needed to help create a telehealth strategy for providers who wanted a telehealth program, but weren't sure where to start. It did that by embedding project managers, or strategic partners, across the organization into different areas of care.
Strategic partners looked for areas where telehealth tools could either help patients overcome obstacles in accessing care or for providers in delivering care. In Baton Rouge, La., for example, Humbert said patients often wouldn't cross a 30-mile bridge to show up for appointments.
"In Louisiana, there is a phenomenon that you don't drive across bridges," Humbert said. "For our patients, that is a true determinant for them for health. They really won't travel across the water to see their provider, and we were having no-shows in our clinics, which was creating nonproductive time for our providers."
To address the issue, Ochsner opened telemedicine clinics in the area, which brought the providers closer to their patients virtually. The telemedicine clinics gave patients easier access to care and gave providers a more effective and efficient way to service the community, Humbert said.
Using telehealth tools to ease provider pain points is an important step toward building provider trust in a telehealth program, Humbert said. Once healthcare professionals feel comfortable providing virtual care, they can advocate for the technology to both colleagues and patients.
"That's part of the secret sauce," Humbert said, "and the way we have thought about things and what can we provide to our consumers to help them be comfortable in seeking virtual care."
Bringing multiple vendors to the table
Ochsner Health System offers several telehealth programs in different areas of care. And to achieve that, Ochsner partners with multiple vendors, according to Humbert.
For us, there really isn't a one-size-fits-all yet.

Jennifer HumbertDirector, Ochsner CareConnect 360 telehealth network
"For us, there really isn't a one-size-fits-all yet," Humbert said. "We partner with a variety of vendors and companies to provide the best patient and provider experience."
Rather than focus on the technology a vendor offers, Humbert said it's more important to think about establishing the partnerships needed to create a stable, successful foundation. The right partners, Humbert said, will focus on the issues the organization is trying to solve and will be willing to discuss ideas with the organization and other partners. After that, she said the technology will fall into place.
"Sometimes, they're difficult conversations, because you have to bring these partners to the table, and they're actually competitors in their space," Humbert said. "But they know I'm a customer, and we're trying to provide this service and figure out how we can all work together."
Reimbursement for telehealth services
Figuring out reimbursement and how to pay for telehealth services is a constant conversation, because reimbursement is different for every state, and federal regulators are pushing changes down the pipeline that could affect how reimbursement occurs.
Ochsner Health System established a telehealth reimbursement committee to focus on the issue. The committee involves participants from different areas within the organization, including finance, IT and the telehealth group, to continually assess reimbursement, Humbert said.
"Strategically, we talk about, 'Here's where reimbursement is, [and] here's where it's going. You're getting reimbursed for this; you're not getting reimbursed for this. How do we create those value packages?'" Humbert said.
April Radford, vice president of Ochsner's CareConnect 360, said making a case for telehealth services requires outside-the-box thinking, as the patient value of telehealth services and return on investment for a telehealth program can come in other ways than traditional reimbursement.
Radford said an organization has to consider how telehealth tools shift where patients seek care and look at the opportunities created by patients seeking urgent care services virtually, rather than in-person.
"We make decisions based on how we're going to extend care to the community," Radford said. "Sometimes, we don't always worry about a payment mechanism, but we always have to figure out how we're going to pay for it in another arena."
In part two of this article, Humbert and Ochsner's Ryan Pattison provide an in-depth look at telehealth services in practice.
Dig Deeper on Healthcare IT management and organization