Share this item with your network:
Strategic insight for health IT leaders

everythingpossible - Fotolia
Opioid crisis solutions include analytics, EHR integration
Health IT stands ready to help battle opioid deaths through greater use of data analytics and improved integration of EHRs and prescription drug databases.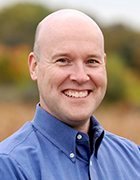 By
About 300 people a day are treated in hospital emergency rooms for suspected opioid-related overdoses.
That sobering statistic -- culled from research by the Centers for Disease Control and Prevention for the period of July 2016 through September 2017 -- rose nearly 30% year over year. While health IT can't stop overdoses, information technology can help provide opioid crisis solutions.
An opioid is a type of pain medication -- morphine and fentanyl are leading examples. At high doses, patients can experience decreased breathing and heart rates, and opioid use --even short term -- can lead to addiction, according to the Mayo Clinic.
Health officials across the country are trying to combat the opioid epidemic. Some states like Michigan have invested in IT as a pathway to providing opioid crisis solutions. Michigan uses cloud-based data analytics software to verify patient prescription histories and help battle opioid addiction.
Studies indicate that the examination of patient EHRs holds promise as well. Earlier this year, researchers at the University of Colorado Anschutz Medical Campus concluded that predictive analytics of EHR data could help physicians pinpoint which patients are at risk of chronic opioid treatment after hospital discharge.
Meanwhile, the U.S. Office of the National Coordinator for Health IT (ONC) has identified other technologies that can bolster opioid crisis solutions, such as integrating EHRs with prescription drug monitoring programs (PDMPs). These databases are run in every state, except Missouri, and collect information from pharmacies concerning prescriptions for controlled substances like opioids.
The ONC sees the value of this data. "Integrating PDMP information with health IT systems like [EHRs] makes it easy for providers to quickly check a patient's PDMP report before prescribing or dispensing powerful prescription pain medications," according to ONC's website.
Kentucky was the first state to mandate comprehensive PDMP use, and a 2015 evaluation showed that prescribers' PDMP use increased following the mandate, while opioid prescribing, doctor shopping and prescription overdose hospitalizations significantly decreased, according to data provided by the Kentucky Office of Drug Control Policy.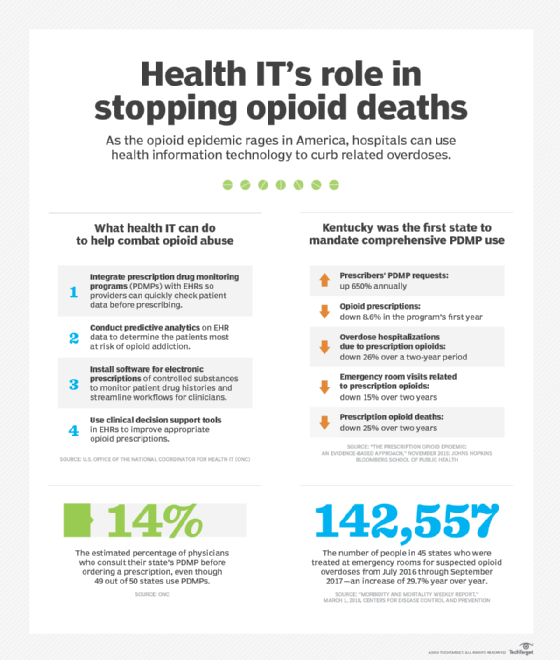 While PDMPs would be more useful if a greater number of physicians tapped into them before prescribing opioids, major obstacles need to be addressed, including the lack of interoperability of patient data and the time constraints for clinicians to log into another IT system.
Dig Deeper on Federal healthcare regulations and compliance