hfng - Fotolia
VR in healthcare is changing the patient care game
Healthcare professionals are using virtual reality to provide better care for patients and better training for doctors.
Virtual reality isn't just for games anymore. These days, healthcare professionals are using the technology for patient care, from enabling doctors to explore congenital heart defects in 3D to dampening pain signals for patients suffering from burns or chronic conditions.
Brennan Spiegel, M.D., director of health services research at Cedars-Sinai Medical Center, said virtual reality (VR) has proved to be a successful tool in healthcare, based on hundreds of clinical trials -- and he would know. Cedars-Sinai, a Los Angeles-based academic healthcare organization, has the largest clinical VR program in the world, serving more than 3,000 patients.
"It's way past the question of whether [virtual reality] is a novelty or not, it's undoubtedly a real, effective therapy and neuroscience bears that out in a number of different, interesting ways, as do clinical outcomes," Spiegel said. "We see it as a profound tool to alter human perception in a way that's beneficial for improving quality of life and functional status."
Despite proven VR in healthcare successes, challenges still exist when it comes to implementing the technology in the clinical trenches, Spiegel said.
Four VR uses in healthcare
Spiegel said the VR in healthcare objective is to create a new kind of healing environment for patients. VR is an interactive and immersive experience that can be used to transport patients to a place beyond the clinical setting. Using a VR headset, patients can experience realistic, three-dimensional worlds that aim to not just reduce the stress and anxiety of a clinic visit, but to also teach patients new skills.
We see it as a profound tool to alter human perception in a way that's beneficial for improving quality of life and functional status.

Brennan Spiegeldirector of health services research, Cedars-Sinai
"The goal of VR is not for people to live in a fantastical world, but rather spend short periods of time in therapeutic environments where they learn new techniques and abilities that they can bring into the real world," he said.
Spiegel said VR currently operates in four major categories in healthcare:
VR can promote calm and relaxation. The technology mimics what meditation achieves in other cognitive behavioral therapies. Spiegel said using VR in this manner helps patients suffering from anxiety and depression, as well as phobias and other mental health issues.
VR can relieve pain. Spiegel and his team have tested VR for pain from infections, back pain and severe abdominal pain. They saw a 24% reduction in pain after 10 minutes of using a special, pain-specific application called Pain RelieVR. The program, created by AppliedVR and administered through Samsung Gear VR goggles, teaches patients how to better cope with pain through breathing techniques and positive thinking.
VR can adjust a patient's awareness to bodily signals. The technology can help patients experiencing chronic pain or those who struggle with weight management by dampening signals.
VR can help patients better connect with reality. VR in healthcare can temporarily reconnect a patient suffering from dementia or hallucinations with reality. Spiegel uses VR to help patients suffering from hallucinations distinguish between a hallucination and reality.
VR as effective training tool, patient distracter
While VR in healthcare is breathing new life into the four categories Spiegel outlined, the tool also has other applications in healthcare.
For David Axelrod, pediatric cardiologist at Lucile Packard Children's Hospital at Stanford, VR provides an immersive training experience for doctors when it comes to congenital heart defects.
Before VR, doctors usually resorted to drawing representations of the defect, which often don't look like the real thing, according to Axelrod. He began to wonder what it would be like to examine a three-dimensional version of a defect.
Axelrod helped build the Stanford Virtual Heart, which depicts congenital heart defects in 3D and exposes doctors to a more realistic version of a congenital heart defect that, ultimately, can help them better explain the condition to patients.
"We felt that the VR representation -- being able to show someone in three dimensions what the heart looks like and what the surgical repairs look like -- would really be advantageous," Axelrod said. "That's been the case. It's been remarkable how much easier it is to show people when they're immersed inside the heart and interacting with it in a 3D environment."
While the Stanford Virtual Heart plays a major role in the hospital, Lucile Packard's largest virtual reality program is called the Childhood Anxiety Reduction through Innovation and Technology (CHARIOT) program.
The CHARIOT program puts technologies like VR into the hands of children undergoing surgeries and small procedures to remove some of the anxiety and stress, according to Christine Be, a child life specialist at Lucile Packard. Children can immerse themselves in a game while they're undergoing specific parts of the procedure.
"They remain focused on the game instead of paying attention to when a doctor or nurse is doing the IV placement," she said.
All Lucile Packard's child life specialists are trained to use VR not only for IV placement, but for chest tube removals, dressing changes and other similar situations, according to Be.
"I think virtual reality is heading toward a really bright future," Be said. "A lot of other hospitals and programs have been interested in the CHARIOT program specifically and have been in contact with the physicians who created it or helped develop it to ask them how they can have their own and have their child life specialists implement it on their floor and in their units."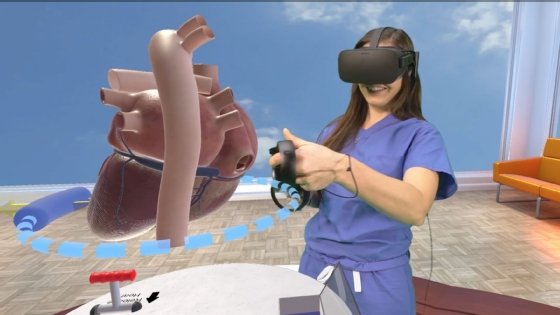 Despite some challenges, VR cements role
Cedars-Sinai's Spiegel said one issue with using VR in healthcare stems from technical challenges with the equipment itself. He used to use headsets that required a smartphone be snapped into the front of the headset, but patients described the goggles as too heavy, hard to fit and uncomfortable.
Spiegel also noted in a study published in 2016 that another hurdle for VR in healthcare comes from the patients themselves. Out of 510 hospitalized patients used in the study, only 30 were eligible and willing to use the technology. Nearly 83% of the 510 patients evaluated for the study weren't able to use VR because they suffered from disqualifying criteria, including motion sickness and seizures. Others opted out of the study due to anxiety about using VR.
Lucile Packard's Be said every child that can potentially use VR has to go through a rigorous screening process to ensure the technology is a suitable option for the patient. Disqualifiers often include a history of seizures or headaches, dizziness and nausea associated with motion sickness.
Another hurdle is paying for the technology. Spiegel said he's unaware of an insurance company willing to pay for a VR treatment. Instead, funding a VR program often falls to the hospital itself, which Spiegel said is usually a low-cost endeavor.
And the technology continues to advance. Spiegel said he has seen improvement in the usability of VR equipment in the past year. The hardware is becoming less bulky and the software is easier to navigate. With more improvement, the technology becomes easier for patients of all ages and abilities to use, he said.
While there are still VR in healthcare implementation hurdles to overcome, Spiegel said the tool can enhance the doctor-patient relationship.
"Most technologies strip the humanity from healthcare," he said. "VR is different. It has profound philosophical implications. When it's used correctly, it causes people to rethink what it means to be able to manipulate your body though your mind."
Dig Deeper on Healthcare IT systems and applications