Luis Louro - Fotolia
Visual data analytics make genomics in healthcare possible
To fully realize genomics in healthcare, the right technology is needed to effectively leverage and use genomic data. One hospital is taking steps toward that goal.
Genomics, paired with visual data analytics, has the potential to transform healthcare for the better.
Imagine being able to predict a woman's chances of having a preterm birth. Or imagine being able to tell a couple trying to have a baby the chances their baby may be born with a chronic disease. Simply draw some of the woman's blood, look at her genes, look at her epigenetics, look at her family history, input all that into some software and then build a prediction score. Then she would know that, for example, "you're 60% more than the general population susceptible to having a preterm birth," Aaron Black, director of informatics at the Inova Translational Medicine Institute, said. That's what genomics in healthcare has the potential to do. And it's only the beginning.
One hospital is working to integrate genomics in healthcare
With Tableau Software's visual data analytics software, Inova, a not-for-profit healthcare system and research institute in Northern Virginia, has been able to analyze genomic data in newborns to not only make predictions -- like the example Black gave above -- but also to predict the probability of chronic diseases in infants, personalize treatments, reduce mortality and achieve better outcomes.
Black explained that "this is an integrated platform within the way [Inova does] healthcare." Every patient, especially babies, is given the option to have Inova sequence their genome, he said. When a family consents to have their baby's genome sequenced, "we're going to track [the baby] over 18 years, and then we're going to start to stratify and figure out what's happening to our patient population and associate what's happening to them physically."
Although Inova has not quite reached the full potential of genomics in healthcare, Black said they are working to fully achieve this. "We're starting to build what we see in the genetics."
Visual data analytics help detect anomalies faster

One important factor in capitalizing on the benefits and full potential of genomics in healthcare is being able to detect anomalies in a vast amount of data. For example, being able to answer the question: "Where are the variances in this particular genomic profile?" Andy De, managing director and general manager for healthcare and life sciences at Tableau Software, said. "Not only in the infant but perhaps in one of the parents that would identify the biomarkers proactively which indicate a heart disease, COPD, cystic fibrosis, arthritis, cancer, what have you."
Black added that "at the end of the day, a lot of these discoveries come down to the most minute details."
Sometimes, these anomalies are simply caused by inaccurate information: A child may be mismatched with certain data, for example, or the patient may have said one thing early on and now they are saying another.
It's also difficult to look at millions of rows of data and be able to pick out those anomalies, Black said. "It's hard to visualize that, but you can aggregate that in a tool like Tableau, you can see the anomalies much more quickly. It's like a signal detection."
Black explained that Tableau makes this easy because the user is able to make certain data different colors within the software or make certain data visually appear bigger.
Using Tableau "we have about a 60% diagnosis rate ... three times the average of the traditional way to do this," Black said, adding that they have collected, sequenced and analyzed the genomes of 150 families in the past three years.
Before Tableau, Inova did all this by hand, Black said. Someone had to write the code and also change the code when needed and repeat.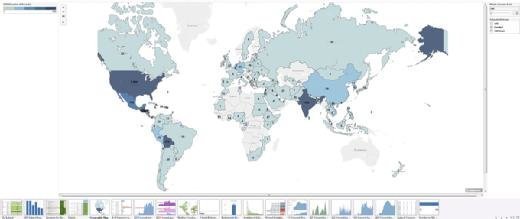 "We needed a quick way to run through thousands and thousands and thousands of these variables and find these anomalies," Black said. "We have to create these environments where our researchers and clinicians can see both the genetic data as well as the electronic health record data in the same kind of environment."
Black said that this is what Tableau allowed Inova to do.
How Tableau's visual data analytics enable genomics in healthcare
Tableau's software has a data connection that enables the software to pull data from various data sources into Tableau, Black said. He added that this is important because "we need to have all the information in order to do the correct analysis."
He explained that "you open it up, whether it's on your desktop or the server version, and you have data connections to multiple different data sources," whether that data source is the Amazon cloud or an EHR. Data can physically be in two different places and still be pulled into Tableau and accessed and analyzed.
"Our genomics are really, really large data files, text files, and they are semi-structured. We can connect to those or remodel them down so that we can connect to them," Black said. "On the clinical data side, there are relational databases, and they have a common element. We have deidentified subject ID ... so we can open up one set of data in Tableau that's connected to the genetic data."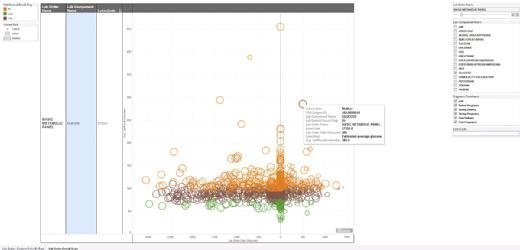 From there, it's all drag-and-drop, Black and De said. Clinical variables can be dragged onto the pallet or genomic variables, and the software will visualize the data quickly -- about a three- to four-second response time, Black said.
"They just literally pull in data," De said. "Tableau can process billions of rows of data in memory."
De added that anyone can download Tableau for free from Tableau's website. However, Inova is paying "between about $1,000, $2,000 per desktop, and I think $750 per person for the server license. But if you compare that to any other product out there, it's very competitive," Black said. "Tableau is very cost effective."
And the software is helping Inova achieve its goal with genomics in healthcare.
"We're trying to treat patients better based on their biology," Black said. "That's the overall goal."
Next Steps
A genomics strategy for Allscripts users laid out by CEO
Personal health records and genomics
Genomics may personalize care but docs have a lot to learn