Halfpoint - Fotolia
When leading digital transformation, language is key
Healthcare CIOs need to stop with the technology lingo if they want to lead a successful digital transformation. That was a key takeaway from a panel of experts at the MIT Sloan CIO Symposium.
Helping internal leaders understand the benefits of technology is often a critical factor for successfully leading digital transformation.
At the recent MIT Sloan CIO Symposium, a panel of CIOs and industry experts discussed how to navigate the biggest hurdles when modernizing legacy technology. And they made it clear: If healthcare CIOs are leading digital transformation efforts, they can't do it alone. They're going to need organizational leaders if they want the changes they're proposing to stick. And that will mean learning to talk less about technology and more about business outcomes.
"We had to retool how we started talking about things," said David Hoag, CIO at the Chicago-based clearing house Options Clearing Corporation. "It wasn't necessarily talking about the platform, you'd lose people along the way. You've got to talk about what are the capabilities, the offerings, and the outcomes we're trying to achieve with whatever it is we're trying to deliver."
Bring in partners
Beth O'Rorke began working at Blue Cross Blue Shield of Massachusetts as CIO and a senior vice president in 2015. She brought with her 25 years of experience in leading digital transformation initiatives in retail and insurance industries.
When O'Rorke started with the health insurer, security was one of her priorities. That focus became a catalyst for conversations with the business about how to streamline operations and digitize legacy systems hard-wired around transactions.
She realized she couldn't do it alone, and referenced the need to connect with both external and internal business partners.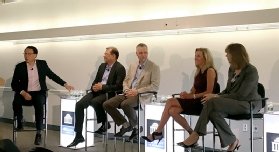 "That's really the journey we're on right now, to unlock what we need to do as a business from a healthcare company standpoint and our broader ecosystem because we can't play alone," O'Rorke said during the panel discussion. "We know that. I have my association partners -- 37 different states -- that can help me, and I need partners."
Antonio Figueiredo, senior director of industry solutions at Salesforce, agreed, saying a clear vision among stakeholders is necessary when leading digital transformation.
"Outlining what is your strategy, what is your vision, where do you want to put most of your efforts," he said.
Cut the technology lingo
Nypro, Jabil's manufacturing global healthcare business, uses 10- to 15-year-old legacy machines that can be difficult to upgrade, according to Jean Kneisler, vice president and CIO at Nypro.
Leading digital transformation involved looking at what technology enablers, such as cloud technology, were needed to enhance Nypro's core systems, drive better business outcomes and create a "factory of the future," Kneisler said.
Kneisler said one of the critical lessons she learned when leading digital transformation was to talk to organizational leaders in business terms instead of technology terms. Instead of "cloud," Kneisler made it a point to talk in terms of speed or connectivity to the plant. Doing so not only helped those leaders understand how digital technology could streamline the business -- it helped get everyone on the same page.
You also have to understand your constituents internally and how you're going to satisfy them.

David Hoag CIO, Options Clearing Corporation
"There were a lot of those conversations going on that allowed us to align together," she said. "It actually helped the budget discussion go much better because they were suddenly saying, 'this is what it's going to take for us to get a factory of the future.'"
Options Clearing Corporation's Hoag echoed Kneisler and said turning technology language into business outcomes is a better approach when leading digital transformation.
For Hoag, talking the language of the business took a shift in mindset. He discovered that once the business understood the benefits of the technology, it opened up discussions on how those benefits could be expanded to customers.
"I think there's value in having that end in mind, but I think you also have to understand your constituents internally and how you're going to satisfy them," he said.
Dig Deeper on Healthcare IT systems and applications