Brian Jackson - Fotolia
Apple Health app update for health records: pros and cons
This analysis digs into the potential of the new PHR capability that is a result of the Apple Health app update and whether past consumer adoption snags will again come into play.
The Apple Health app update could be a big step toward the consumerization of healthcare, or the personal health record capabilities Apple has added could end up like many PHR systems of the past: commendable but largely unused.
The consumer tech giant announced this week that it updated iOS 11.3 beta to include a PHR function on the Health app. As part of the project, Apple is working with 12 major health systems, EHR vendors Epic and Cerner and the FHIR interoperability standard.
Epic, Cerner on board
The presence of the dominant EHR companies and prestigious healthcare providers lends much legitimacy to Apple's long-anticipated foray into the world of PHRs, which let individuals compile their own electronic, portable health records.
And use of FHIR (Fast Healthcare Interoperability Resources) appears to indicate that Apple sees interoperability -- probably health IT's biggest problem since digital health records became pervasive over the last decade -- as an impediment it has overcome.
Apple's stellar reputation for security and privacy also augurs well for protecting health data as it flows to and from healthcare systems via the Apple Health app.
Yet a slew of questions accompany the semi-blockbuster announcement from Apple.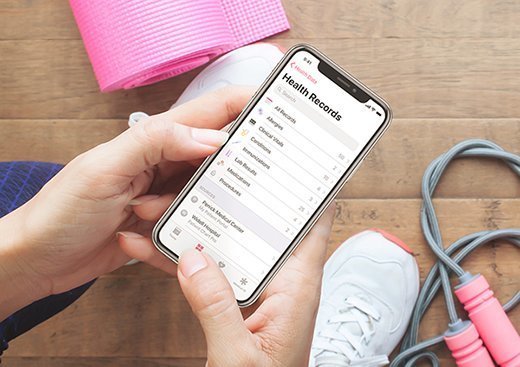 Unclear if consumers want PHRs
The central issue, perhaps, is whether healthcare consumers really want to stitch together their own longitudinal health records into a PHR or even use a ready-made PHR vehicle.
A similar PHR, Microsoft's HealthVault, hasn't caught on since it was released in 2007. Same for other PHRs that have been on the market for some time, such as WebMD PHR, Patient Ally and Patient Fusion from web-based ambulatory EHR vendor Practice Fusion.
Google discontinued its Google Health PHR in 2011 after only three years on the market.
The big advantage of the Apple PHR is that patients can retrieve and assemble their health information from among different provider systems.
Going back a decade to the advent of PHRs, the American Health Information Management Association and federal health officials tried hard but achieved minimal success in promoting the PHR concept.
Also, Epic and Cerner both already have robust patient portals that function as PHRs for patients at many big and midsize health systems.
Usually available on mobile devices, the portals enable patients to view and retrieve updated information about medications, allergies, vital signs, procedures and lab results and make appointments with and ask questions of caregivers.
Easy to use and interoperable
The Apple Health app update with the health records functionality provides the same kind of access, though with a slicker and easier to use interface.
The big advantage of the Apple PHR is that patients can retrieve and assemble their health information from among different provider systems, giving the Apple Health app PHR more reach than conventional portals.
If this functions as advertised and the FHIR-based health data interfaces work quickly and seamlessly, it will mean that Apple has to a large extent conquered the interoperability monster, particularly for patients with doctors at disparate hospitals and healthcare systems.
But FHIR, despite rising adoption and great potential, is still a young standard. And while some in health IT see it as useful and faster than previous health data sharing protocols, it is still a bit clunky and unproven.
Also keep in mind that the Apple Health app update is still in beta and not available to the general public other than patients of the 12 provider systems that worked on the iPhone-based system with Apple.
Despite lavish praise for the project from those health systems' leaders, it's unclear whether patients are taking advantage of the Apple Health app update and are using the app with the PHR yet, and if so, if they like it.
Affordability could be obstacle
Of course, there's also the matter of affordability. IPhones are popular among doctors and middle-class and affluent healthcare consumers, but the devices are expensive.
However, Apple's version of the PHR does, indeed, seem more elegant than previous PHRs and Apple's marketing muscle and consumer-focused vision make it more likely to flourish where other PHR ventures have fizzled.