JJ'Studio - Fotolia
Patient engagement system ties Change, Adobe, Microsoft
In these news briefs, read how Change Healthcare partnered with Microsoft and Adobe to use their cloud and AI services. Also, learn about Uber and CVS' latest pushes into healthcare.
LAS VEGAS -- Change Healthcare unveiled a partnership with Microsoft and Adobe to use their cloud and AI services to power a patient engagement system aimed at improving the patient experience at providers.
Change -- a big healthcare revenue cycle and claims-processing company that acquired most of the health IT assets of McKesson Corp. in 2016 -- made the announcement Tuesday at the HLTH: The Future of Healthcare conference.
Change President and CEO Neil De Crescenzo, speaking at a general session, asserted the patient engagement system the three companies are developing will "revolutionize the patient experience."
While Change produces plenty of healthcare data, Adobe offers "more than three decades' experience in how to help customers understand consumers and the customer-consumer experience," De Crescenzo said.
Microsoft, he said, "has a great deal of experience in how to partner with companies trying to do these things in the business environment, as well as enormous investments in cloud and AI."
Change said the patient engagement system, which will use Change's Intelligent Healthcare Network, will help providers communicate better to attract and retain patients, improve care coordination, provide more personalized care and enable more healthcare price transparency.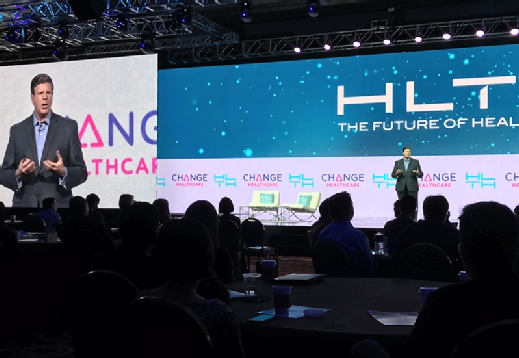 CVS pushes further into primary care
In other news from the HLTH conference, Troy Brennan, M.D., executive vice president and chief medical officer at CVS, outlined the company's ambitious plans to create a digitally based, nationwide walk-in clinic and urgent care network.
If we don't do something about the cost of healthcare, come up with some new ideas, we're going to be in serious trouble in this country.

Troy BrennanM.D., executive vice president and chief medical officer, CVS
Essentially, CVS' vision is the consumerization of healthcare in an era of escalating medical prices, but diminishing insurance benefits.
"If we don't do something about the cost of healthcare, come up with some new ideas, we're going to be in serious trouble in this country," Brennan said. "That's sort of what we're aiming for -- how to improve healthcare ... and reduce overall healthcare costs."
Brennan said CVS intends -- in concert with insurance giant Aetna, which it is seeking to acquire, pending regulatory approval -- to create its own population health platform built on the Epic EHR system that links most of CVS' 9,800 retail pharmacy outlets in the U.S.
Brennan called that pharmacy network -- and the 36,000 pharmacists, nurse practitioners and infusionists who work in it -- a "distributed model" that gives the pharmacy giant a distinct competitive advantage.
CVS wants to manage five major chronic diseases that afflict its customers -- not as a competitor to primary care physicians, Brennan said, but as a way to keep patients out of emergency departments. Those chronic conditions are asthma, depression, diabetes, high blood pressure and high cholesterol.
Meanwhile, Brennan said, CVS will use AI to mine consumer, remote patient monitoring and claims data from its customers to target them for clinical intervention or visits to walk-in clinics.
Uber drives into healthcare
Meanwhile, the Uber of Everything includes healthcare and brings a different twist to the idea of a patient engagement system.
The ride-sharing company's head of healthcare strategy, Lauren Steingold, sat on a "disruptor" panel at HLTH with a top Google health research executive.
That's pretty good company and indicative of the surge of major tech firms into healthcare. For the record, Lyft Business shared a booth at the conference, as well.
Steingold said Uber can contribute to healthcare by perhaps making a dent in the $150 billion a year that providers lose by patients missing appointments, in some cases, due to transportation issues. Uber built a HIPAA-compliant program under which healthcare organizations can request and schedule rides on behalf of patients who might have a tough time otherwise getting to their physicians.
The offering launched March 1. Steingold said as providers use it, fewer patients miss appointments.
HR tech vendors move into the health arena
Interestingly, the HLTH conference -- a new event that attracted 3,500 attendees in its first year -- drew a gaggle of vendors from the world of HR technology.
The companies come from a relatively new wing of HR tech -- wellness, employee engagement and benefits administration in an era of employee-paid benefits -- and mostly count medium-sized and large employers as their main customers.
Perhaps the most visible on the small, but bustling, HLTH exhibition floor was Maestro Health, an employee health and benefits vendor that was bought by giant French insurer AXA.
Maestro CEO Rob Butler said his company still sees itself through an HR tech lens, but with a significant population health management component that has been accentuated by its acquisition by AXA.
Attending a new health conference was "a chance for us to dip our toe in the waters and try something new," Butler said. "We're going more down the medical and healthcare route."
The other notable HR tech-oriented vendors on the scene were ones that Maestro considers partners and potential partners, not competitors.
They included employee engagement company Limeade; Castlight, purveyor of a health and benefits platform; and Welltok, a health optimization platform vendor that provides large employers with incentive-based population health and wellness programs.