Gorodenkoff - stock.adobe.com
The lead-up to HIMSS 2019: CIOs look for innovation
CIOs attending the CHIME-HIMSS 2019 CIO Forum said they're focused on AI developments, security trends and a better way to build healthcare technology that patients want to use.
ORLANDO, Fla. -- Brandon Kelliher sat at a large, round table in a hotel ballroom where the annual CHIME-HIMSS CIO Forum was being held. There, he listened to leaders in healthcare talk about trends such as emotional well-being and social determinants of health.
Kelliher, CIO at Great Plains Health in North Platte, Neb., is one of thousands of healthcare leaders gathered at HIMSS 2019. They come to the world's largest health IT event to hear from experts like Vivek Murthy, the 19th Surgeon General of the United States and a featured keynote speaker, as well as keep tabs on the latest industry news, such as newly proposed federal rules and policies.
But healthcare CIOs are also keeping an eye on how longer-term healthcare trends are playing out. AI is at the top of their list.
CIOs: On the lookout for innovation
Kelliher said he approached HIMSS 2019 with a personal agenda: He's looking for technologies that could solve the biggest pain points his organization is facing.
"This year, I'm looking for technologies ... to monitor patients who are out of the hospital -- they're at home or in nursing homes -- without the technology being particularly intrusive into their lives," he said.
The event also keeps Kelliher tuned into the latest technology trends in healthcare, such as the effects AI is having on the industry. As the CIO of a small facility, that's not a technology Kelliher plans to invest in any time soon, "but it's important to understand where it's going," he said.
Kelliher is also paying attention to security trends and technologies at HIMSS 2019. Oftentimes, organizations are only one user away from a "potentially dangerous or expensive problem," he said. That makes security a side of healthcare that could be described universally as a topic that keeps CIOs up at night, according to Kelliher.
A big focus for us is how to better use the data we have in silos to help us make more informed, intelligent decisions about what gets our time and our limited resources.

Darin MayerCIO, e+CancerCare
Darin Mayer, CIO for e+CancerCare, based in Nashville, Tenn., said he's keeping an eye on AI developments at HIMSS 2019. As a CIO challenged to do more with less, he said he sees AI as an extension of his organization's analytics program.
"There aren't a lot of extra resources to do anything, so we have to make the most of what we're doing, and we try to do that around analytics," he said. "A big focus for us is how to better use the data we have in silos to help us make more informed, intelligent decisions about what gets our time and our limited resources. That ties back to what can we do with machine learning and AI, those players."
For Kirk Ball, vice president and CIO at the Christ Hospital Health Network in Cincinnati, a top HIMSS 2019 priority is finding technology that will help blend the needs of his healthcare organization with the wants of patients. Ball spent years in the retail industry before becoming a healthcare CIO, prompting the drive to blend his past experiences in consumer behavior with the healthcare setting.
"I'm trying to figure out how to make the experience personal, trying to figure out how to take the experience outside of the four walls and out to meet people where they are and figure out the best ways to do that," he said. "Eliminating friction for the consumer ... physician and nursing staff using technology ... that's what it's all about."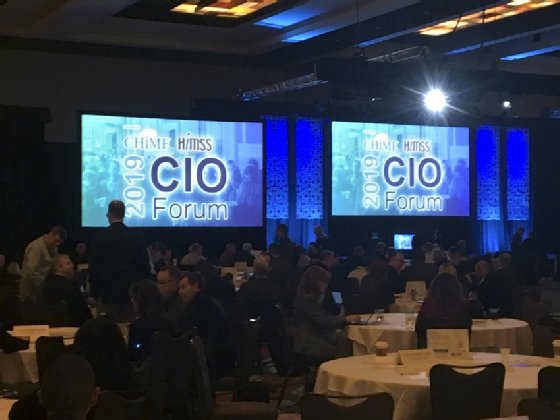 CIO Forum
Surgeon General Murthy had a message for CIOs gathered at the CHIME-HIMSS 2019 CIO Forum during his keynote talk: Embrace emotional well-being.
Though the conference touts some of the latest technology innovations, Murthy focused on how healthcare institutions can address loneliness, which negatively affects patient health and can be triggered by a patient's use of technology such as the side effects from using social media.
Murthy said the "quiet epidemic" of loneliness and emotional pain has been a driver of significant issues the healthcare community is facing, such as the opioid crisis. He asked that attendees start to make a patient's emotional health a priority.
"As healthcare institutions, we can go even further, and we can partner with community organizations who can support patients who are struggling with loneliness," he said.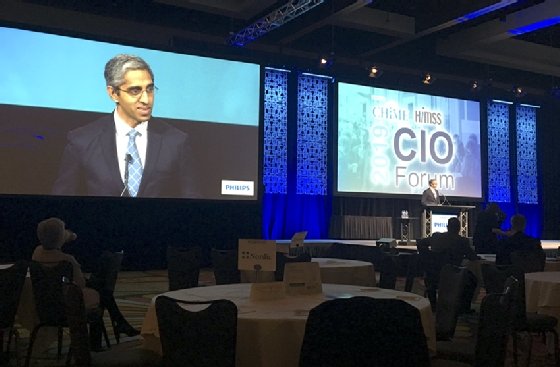 Despite Murthy's focus on the low-tech aspects of healthcare, it was hard to avoid deeply technical topics, such as AI. One example came from CIO Forum speaker Neil Jacobstein, chairman of the artificial intelligence and robotics track at Singularity University in Moffett Field, Calif., who said AI development is rapidly progressing, and its use in healthcare is essential.
"Physicians, healthcare providers ... won't have time to deliver high-quality, personalized, loving healthcare, unless they are augmented with AI," he said. "It's absolutely nonoptional as we go forward."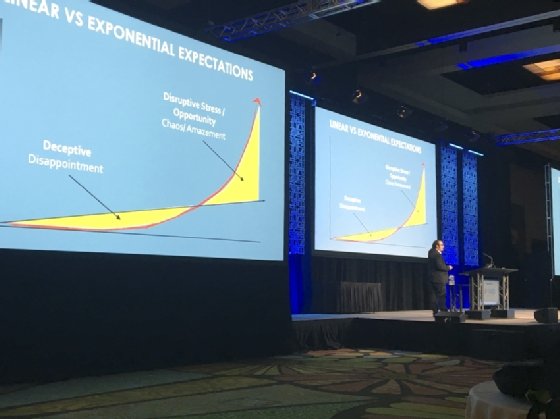 In other HIMSS 2019 news
Before HIMSS 2019 even started, the conference buzz was palpable due to the announcement of long-awaited rules on interoperability and information blocking from federal regulators.
The Centers for Medicare and Medicaid Services and the Office of the National Coordinator for Health IT formally proposed rules aimed at easing the exchange of patient data by requiring the use of standardized APIs, as well as reducing unnecessary information blocking by healthcare organizations except in defined circumstances.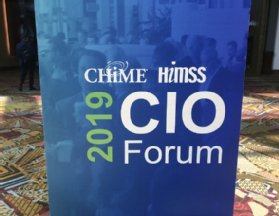 CMS Administrator Seema Verma said she believes patients should be able to access their data in a simple, convenient manner -- something the Trump administration has been pushing for with the MyHealthEData Initiative.
In addition to federal news, EHR vendor AthenaHealth announced that its $5.7 billion sale to two private equity firms, Veritas Capital and Evergreen Coast Capital, was finalized. AthenaHealth will combine with Virence Health, but continue to operate under the AthenaHealth name and brand on the AthenaHealth campus in Watertown, Mass.
Virence Health is a value-based care group acquired by the private equity firms from GE Healthcare last year. The new, combined company will be led by Bob Segert, Virence Health chairman and CEO.
Large vendors such as Epic and Cerner will also be showcasing their latest innovations at HIMSS 2019. Ahead of the show, Cerner, for example, announced a new, AI-enabled clinician workflow that will be able to help identify issues within a patient's medical record, such as inconsistencies or gaps of information, according to a press release. The product, called Chart Assist, is aimed at reducing physician burnout.
Dig Deeper on Healthcare IT management and organization