Gajus - Fotolia
Tech panel highlights digital healthcare products, platforms
From an electronic stethoscope to a voice technology platform, six startups presented their products at the 11th annual mHealth & Telehealth World Summit in Boston.
At this week's 11th annual mHealth & Telehealth World Summit in Boston, attendees not only learned about how digital tools enable better quality care, but also saw a sampling of new digital healthcare products and platforms in the market.
Six companies presented their digital healthcare products during a tech talks panel at the event, ranging from an electronic stethoscope with an AI-enabled heart murmur detector to a workflow management platform.
The summit highlighted how to use telehealth and digital health tools to facilitate better patient care as the healthcare industry transitions from fee-for-service reimbursement models to value-based care reimbursement. In fee-for-service models, healthcare organizations are paid for the number of services they provided to a patient, while value-based care models reimburse based on quality measures and the health of a patient population.
The tech talks session during the summit featured startups with digital healthcare products that focus on enabling better care for patients in a value-based care world. Laurance Stuntz, director of the Massachusetts eHealth Institute, hosted the panel of startups.
"We'll be talking about the possibility of digital health, telehealth and mobile health," he said during the panel.
Below, learn about each digital healthcare product that was presented at the summit.
SmartExam
This is a smart system that sits over the top of that and instead of being optimized for billing, it's optimized to streamline provider workflows.

Ray CostantiniM.D., CEO, Bright.md
The concept behind the SmartExam digital healthcare product, presented by Bright.md CEO Ray Costantini, is automating aspects of the care process to eliminate the need to complete repetitive administrative tasks and create a more efficient provider workflow. SmartExam offers a virtual medical exam to patients and aims to optimize a provider's time during appointments. The tool analyzes patient information from the EHR before a visit, asks questions during the clinical interview that a provider would, and creates actionable insights, such as treatment recommendations, assessments and plans. All the insights can be modified by the provider, Costantini said. SmartExam then takes care of all the documentation following a visit, including referrals and prescriptions.
"We're not here to be a replacement for your EHR system," Costantini said. "This is a smart system that sits over the top of that and instead of being optimized for billing, it's optimized to streamline provider workflows, clinical outcomes and the patient experience."
Carefree
Carefree is a medication management platform that provides a mail-order pharmacy and offers medication adherence services for patients taking five or more medications, said David Dlesk, CEO of Carefree Pharmacy. Carefree staffs professional medication coaches who encourage medication adherence and conduct real-time patient monitoring. Dlesk said once patients receive their medication in a special adherence pouch, a medication coach such as a nurse or pharmacist follows up with the patient once a month. Carefree also offers real-time patient monitoring based on patient preference, including calls when patients are due to take medications. The overarching goal is to reduce high-cost incidents such as strokes or heart attacks as a result of poor medication adherence, Dlesk said.
"What we came together to do was build an economic model that allowed us to provide personal care for the people that need it the most," Dlesk said.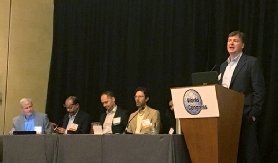 eMurmur ID
The digital healthcare product eMurmur ID is an electronic stethoscope that uses artificial intelligence to analyze heart sounds and detect heart murmurs, said Andreas Schriefl, CEO of eMurmur. The heartbeat is recorded by the electronic stethoscope and transmitted to an app. The AI algorithm analyzes the sound and detects the presence of a murmur. It then determines if the murmur is innocent or a problem, Schriefl said. The stethoscope has been tested on more than 2,000 patients of all ages and recently received FDA clearance as a Class II medical software.
"The analysis takes two seconds and the results come back to the user," Schriefl said.
HAYAG Corp.
HAYAG is a project and application management tool that helps organizations throughout the life cycle of creating a product. Hema Lakkaraju, founder of HAYAG, said one of the main benefits of the platform is its built-in compliance and regulation controls. Lakkaraju said the platform's focus on compliance with regulations such as security requirements helps get regulated items such as digital healthcare products to market faster.
"As the technology increases, so do the regulations, and so do the confusion and the vision of where we are going in terms of compliance," Lakkaraju said.
Orbita Inc.
Orbita is a Boston-based company that offers a platform for healthcare organizations to build conversational AI tools such as voice assistants and chatbots to engage patients. Some patients face challenges where voice technology could make their lives easier, said Nathan Treloar, president and co-founder of Orbita. Using the Orbita platform, healthcare organizations can build their own voice assistants or other conversational interfaces for their digital healthcare products. The conversational application can then be delivered through multiple modules, including Alexa and Google products.
"This problem is well-known, the problem of patient engagement and how do you reach patients where they are in their residential care settings," Treloar said. "That's what the power of conversational AI can solve."
PatNX
PatNX is a patient engagement and experience management platform for healthcare organizations, according to Mahesh Dharan, founder and CEO of CEMOSoft LLC. CEMOSoft LLC is a company that offers customer experience management platforms, including PatNX. The tool is touted to map the patient journey through the process of an office visit. Providers, pharmacists and others involved in the patient's care can access the platform to input information, check patient status and manage the patient experience. Dharan said the platform takes two to three days to implement within an organization.
"This platform connects the patient to the provider, and captures data that can help the provider better serve the patient," Dharan said.
Dig Deeper on Healthcare IT management and organization