beawolf - Fotolia
CIO talks lessons learned from Meditech Expanse upgrade
Beth Israel Deaconess Medical Center community hospitals CIO Jeannette Currie goes deep on challenges and lessons learned from a major EHR upgrade.
Healthcare organizations may no longer be shopping for EHRs the way they once were, but that doesn't make implementation any easier.
It took three years of and budgeting before Beth Israel Deaconess Medical Center went live with electronic health record vendor Meditech's latest product at three community hospitals.
Jeannette Currie, CIO of community hospitals at Beth Israel Deaconess Medical Center in Boston, led the initiative to upgrade to the latest version: Meditech Expanse, a web-based EHR designed for mobility. The effort took a year longer than expected.
At the recent Meditech Physician and CIO Forum in Boston, Currie detailed challenges she faced before and during the implementation at the Beth Israel Deaconess Medical Center (BIDMC) community hospitals -- and some of the lessons she learned along the way. Her biggest goal was to create a unified IT culture across the three community hospitals which had, up until this point, operated independent IT shops.
For Maurice Abney, CIO at LifePoint Health in Brentwood, Tenn., who attended the forum, his biggest takeaway was how Currie's budget changed significantly when for an EHR implementation, and how it's better to for spending more rather than less.
This was a confirmation that you need to budget it now so you won't have to ask for it later.

Maurice AbneyCIO, LifePoint Health
"This was a confirmation that you need to budget it now so you won't have to ask for it later," Abney said.
Challenges with EHR implementation
In 2015, BIDMC decided to upgrade the Meditech EHR at three community hospitals and had an estimated go-live date of Oct. 1, 2017. BIDMC's goal was to reduce the number of outpatient EHRs from multiple vendors used in its community hospitals by migrating the sites to a single EHR from a single vendor. The community hospitals also all used different versions of the Meditech EHR.
BIDMC, now part of Beth Israel Lahey Health following a merger earlier this year, is a healthcare system composed of academic medical centers, teaching hospitals, community hospitals and specialty hospitals that employs more than 4,000 physicians and 35,000 employees. It is now one of the largest health systems in Boston.
As she planned the EHR implementation project, Currie said delays occurred due to added project scope and additional software requirements that were missing from the original plans. Plus, while BIDMC initially planned to upgrade the community hospitals to the Meditech 6.1 platform, an earlier version of the Meditech EHR, the health system changed its mind and decided on Meditech Expanse, the latest EHR version.
Even with budgeting and , the go-live date was pushed back a year, and the project's estimated budget nearly doubled from an estimated $14.7 million to an actual budget of $27.3 million.
Strategies for addressing challenges
As Currie prepared to unify the three hospitals onto one EHR, she encountered four major challenges: resistance to change and getting the hospitals past the idea that the EHR implementation was a simple update to their existing Meditech EHRs, breaking down the hospitals' history of separateness, consolidating IT staff and creating a clear pathway for decision-making involving all three entities.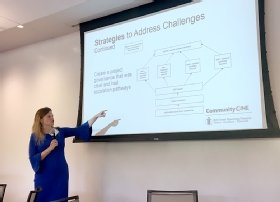 This wasn't the community hospitals' Meditech EHR implementation, but upgrading to Meditech Expanse was complicated by the EHR's added features and functions, according to Currie. The product workflows and an entirely platform. Currie said getting the hospitals past that "upgrade mentality" was challenging.
To address the problem, Currie decided to brand the implementation CommunityONE. Her hope in using the word "community" was to steer the upgrade away from EHR tweaks toward a push to unify the IT culture between the three hospitals, something she said was crucial to the project's success.
She set a mission statement for the project, which outlined what she was aiming to do and why. The mission statement, "to develop, implement and manage a single patient-focused BIDMC Community Hospital EHR using principles of best practice to support clinical excellence, fiscal accountability and a productive experience," was repeated and promoted throughout the project.
Identifying the benefits of the Meditech Expanse product was also important, Currie said. The gains included a single patient clinical record accessible across the three hospitals, operational efficiency by having the same EHR available for clinicians working at all three hospitals, working with Meditech to house the hospitals' data, and the of a single IT department for the three hospitals.
Consolidating IT staff was a major hurdle because of varying staffing levels, experience and pay scales, Currie said. She worked to fix pay discrepancies and to clearly define IT responsibilities, something the organization is still challenged with. Currie said employees were chosen from across the three sites to form the community hospitals IT department.
Currie established guiding principles to lead the major organizational change. They included clear project governance structured to promote the project mission. She wanted to make sure to give an equal voice to each hospital, outline participation expectations and be transparent about decisions.
"We needed all the hospitals to participate in the process to create that future. That adds to the cultural aspect because then people feel ownership about what they're creating and what their end product will be," she said.
Decision making was the project's biggest challenge and one of the biggest drivers behind the go-live date, Currie said. Each organization came to the table with "passion" for the way their hospital had operated, and they had to work through how they were going to make decisions as a unified IT culture.
"We had to learn how to reach consensus," she said.
Currie said she outlined a clear method for decision making, and built the culture through continuous face time and getting to know each other.
"It was a pain in the butt to drive from Plymouth or some of these other areas in Boston traffic to get together," she said. "But we really found that that in-person time was what promoted respect … people on these teams became friends and that allowed them to work together and become willing to share this system and respect each other's perspectives."
Lessons learned
On Oct. 1, 2018, Meditech Expanse went live at all three hospitals.
Currie said the launch's success was due to a strong command structure including local command centers set up at each of the sites that were linked to help identify common issues. The IT team also had frequent huddles, identified emerging issues and had boots on the ground to provide support.
At the center of the success was communication, and keeping a consistent message between the three hospitals, she said.
Dig Deeper on Electronic health record systems