Luis Louro - Fotolia
Philips Research brings AI, AR to healthcare
Scientists at Philips Research North America are applying AI and augmented reality to healthcare -- tools they hope will be game changers for clinicians and patients.
Philips Healthcare has made a name for itself in the health IT market as a medical imaging device manufacturer.
But Joseph Frassica, M.D., chief medical officer at Philips North America and head of Philips Research Americas, said the company is much more than that.
"In the past, we've been thought of as a company that makes things, devices," Frassica said. "These days, about 60% of our research and development is focused on software, artificial intelligence, machine learning."
Case in point: Philips Research North America, part of the company's global research organization and headquartered in Cambridge, Mass., has more than 450 employees working to develop and test cutting-edge products for the health IT market. They include everything from using AI to detect and track hospital-acquired infections to an augmented reality (AR) program that enables doctors to examine medical images during procedures hands-free and in 3D.
As advanced technologies gain traction in other markets, Frassica said Philips Healthcare is working to identify how to make those technologies work for clinicians and enhance care delivery for patients. During a media day event, Philips Research North America showcased products it has developed for the health IT market as well as technology currently under development.
AR for healthcare
The Philips Research lab includes an interventional heart catheterization laboratory, a type of room where patients would receive a stent after a heart attack. The lab is equipped with a Microsoft HoloLens 2, a wireless headset featuring mixed reality smart glasses that blends digital and physical information together.
In a "cath lab," doctors rely on X-rays as they're treating the patient, said Molly Flexman, principal scientist at Philips Research North America. Physicians who perform procedures like a heart catheterization rely on 2D and 3D images, such as MRIs, CT scans and 3D ultrasounds. The ability to take 3D images of a patient exists, but it's often displayed on a 2D screen, forcing physicians to translate between 2D and 3D mentally, according to Flexman.
In the past, we've been thought of as a company that makes things, devices. These days, about 60% of our research and development is focused on software.

Joseph Frassica, M.D.Chief medical officer at Philips North America, head of Philips Research Americas
In 2016, Philips turned to the Microsoft HoloLens to change the way physicians view that kind of data. The research team brought in P.J. Keenan, a development engineer at Philips Research North America with a background in video game design, to help design a program for the HoloLens that would work for healthcare, according to Flexman.
Philips Research's program for the HoloLens 2 enables doctors to use voice commands and eye control to turn 2D images into 3D, virtually explore 3D images of organs, and view information on three screens. Physicians are given virtual screens and virtual controls so that the information can move with them around the room, according to Flexman.
"There's a really compelling use case for the physician around making the patient the center of the room rather than the equipment," she said. "This type of technology can really let them work more freely around the patient without always having to go back to where the hardware is located."
The program is still under development.
Sourcing hospital-acquired infections
Hospital-acquired infections are costly to healthcare organizations. That's why Philips Research wanted to create a platform that could help to quickly identify and source these kinds of infections, according to Mary Fortunato-Habib, clinical director of genomics for infectious disease at Philips.
"About 1.7 million people a year get a hospital-acquired infection during their stay," Fortunato-Habib said. "It's a huge problem in healthcare in the U.S."
To slow the spread of hospital-acquired infections, Philips Research created an information system called IntelliSpace Epidemiology. It analyzes clinical data from a hospital's EHR to detect related infections and find relationships between patients, and it gives infection control professionals an idea of where to start when tracking a hospital-acquired infection.
"The platform uses clinical data to determine if infections are related, where infected patients have been, who they've been in contact with," said Andrew Arthur, North America innovation solution hub leader at Philips.
Fortunato-Habib said the software detects related hospital-acquired infections by combining live clinical data with the genetic makeup of bacterial pathogens, which helps identify whether an infection in one person is related to an infection in another.
Often, infection control professionals have to sort through data manually to detect infection trends and determine a root source, which Fortunato-Habib said can take months. The IntelliSpace Epidemiology system, which was recently released to market, uses artificial intelligence to flag patients with similar infections and group them by common denominators such as procedures, locations and equipment contact.
"Traditionally in epidemiology it's always been a real rearview mirror look because there hasn't been the power of data integration to facilitate this so that you can quickly identify the infections and then come up with something actionable to stop it, rather than to analyze it three months down the road to say, 'Oh, this is how that patient got X, Y, Z,'" Fortunato-Habib said.
Contactless monitoring
Philips Research is building a tool that can measure a patient's pulse and respiratory rate without ever touching the patient.
The product is a camera-based, contactless monitoring system that can measure slight changes in skin color to determine a patient's pulse rate. The technology also measures a patient's respiratory rate by the visible movement of a patient's chest.
The technology is already being used in some Philips equipment including MRI machines, said Kees van Zon, principal scientist for Philips Research North America. Before a scan occurs, patients are asked to hold their breath. The built-in contactless monitoring technology automatically detects when a patient's breathing has stopped and takes the image.
"It's a better patient experience and it results in better MRI images," van Zon said.
The next goal for the technology is to incorporate patient-recognition capabilities and use it in emergency department waiting rooms, where patients are sick but not monitored, according to van Zon.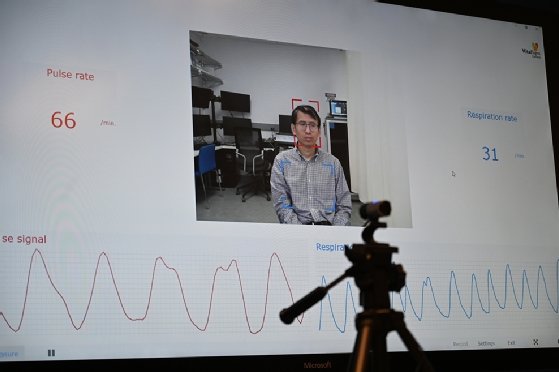 After getting a patient's consent, the tool will measure an ER patient's pulse and respiratory rate while sitting in the waiting room and alert medical professionals through the patient's EHR of any changes that need attention, he said.
"There are two practical benefits," said Carla Kriwet, executive vice president and chief business leader of Connected Care at Philips. "One is seeing who is sickest. You would think that's obvious, but it's not. …The other thing is to have the data ready and to have pre-information for the intervention."
Contactless monitoring for ER waiting rooms is under development, as variations in the environment such as lighting and movement have to be taken into account for the technology to be effective, according to van Zon.
Van Zon said the team is looking at other hospital departments that could benefit from the technology, such as the neonatal intensive care unit. Kriwet said infants often react negatively to being connected to multiple sensors, which can impact their well-being and health, an issue contactless monitoring could address.
Dig Deeper on Healthcare IT systems and applications