sudok1 - Fotolia
Philips NICU rooms reimagined for comfortable, collaborative care
Philips Research wants to modernize NICU rooms. Central to the redesign is a collaborative dashboard that quickly puts information at the fingertips of clinicians and families.
Philips Research North America, part of the global research organization at Philips Healthcare and headquartered in Cambridge, Mass., is turning to technology to make it easier for clinicians to provide care to its tiniest patients.
Philips is working to redesign neonatal intensive care unit (NICU) rooms to include features that make patient data and tasks easier to access and track, better involve parents in the care process and make rooms as comfortable as possible.
"We're thinking about how can we make this better and come up with a solution that is more impactful to the health and wellbeing of the family, as well as the baby and clinicians," Jessica Durney, operations release manager at Philips Research North America, said during an onsite media day.
Collaborative dashboard is key
The collaborative dashboard is a key component of the Philips NICU, Durney said. The dashboard functions as the information center of the room, offering both clinicians and families access to information about the baby.
Before stepping into one of the redesigned NICU rooms, parents and clinicians can interact with a touch-screen monitor that's part of a collaborative dashboard Philips created to access basic information, such as whether it's the baby's quiet time.
The outside monitor also offers clinicians information before entering a patient's room. Using their badge, clinicians can access a live video stream to check on the baby, which ends when the clinician's session ends, according to Durney.
Inside, two monitors are embedded in the wall, the first of which displays important milestones for the baby and useful reminders.
The second monitor includes an interface specific to the user. Families can use the dashboard to access educational tutorials, review information on their baby's care and communicate with clinical staff.
Using single sign-on, clinicians can use the dashboard to access more detailed medical information pulled from a patient's EHR.
The idea behind this dashboard is to bring the family and the clinicians and the staff together.

Jessica DurneyOperations release manager, Philips Research North America
"The idea behind this dashboard is to bring the family and the clinicians and the staff together with regards to care of the baby," Durney said.
The dashboard aggregates data from multiple sources, such as the EHR, laboratory and radiology departments, and presents tasks that can be checked off as they're completed, said Joseph Frassica, M.D., head of Philips Research Americas and chief medical officer for Philips North America. The dashboard also provides scheduling services.
In the physician's view, color-coded dots indicate what information requires action, Frassica said.
Creating a more comfortable space
The Philips NICU rooms include features such as a projector that plays an image of a butterfly fluttering among flowers and grass on the ceiling above the baby's bed.
The room includes a sensor bar, which measures sound, humidity and scents in the room and sends alerts to the collaborative dashboard if an issue needs to be addressed. And soon, there could be voice control.
Philips Research is currently developing and testing Amazon Echo Dot features to perform functions like turning the room into emergency mode.
To encourage skin-on-skin contact, Philips NICU rooms would come with a headboard that allows the wires attached to the baby to slide behind the bed to a sitting area.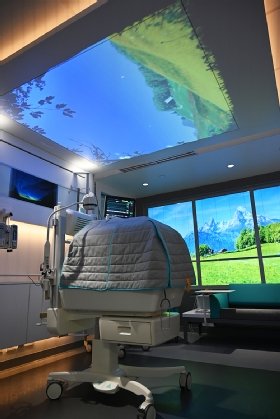 "If you run the wires and tubing on one side, then everything can go with the baby so you don't have to disconnect them," Frassica said.
The Philips NICU rooms also come equipped with a digital window. It's a notable feature, as most NICUs don't have windows, Durney said. She described it as a "nice feature" that can provide some distraction for the families.
At Philips Research North America, the NICU was presented as a private room, which is something a lot of children's hospitals use, but Durney said it can also be turned into a semi-private open bay area at other hospitals.
Frassica said the Philips NICU rooms can be customized based on what a hospital needs, from just one component such as the collaborative dashboard to a fully reimagined NICU.
"We have services that wrap around this that help the institutions create a workflow that is cognizant of the baby's developmental care," Frassica said. "We also have design consulting services to help hospitals figure out how best to arrange their neonatal ICU or their ICUs in general and figure out how to make this work in their workflow."
Dig Deeper on Healthcare IT systems and applications