japolia - Fotolia
Digital health tools platform attracts EHR vendors
Startup Xealth's platform enables providers to prescribe patients with anything from a remote patient monitoring device to a food delivery service. The tech also benefits CIOs.
When it comes to prescriptions, a three-year-old startup is thinking beyond medication -- and it's received millions in investments from healthcare systems and health IT companies that want in.
Xealth, a startup that spun out of Providence St. Joseph Health in 2017, is a digital platform that allows providers to not only prescribe digital health tools for patients such as glucose monitors or diabetes management programs directly from the EHR, but also durable medical equipment such as wheelchairs or crutches, or food delivery and transportation services.
It also collects data from digital devices or programs so providers can monitor patient engagement and adherence. Having one platform to prescribe digital health tools and keep track of that data is what caught the attention of major EHR vendors, according to Chilmark Research analyst Alex Lennox-Miller. Cerner recently invested in the startup and said it will integrate Xealth into its EHR product line, while Epic added Xealth to its Epic App Orchard earlier this year.
"That's really the key value component for companies like Cerner and Epic," Lennox-Miller said. "They want their users to have access to these kinds of digital health tools. They want to make it straightforward and relatively simple to do, but if you've got an entire country's worth of users and you don't necessarily want to have to do every integration, you want something that's going to manage that, that's going to be a data intermediary. Companies like Xealth, that's really the key value proposition they're offering."
Beyond what Xealth can do for EHRs, it's also a valuable tool for healthcare CIOs as it provides oversight into digital health tools being prescribed for patients within a healthcare system.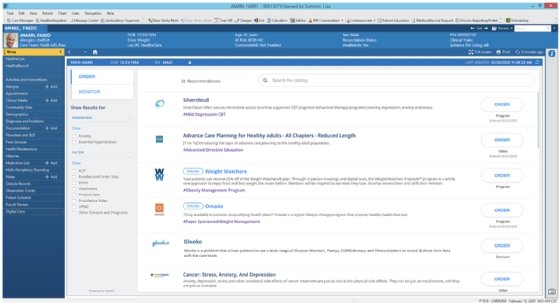 Why it matters for healthcare CIOs
Xealth partners with health IT vendors, including Glooko, a diabetes management mobile app, and SilverCloud Health, a mental and behavioral health platform. The tools are integrated into Xealth's platform so that when a patient could benefit from tools like these, they can be easily prescribed by providers.
What this gives the CIO is that vehicle to … own the governance process of this emerging trend in our industry around doctor-ordered digital applications and therapies.

David BradshawSenior vice president of consumer and employer solutions, Cerner
Xealth's partnerships help to establish a digital formulary, or a vetted list of digital health tools and programs for patients to treat or manage a medical condition, according to Xealth CEO Mike McSherry.
David Bradshaw, Cerner's senior vice president of consumer and employer solutions and former CIO at Memorial Hermann Health System in Houston, Texas, said providers prescribing digital health tools from a predetermined digital formulary ensures healthcare CIOs are in the loop. Rather than prescribing without a CIO's knowledge, digital health tools such as those for pregnancy or diabetes are selected by the healthcare system and made available through the Xealth platform for that care track, according to Bradshaw.
"What this gives the CIO is that vehicle to engage the physician community to really come to the table and own the governance process of this emerging trend in our industry around doctor-ordered digital applications and therapies," he said.
For Cerner customers, the Xealth platform will eventually be available within the EHR as the vendor works to integrate it into clinical workflows to make prescribing digital health tools easier for providers, Bradshaw said.
"Glucometers, remote patient monitoring platforms, and then just broadly almost social determinants of health services, we've done meal delivery services, we've done transportation, medical supply recommendations for surgery recovery," McSherry said. "We can embed all of those services into our platform for easy clinical workflow integration, security standardization for the [IT] side of organizations."
Cerner and Xealth
Cerner was drawn to Xealth's idea that digital health tools could be doctor-ordered, especially as digital health tools increasingly become consumer products, Bradshaw said.
Patients may decide to buy a fitness tracker, but the data collected lives in a silo. The Xealth platform can remove that silo by making it easy for providers to prescribe digital health tools the organization approves of.
"We're connecting these digital applications and digital therapies straight into the doctor's workflow in the exam room," Bradshaw said.
Cerner is currently working with a pilot customer to deploy the Xealth platform; the vendor is also working to create initial out-of-the-box lists of digital applications and therapies for different medical conditions, according to Bradshaw, which he likened to figuring out what medications should be stocked in hospitals.
"You're not stocking drugs, you're actually stocking digital interventions for your patients," he said. "So for diabetes, are we going to use Glooko or Livongo for remote diabetes management? Doctors will come together under these new therapy committees and they'll vet the evidence. They'll look at the clinical efficacy and they'll decide what will become the digital therapy for diabetes. Then the doctor will be able to order it and … track that patient's hemoglobin levels, as an example, through the application."
Chilmark's Lennox-Miller said that while the Xealth platform serves as a distribution hub for digital therapies and applications, it's the capability of bringing that data back into the EHR that's significant.
Indeed, Xealth has been gaining millions in investment from healthcare systems like Cleveland Clinic, Atrium Health, and the Froedtert and the Medical College of Wisconsin, as well as health IT vendors such as McKesson Ventures, Novartis and Philips. Xealth's most recent investment was from Cerner and healthcare investor company LRV Health in the amount of $6 million.
"The fact that you can easily distribute to patients is great, but they're essentially a software and data management layer for these EHRs," Lennox-Miller said.
Dig Deeper on Healthcare IT systems and applications