peshkova - Fotolia
Epic digitizes ranking process for elective procedures
As healthcare systems began to bring patients back in for elective procedures, they encountered new challenges and cumbersome processes. EHR vendor Epic helped ease that burden.
Shutting down elective procedures due to the COVID-19 pandemic was hard on healthcare systems, but rescheduling patients has proved to be its own headache.
To figure out how to bring patients back for elective procedures, Duke University Health System and Valley Health System, both of which are customers of EHR vendor Epic, started by using paper-based scoring systems to manually assess, prioritize and schedule patients in need of surgery. The process was cumbersome and slow, prompting Epic to digitize the scoring processes and bring those processes into the EHR.
"It was such a unique situation," said Howard Green, M.D., physician director of surgical services at Winchester Medical Center, the main hospital of the six-hospital Valley Health System in Winchester, Va. "Shutting down the operating room entirely except for urgent cases and then having to figure out how to reopen this safely -- who's ever experienced such a thing? Our Epic folks came up with a unique tool for a unique situation."
Rescheduling elective procedures
Winchester Medical Center initially implemented a scoring system developed by the University of Chicago called the Medically Necessary, Time-Sensitive (MeNTS) prioritization process to reschedule elective procedures, according to Green.
The MeNTS score considers 21 factors, including the type of case, the medical background of the patient, demographic information and other data, to create a numerical score for each case. When Winchester Medical Center first implemented the scoring system, surgeons faxed a completed MeNTS score sheet for each patient to operating room schedulers, who then delivered the score sheets to a case prioritization committee overseen by Green. Green's committee had to take into account bed capacity and staffing availability to avoid placing a significant strain on the healthcare system when rescheduling elective procedures, he said.
"Initially, those forms came in on paper and every evening we had a stack of these papers and we would do this by hand and by Zoom," Green said. "I had these papers and I'd read them out to the committee, and we'd decide, 'Yeah, OK, we'll do this.' We manually placed those into a scheduling calendar that we had developed. That was cumbersome and that was the genesis of asking Epic to help us digitize the process."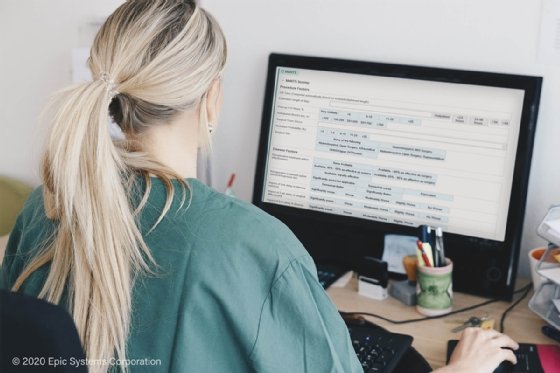 Epic's tool made data collection for MeNTS scores faster and more efficient; it also automated the scoring process. Some of the data points used to score patients, such as a patient's age, were already available in Epic, so the vendor pulled that information together and then provided a way for additional MeNTS data to be loaded into the tool. All of the scored cases then appeared in Epic, which Green said made the rescheduling process faster for the hospital.
"We could immediately see the score, what the case was, and then we either clicked confirm, 'Yes you can schedule this case for this requested date,' or verify if we needed some other piece of information," Green said. "Then the schedulers would automatically see all that."
Similarly, Duke University Health System, based in Durham, N.C., built an in-house priority system in which surgeons categorized patients as a level 1, level 2 or level 3 to indicate if a patient needed surgery in a week, a month or if the patient could wait beyond a month, respectively. Gavin Martin, M.D., vice chairman of clinical operations for the department of anesthesiology, said the healthcare system went through certain days and weeks where the ICUs were full of COVID-19 and non-COVID-19 patients, making a scoring system for elective procedures crucial.
We shut everything off very quickly and then had to open the spigot and start ramping up again, which was, in my opinion, more difficult.

Gavin Martin, M.D.Vice chairman of clinical operations, department of anesthesiology, Duke University Health System
"We shut everything off very quickly and then had to open the spigot and start ramping up again, which was, in my opinion, more difficult," Martin said. "We had to start reselecting the right cases to do [first]."
Melissa Erickson, M.D., an orthopaedic and spine surgeon at Duke University Health System, said the challenging part of prioritizing elective procedures was the inefficiency of the health system's paper-based process. That changed when the manual process was digitized and brought into the EHR.
"It was much more cumbersome when it was all manual and this was a good example of how we leveraged the EHR system to be data-driven and work faster," she said.
Digitizing scoring systems
The process of assembling data captured in the EHR and calculating a score for each patient was straight forward, according to Chris Mast, vice president of clinical informatics at Epic.
Automating the scoring processes for elective procedures allowed healthcare organizations to make better use of staffing resources, Mast said.
"You can use the capabilities that are built into the system to help guide your teams, your care managers, your schedulers as they reach out to patients," he said. "You can use those scores to keep track of who should be at the top of the list."
For Duke University Health System's Martin, the digital scoring system will continue to be useful to prioritize elective procedures, particularly as healthcare systems wait to see what happens when COVID-19 and the flu season converge.
"Right now, we're actually in a good place and not having to reschedule many patients at all," Martin said. "But we're watching closely, and our concern of course is what will happen as the winter hits and we get our traditional winter colds and winter flu. That is going to impact our beds. At that stage, this priority system will be very useful ... it's a fairly easy process now that it's built into Epic."