Rawpixel - Fotolia
A tale of two telepresence robotics user stories
Telepresence robotics is still a niche technology and very much a work in progress. But it has potential, and users see clear benefits of these remote work systems.
By the end of the coronavirus pandemic, people may be sick of desktop videoconferencing, but they may also be reluctant to travel and happy to keep working from home. Those three things could help push telepresence robotics into the mainstream.
Telepresence robotics frees users from the limitations of desktop video systems. At their most basic level, they enable remote users to change the direction of a camera and look directly at someone during a meeting. Devices are sold at prices ranging from less than $1,000 to $4,000 on up. It's been a niche technology, but the pandemic could change this.
Telepresence robotics range in sophistication. Some are loaded with sensors and can roam the office. Others, like Kubi, are less sophisticated. Kubi uses an off-the-shelf tablet as a screen and a robotic swivel controlled by a remote user. Kubi, made by Xandex Inc., a firm in Petaluma, Calif., means neck in Japanese and lists for $600.
Users of telepresence robotics report different levels of satisfaction with the products. Two users contacted for this story describe their efforts at deployment -- one was successful, the other not.
Kubi, Japanese for neck
The University of Colorado Boulder deployed Kubi for classroom use and meetings. The device is placed on the conference table, and the remote user can rotate the screen to look at the speaker, the person next to them or at a document in front of them. Students who can't attend class can use Kubi to continue classroom participation and their studies. The device is controlled via apps and widgets that work in conjunction with video and web conferencing software.
Kubi gives the user "more control over their experience," said Doris Cheung, a learning experience designer in the university IT department. But the device also adds "an extra element of humanness," to the interactions, she said.
Remote users "can have a seat at the table and participate in the actual discussions," Cheung said. The pandemic has preempted any need for Kubi now because everyone is attending classes remotely.
Unlike Kubi, some telepresence robotic systems can travel throughout a building. These systems can cost thousands of dollars. Such a system fit the needs, at first, of Standard Restaurant Supply Inc.
It adds an extra element of humanness.

Doris CheungLearning experience designer, University of Colorado Boulder
Standard Restaurant, which supplies restaurants with just about anything they may need, deployed telepresence robots from Double Robotics Inc., in each of its eight locations. The idea was to reduce travel by employees from the corporate office in Salt Lake City. They use the telepresence robotics to remotely check stock and to even conduct interviews of job candidates.
Standard Restaurant initially liked the outcome so much that Derik Stowell, the firm's vice president of marketing, appeared in a video for the vendor in 2016 praising the system. But there have been problems since, he said.
'A constant headache'
"Getting these robots to connect and stay connected is a constant headache," Stowell said. The vendor would fix them, "but then within days, we are back to square one," he said. It was "disappointing that the technology is not fleshed out."
David Cann, co-founder and CEO of Double Robotics in Burlingame, Calif., said Standard Restaurant was using a previous version of the product, Double 2, which uses an iPad as the core component.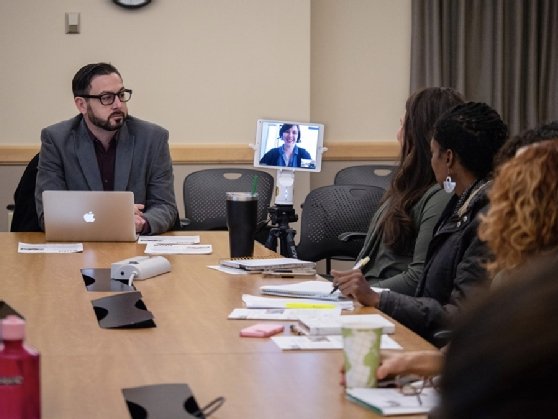 "There were several periods of iOS bugs causing third-party accessories [Bluetooth and Lightning] to not connect reliably, and a number of customers experienced issues during these times," Cann said. But, he said, he didn't know if Standard Restaurant's issues were related to these iOS bugs.
Double Robotics released a new version of its product, Double 3, six months ago that is a "fully integrated solution, with a custom platform running in the head instead of an iPad," Cann said in an email. "Combined with the new array of sensors, it's a huge improvement in reliability and ease of use."
Standard Restaurant still uses the telepresence robotic systems at a couple of locations, but it's difficult, Stowell said in a Facebook chat interview.
Upgrading all of his telepresence robots to the latest release would require another $27,000 investment, he said.
"At some point, these machines would need to have a positive ROI," Stowell said, and he doesn't see that happening before a five-year mark. "We'll have to move on without Double Robotics," he said.
The telepresence robotics vendors, Double Robotics and Xandex, said they are seeing an increase in interest, particularly from the healthcare sector. But usage may well broaden to many types of businesses.
Kamran Shamsavari, CEO and president of Xandex, said the telepresence robotic technology was not necessarily seen as a must-have. But the pandemic could change this "and kind of force the issue -- that perception change," he said.
Pandemic may accelerate adoption
Among those who believe the pandemic will have a lasting impact on the workplace is Kate Lister, president of Global Workplace Analytics, an HR consultancy. She estimates that anywhere from half to 60% of the workforce is now working from home. By the end of 2021, she believes 30% of the workforce will continue to work from home multiple days a week.
"I think there will be many people who are afraid to return to the 'workplace' after COVID," Lister said. "I expect to see a proliferation of virtual presence innovation."
The more immediate growth may be in healthcare, where telepresence robotics is "a way for patients to actually stay in constant contact with their family and have their family monitor them as well as healthcare professionals," said Karen Panetta, an IEEE Fellow and the dean of graduate engineering at Tufts University.
The sophistication of telepresence robots increases with the addition of sensors that can detect the environment, Panetta said. They can use sensors to detect motion or proximity, measure thermal outputs and so on.
Panetta believes the technology is in its infancy. For now, they are "assistant devices allowing humans to go to where they can't be," she said.