Bobboz - Fotolia
Workplace violence drives interest in mass notifications
The Virginia Beach shooting that killed 12 may help motivate employers to deploy mass notification systems as well as programs to identify problem employees. HR plays a role in both.
The recent news of the Virginia Beach mass shooting, when 12 people were killed, was put to use by the District of Columbia. Its mayor, Muriel Bowser, emailed employees last week about its mass notification application. It was a reminder to download it. Emergency communications workers also stepped up their on-site outreach efforts to employees scattered in some 400 buildings.
The district employs 35,000. It began installing a mass notification system last year. It is part of a trend by employers to deploy rapid responses and detection tools. In some firms, notification systems may be managed by HR or security. In government, emergency services may be responsible. The sophistication of these tools used to protect employees is increasing.
Active shooting incidents typically begin and end in four minutes, according to Daniel Biran, VP of global security at Biogen, a multinational biotechnology company in Cambridge, Mass., that employs about 7,500. The response has to be swift, he said.
Biran believes technology will automate much of the response. At the very moment a problem arises, doors will lock, and employees and police will be notified.
"What you are also trying to do is try to take the human element out of it," Biran said. The idea is to "get to a point where an algorithm is in place to activate these things, one after another."
That's where a lot of companies are headed, Biran said, adding that there can't be any wasted time in an active shooting situation, he said.
HR's role is critical
Protecting a workplace means discovering potential threats. Clues may turn up in employee surveys and in sentiment analysis of chats and emails.
HR "is the first line of defense," said Suzanne Singer, an employment attorney at Rumberger Kirk & Caldwell. HR has "the responsibility to ensure employees work in a safe environment."
HR's work begins with hiring. This includes background investigations, reference checking and analysis of social media postings, Singer said. Employees should feel comfortable reporting problematic behaviors, she said.
Developing a collaborative environment to improve employee experience is part of it. "The more likely you have a satisfied employee, the less likely they're going to act out," Singer said.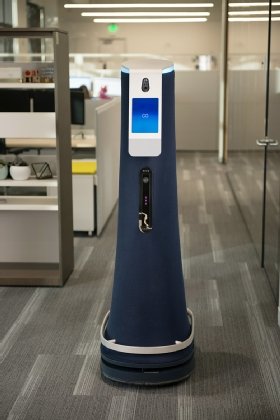 But a lot of the focus by HR departments is on employee notifications at the first sign of any trouble.
The district began rolling out the Rave Mobile Safety panic button application last year. It involved collecting building floor plans and employee data to build a database for first responders. It also meant educating employees about its purpose. Some employees, without government-issued phones, have to be encouraged to download the app.
The district's panic button application has buttons for fire, medical, police and other 911 emergencies. Once pressed, 911 is called. The app's top button, in red, is for "active shooter." When the active shooter button is pressed, the call to 911 and the mass notification are sent simultaneously. Employees in the immediate area are alerted.
Who is going to use an app in an emergency?
Employees can still call 911 directly, said Karima Holmes, the director of Washington, D.C.'s Office of Unified Communications, which manages 911 services.
"In the middle of an emergency, who thinks of picking up an app?" Holmes said. If an employee calls 911 without the app, the emergency call center can push out the mass notification, she said.
I am pretty confident that it would save a life -- if not multiple lives.

Karima HolmesDirector of Washington, D.C.'s Office of Unified Communications
Holmes believes the mass notification systems are necessary. "It helps with time and helps with notification," she said. "I am pretty confident that it would save a life -- if not multiple lives."
The panic app is automatically installed on government issued phones. Other employees have to download it -- and most do, according to Holmes. But, she said, the education effort is ongoing. After the mayor sent her email reminder last week, the communications office's email inbox was flooded with questions from employees. Many were simple questions, such as whether the app will work on a particular mobile phone, she said.
Integration is becoming key to these systems. Biogen is using the Everbridge Critical Event Management platform to manage its security. Its platform monitors physical systems, manages notifications and gathers intelligence.
One security tool used by Biogen is social media analysis. Third-party tools use social media to identify problems globally.
In 2016, there was a series of bombings in Brussels, a city where Biogen has employees. Its social media analysis tool picked up the problem before the news media reported it. The company was able to quickly send out a mass notification to employees. It made a difference, said Lawrence Gladhill, associate director of Biogen's global security systems.
The bombs targeted mass transit. After the event, Gladhill said they received a note from an employee in Brussels. "Because of you, our lives were saved," an employee wrote. One of the attacks was directed at "the train I take every single day," the employee wrote.
The future of this technology
The tools are developing and growing in sophistication. Video and audio analysis will likely play a major role, Gladhill said.
"Give it a year or two, and I think we're really going to see a lot of analytics-driven systems that are going to be able to tell us that this employee is upset, or this employee is ill," Gladhill said.
Robots may also play a role. Cobalt Robotics makes a robot that is designed to function as a security guard. It wasn't designed with mass shootings in mind, but to help lower the cost of security, especially after hours.
Erik Schluntz, Cobalt's co-founder and CTO, said the robot uses machine learning and an array of sensors to identify people, sounds and motion. If the robot spots something unusual, it will send an alert to its operations center where a specialist will review the anomaly and decide whether action is needed.
The robot's systems include a two-way video camera system so that a human in Cobalt's service center can see what's going on and interact with people if needed.
The robot can integrate with access control systems, so it's aware of what's going on in the building. But it can also hear sounds, and recognize them, such as a door opening.
The sensors include thermal cameras, which can detect body heat and identify where people are. There are long-range RFID, environmental sensors and microphone arrays sensitive enough to hear footsteps.
With respect to workplace violence, Schluntz said the robot can "provide some eyes and ears on the ground to help first responders."
Employers "don't want their guards to get hurt," Schluntz said. "They don't want to put them in harm's way, and having a robot that's expendable is totally fine."