James Thew - Fotolia
What are vital elements of a workplace emergency response plan?
Emergency response planning needs to be specific and varied enough that it will enable an organization to recover in the event of many different kinds of incidents.
When preparing a workplace emergency response plan, the first task is to define what it will be addressing. This...
Continue Reading This Article
Enjoy this article as well as all of our content, including E-Guides, news, tips and more.
includes the scope of the plan and its objectives.
Then the three most important elements of the workplace emergency response plan are as follows:
Emergency procedures
Without defined emergency response procedures, you will probably have chaos. Equipment and systems may be damaged, people may be injured, and the organization may be unable to recover from the incident if the initial response is handled poorly.
The initial activities in an emergency response plan are to assess the situation, determine the extent of the damage (if any) and define the most advantageous way forward. If first responders must be contacted, the organization makes calls to local law enforcement, fire departments, emergency response agencies and others as needed. After the calls, the organization assembles and briefs the emergency team, makes assignments and moves forward with the response process.
As each incident will probably be different, it's important to have procedures that can adapt to a variety of situations, and can scale upward or downward based on the incident.
Emergency contact information
Initial contacts are very important in an emergency response activity. A comprehensive contact list in the workplace emergency response plan should include first responders, emergency management agencies, key employees and stakeholders, government agencies such as regulators, vendors and suppliers, and engineering firms that can evaluate a building's condition.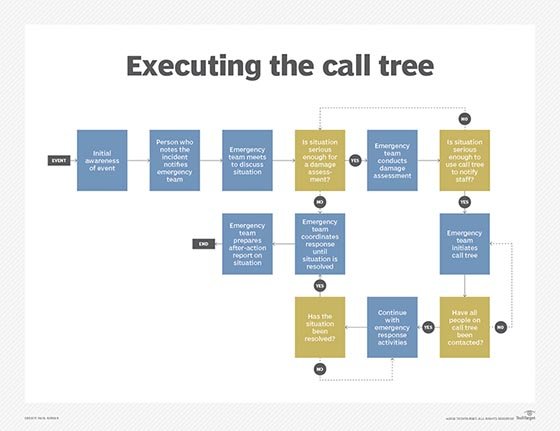 Emergency procedures specify who should be called, when and in what sequence. Contact data -- office phone, cellphone, satellite phone, home phone and fax -- should be regularly reviewed and updated to minimize potential delays.
Emergency resources
In an emergency situation, access to various resources is critical to a successful response and recovery. This can include supplies, two-way radios, flashlights, keys, emergency generators, satellite phones, floor plans, fire extinguishers and bullhorns.
As the nature of an emergency varies, so should the resources brought into play. The key is to have these resources available, securely stored and easily accessible. Procedures addressing specific events in a workplace emergency response plan should specify the resources and contacts needed.
Dig Deeper on Disaster recovery planning and management
To migrate backup data from the cloud back to an on-premises environment, you should follow these steps to ensure your data will be safe and smoothly... Continue Reading
Storing data in a cloud repository makes good sense and has many benefits. However, any decision to migrate important data to a cloud service brings ... Continue Reading
With security top of mind across IT, consider best practices for safe Google Cloud Storage access. Admins should be careful about assigning roles and... Continue Reading