osorioartist - Fotolia
Upskilling employees vs. firing? Amazon bets on retraining
For many jobs, it may be less costly to upskill workers than to fire them and hire people with new skills. Amazon's $700 million plan to upskill its workforce may save it money.
It may be less expensive for Amazon to upskill employees than to hire new ones. That could be the leading reason why the company recently announced that it's spending $700 million to upskill 100,000 of its U.S. workers, about a third of its American workforce.
According to a report released by the World Economic Forum earlier this year, the average cost of hiring a new employee in the U.S., including advertising and recruiting cost, is $4,425. There are also months of lost productivity as a new employee learns the job, the forum noted.
Upskilling employees is costly, but Amazon's investment isn't as large as it seems. It will spend its $700 million through 2025, or roughly $1,000 per employee, per year. The average organization spends about $1,300 per employee on learning, according to The Association for Talent Development.
A WEF cost-benefit analysis concludes it is in the financial interest of U.S. employers to upskill at least 25% of employees at risk of losing their jobs. This estimate could rise to 45% if "businesses work together to create economies of scale" in upskilling employees, the World Bank argued recently. That's why Amazon's investment may be important to HR.
Amazon may develop employee upskilling technologies and processes that can help other firms, said Josh Bersin, an independent HR analyst.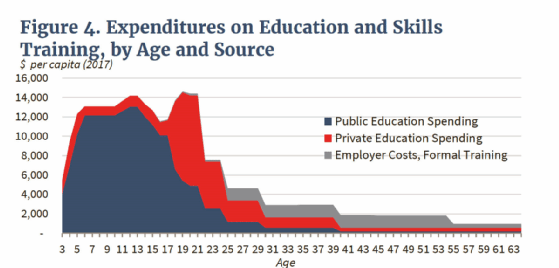 Amazon may be an upskilling beacon
Amazon has to be willing to share employee upskilling strategies, Bersin said. "If they did, they could be a huge beacon -- a lot of people would want to come and learn from them," he explained, adding it wouldn't be surprising to see Amazon develop a new line of business around employee upskilling.
As much as it's costly to reskill, the talent acquisition price is much higher.

Michael GriffithsLead, Deloitte Learning Consulting
Upskilling employees may have other payoffs for employers, including reducing the risk of turnover, said Michael Griffiths, the lead for Deloitte's Learning Consulting practice.
For most employees, it's easier to get a job outside of the organization than within it, Griffiths said. Upskilling employees "is a way to create more mobility within your organization so people are incentivized and, frankly, able within the structure of that organization to find new jobs," he said.
"As much as it's costly to reskill, the talent acquisition price is much higher," Griffiths added.
Upskilling from college
The need to upskill workers to deal with automation is beginning in college.
At California State University in Fullerton, accounting students are learning robotics process automation (RPA) technology. This is under a new program started by UiPath Inc., a New York-based RPA firm.
The school has graduate classes in accounting focused on RPA and is doing the same for undergrad under UiPath's Academic Alliance program, said April Morris, co-director of the university's Center for Corporate Reporting and Governance and an accounting professor.
Morris said she sees Amazon's announcement as an affirmation that the university is on the right track in including RPA training in the accounting program.
More firms "are going to realize that some of the more mundane tasks that are done by humans can be automated," Morris said. This will free up workers for more sophisticated tasks, she said.
Morris compared it with how the arrival of Excel spreadsheets raised fears of job losses, which wasn't the case. "What ends up happening is people have to elevate their skills to embrace that technology, and I see that with RPA as well," she said.