alphaspirit - Fotolia
As quit rate soars, employee flight risk gets attention
Economic growth is encouraging employees to look for other jobs. The quit rate is the highest it's been in 15 years. HR is now trying to identify employee flight risks.
Employees are quitting now more than ever, thanks to a strong economy. But the good news for HR managers is employee flight risk can turn up in HR engagement data, people analytics and security tools. Employees often telegraph their intent before giving notice.
There is no question employee flight risk is rising, according to government data. And millennial-age workers are more likely than other age groups to change jobs after a relatively short stay.
HR managers can get in front of the trend by using a wide range of data to identify employee flight risk. Historical data that looks at who has left and what they said in exit interviews is a key source, as is a shift in internet browsing habits at work. Engagement measures may also provide a signal, and tools that track employee sentiment in collaboration platforms can flag risks.
Stats highlight an HR challenge
The biggest employee flight risk for employers happens in the first quarter of the year, said David Lewis, president and CEO of OperationsInc, an HR consulting firm in Norwalk, Conn. The timing coincides with year-end raises, promotions and bonuses.
Employees who "didn't get what they were hoping for," Lewis said, get "more of an impetus or motivation to look for another job."
In record numbers, employees are looking for other jobs, according to the U.S. Bureau of Labor Statistics (BLS).
Approximately 3.5 million employees quit their jobs in January -- the highest quit rate in at least 15 years, according to just-released data by the BLS. The number of quits has been rising steadily since it bottomed out at 1.5 million in January 2009. The rise in quits corresponds with the strong increases in job growth.
The turnover rate for millennials is anywhere from three to five times higher than the turnover rate of non-millennials, Lewis said.
Indeed, the BLS recently reported the median tenure of workers ages 55 to 64 is 10.1 years -- more than three times that of workers ages 25 to 34, whose median tenure is at 2.8 years.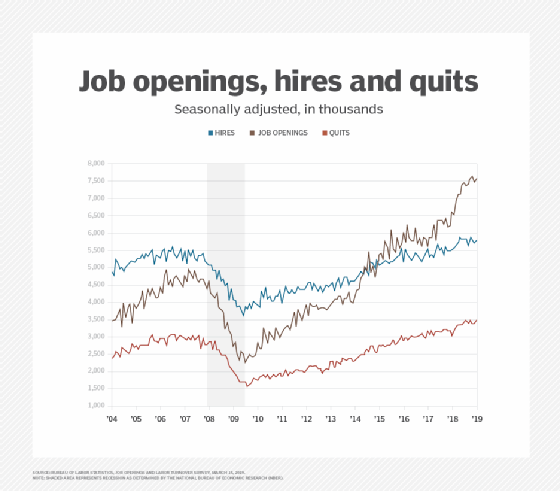 Forensic investigation can act as guide
Developing the HR analytics for determining employee flight risk involves looking "at your most painful losses over the years" to find "the commonalities there are among them," Lewis said.
This type of forensic investigation "will give you, at best, solid circumstantial evidence to point you in the direction of the people who are at highest risk of being the next voluntary resignations," Lewis said.
One of the big risks with a lot of predictive analytics is they do become self-fulfilling prophecies.

Richard FordChief scientist, Forcepoint
Forcepoint LLC, a cybersecurity firm in Austin, Texas, uses analytics to detect employee flight risk, said Richard Ford, the firm's chief scientist.
Analyzing flight risk as a factor in determining security is important, Ford said. "There's a lot of intellectual property risk around people transitioning out of an organization."
Identifying risks means looking at many data points. Some indicators are surprising, Ford said, such as an inclination to leave around a significant milestone birthday, such as turning 30, 40 or 50, he said.
Employees overlooked for a promotion could be another potential indicator. Changes in employees' web usage can be clues. Employees who spend a lot of time on LinkedIn and updating their profile might be interested in leaving, Ford said.
That said, a LinkedIn profile update alone may not be indicative of an employee heading for the door. The employee may see adding more details as important for the job.
It's another way of saying predictive analytics can backfire.
"One of the big risks with a lot of predictive analytics is they do become self-fulfilling prophecies," Ford said. "I predict you're going to leave, and I treat you miserably. So, you leave."
Team analytics can turn up issues
Engagement data can provide insights to HR, even if the data preserves anonymity, according to Jim Barnett, CEO, co-founder and vice president of product at Glint Inc., an engagement analytics firm in Redwood City, Calif., that was recently acquired by LinkedIn.
Glint's tool isn't used to predict individual employee flight risk; instead, it makes recommendations at the team level, which can identify problems that lead to increased attrition. Harassment issues, manager problems or shortage of resources for completing tasks can turn up.
This can help HR address an issue before an employee decides to leave a company. For example, a resource shortage issue affecting employee work-life balance can be addressed with more resources, Barnett said.
IBM CEO Ginni Rometty called it "proactive retention," in a recent interview with CNBC. IBM uses many pieces of data in an AI tool to determine who is likely to leave, with 95% accuracy, "and saved $300 million in replacement cost," she said.
Dig Deeper on Core HR administration technology